2020 Democrats on Board With Federal 'Pre-Clearance' of State Abortion Laws: Campaign Week in Review
Mandating federal pre-clearance would presumably strike down anti-choice laws that have passed through Republican-held state legislatures over the past decade.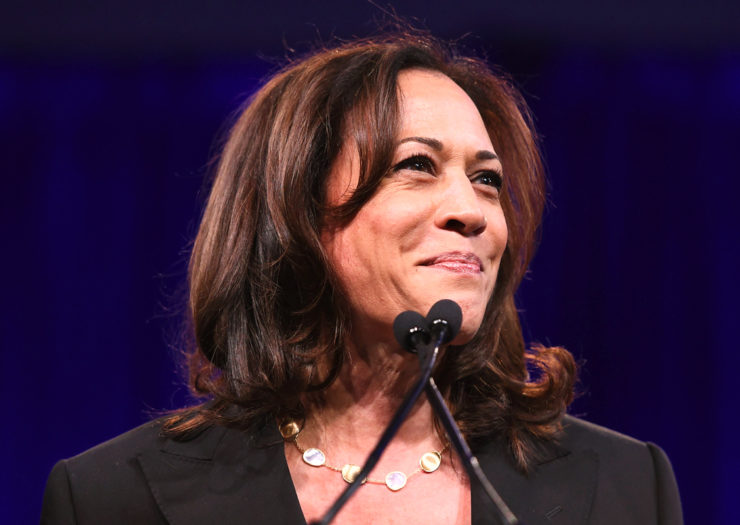 Join Rewire.News for a weekly look at how reproductive health, rights, and justice issues are popping up on the 2020 campaign trail.
Candidates Want to Halt Anti-Choice Restrictions in the States
Democratic presidential candidates this week weighed in on ideas for stopping anti-choice legislation at the state level, with U.S. Sen. Kamala Harris' (D-CA) signature reproductive rights policy gaining favor among most leading contenders.
The New York Times on Monday published the responses to a survey the publication sent to 16 Democratic presidential candidates asking where they stand on abortion rights and contraception policy, their stances on repealing the Trump administration's domestic "gag rule," requiring private insurers to cover abortion care, making hormonal birth control available over the counter, and more. (According to the Times, five candidates, including Harris, did not complete the survey.)
Roe is gone. The chaos is just beginning.
Follow Rewire News Group on Twitter to stay on top of every breaking moment.
Harris' plan for federal pre-clearance of state-level abortion laws—giving the federal government power to nix state legislation that doesn't pass constitutional muster—proved a popular policy solution among the candidates, including those leading the crowded 2020 field.
Presidential hopefuls Sens. Elizabeth Warren (D-MA), Bernie Sanders (I-VT), and South Bend, Indiana, Mayor Pete Buttigieg are among the candidates who said they would support the pre-clearance of abortion laws passed in state legislatures. Former Vice President Joe Biden didn't answer the Times' question about federal pre-clearance.
"Biden's Justice Department will do everything in its power to stop the rash of state laws that so blatantly violate the constitutional right to an abortion, such as so-called TRAP laws, parental notification requirements, mandatory waiting periods and ultrasound requirements," a Biden spokesperson told the Times.
Mandating federal pre-clearance would presumably strike down a number of anti-choice laws that have passed through Republican-dominated state legislatures over the past decade, including the spate of near-total abortion bans that were signed into law this year. State lawmakers often pass anti-choice bills that violate constitutional rights established in Roe v. Wade in order to challenge the longstanding U.S. Supreme Court precedent.
Harris in a November interview with Cosmopolitan said her plan for federal pre-clearance of abortion laws was modeled from the Voting Rights Act and its check on state-level legislation restricting voting rights. 
"[A]ny state that passes a law that restricts a woman's constitutional right to make decisions about her own body, that law is going to have to be reviewed by my Department of Justice to determine, does it comply with the constitution in Roe v. Wade? And if it does not, it will not go into effect," she told Cosmopolitan. 
Leah Litman, assistant law professor at the University of Michigan, told Rewire.News that the most glaring threat to pre-clearance of abortion laws would be conservative justices on the Supreme Court. The Court in 2013 invalidated the pre-clearance formula in the Voting Rights Act, "suggesting that it was constitutionally problematic in part because it applied only to some states," Litman said.
Federal pre-clearance meant to stop anti-choice state laws, Litman said, might not be the most effective way to combat attacks on abortion access. "I'm not sure it's the best way," she said. "I think a federal statute that applied nationwide—and by a federal statute I mean protections for abortion, including a repeal of the Hyde Amendment—would be an important significant protection."
In the Times survey, the candidates were mostly in agreement on major reproductive rights policy issues. None of the major candidates said they would refuse to sign a federal budget that included the discriminatory Hyde Amendment, which bans federal funding for abortion care except in cases of rape, incest, and life endangerment.
Buttigieg was the only leading candidate who answered "yes" to the question of signing a budget that includes Hyde restrictions. Buttigieg told the Times he is "firmly in favor of repealing the Hyde Amendment and ensuring reproductive health care for every woman, no matter the state where she lives and works, her insurance status, race, ethnicity or place of birth. It should not be used as a bargaining chip for the federal budget."
None of the top Democratic presidential candidates said in the survey that they would consider a running mate who opposed abortion rights.
What Else We're Reading
Politico's report on Barack Obama's role in the 2020 presidential election included a tidbit about Obama's opposition to the Bernie Sanders campaign. "Back when Sanders seemed like more of a threat than he does now, Obama said privately that if Bernie were running away with the nomination, Obama would speak up to stop him," Politico reported, though an Obama spokesperson told the publication that the former president would support whoever won the Democratic nomination. 
The Washington Post reported on the six Democratic candidates who have so far qualified for the December 19 primary debate in Los Angeles, as polling and donor requirements become more stringent.
Black voters are telling Black candidates that representation is not enough, according to a New York Times report.
Even after recent Republican electoral losses in Kentucky and Virginia, swing-state senators are toeing the line for President Trump, Vox reported.