Elizabeth Warren Hedges on Question About Anti-Choice Democrats: Campaign Week in Review
U.S. Sen. Elizabeth Warren (D-MA) during Wednesday's Democratic primary debate said she's "not here to try to drive anyone out of this party."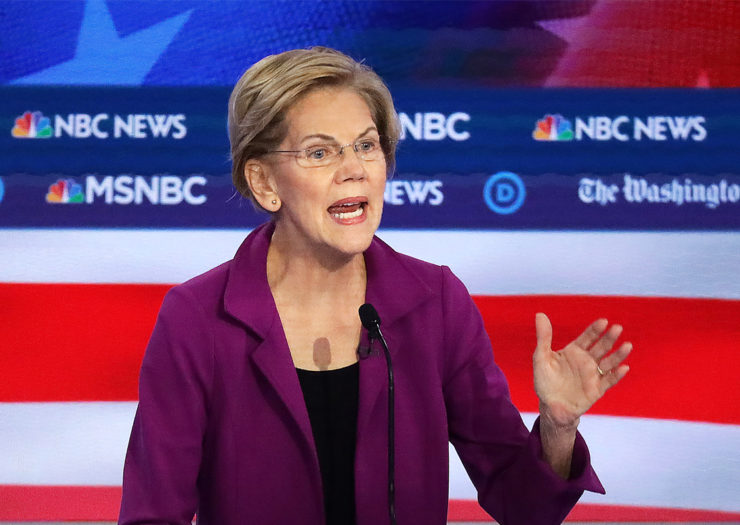 Join Rewire.News for a weekly look at how reproductive health, rights, and justice issues are popping up on the 2020 campaign trail.
Warren Asked About Anti-Choice Democrats During Debate 
Discussion of abortion rights in the United States got short shrift in Wednesday's Democratic primary debate, with U.S. Sen. Elizabeth Warren (D-MA) passing on a chance to criticize a Democratic governor who this year signed a bill outlawing abortion six weeks into pregnancy, before many know they're pregnant.
Warren, during the final few minutes of the debate in Atlanta, was asked by a moderator if there is room "in the Democratic Party for someone like" Louisiana Gov. John Bel Edwards (D), who won reelection last week after running on his anti-choice bonafides. Edwards, a favorite of anti-choice group Democrats for Life, is one of many Democrats in Louisiana who march in lockstep with Republicans pushing laws to end legal abortion care in the state. 
Roe has collapsed in Texas, and that's just the beginning.
Stay up to date with The Fallout, a newsletter from our expert journalists.
Warren didn't tackle the governor's attack on abortion access, but instead talked about the right to abortion as a human right and an economic right.
"[P]rotecting the right of a woman to be able to make decisions about her own body is fundamentally what we do and what we stand for as a Democratic Party," Warren said in response to the question about Edwards. "Understand this: When someone makes abortion illegal in America, rich women will still get abortions. It's just going to fall hard on poor women."
Pressed by the moderator to take a stance on whether the Democratic Party should have Edwards and other anti-choice Democrats in the fold, Warren refused to answer directly. "I'm not here to try to drive anyone out of this party. I'm not here to try to build fences," she said. 
The backing of anti-choice Democrats came to the forefront this week as the Democratic Attorneys General Association (DAGA) announced it would only support attorney general candidates who pledged to defend reproductive rights. DAGA called the requirement a "first-of-its-kind for any Democratic campaign committee," as there are 12 attorneys general seats up for grabs in 2020, CNN reported. 
Reproductive rights advocates said they were disappointed that abortion rights and access were largely an afterthought in Wednesday's debate amid Republican-held state legislatures passing unconstitutional abortion bans designed to challenge Roe v. Wade.
"Reproductive rights are one of the most important issues for voters right now, and yet receive very little air time," Nancy Northup, CEO of the Center for Reproductive Rights, said in a statement. "There has been hardly any discussion about major issues like abortion access, high maternal mortality rates, and birth control coverage. Americans deserve to hear directly from presidential candidates about how they plan to ensure that all people have access to the full range of quality reproductive health care."
Sen. Amy Klobuchar (D-MN), meanwhile, said the next Democratic president should push the U.S. Congress to codify Roe v. Wade into federal law, protecting it against conservative justices on the U.S. Supreme Court. Several Democratic presidential candidates have proposed codification of abortion rights. Congressional lawmakers tried—and failed—to codify Roe into federal law in the 1970s and 1980s.
"[W]hat we have to remember is that the people are with us," Klobuchar said during Wednesday's debate. "And I predict this will be a big issue in the general election. And I just can't wait to stand across from Donald Trump and say this to him: 'You know what? The people are with us.'"
Jenny Lawson, vice president of organizing and engagement campaigns for Planned Parenthood Votes, said in a statement that the candidates' discussion on how to protect abortion rights resonated in a state that has seen Republican lawmakers pass a near-total abortion ban that has been blocked by the courts. 
"Few understand the coordinated attacks on reproductive freedom better than Georgians, who are battling one of the most extreme abortion bans in the country," Lawson said. "That's why it was so important that they and people across the country heard from the presidential candidates about the need to protect and expand reproductive rights, including access to safe and legal abortion, for decades to come." 
Sen. Cory Booker (D-NJ) said during Wednesday's debate that the Georgia GOP's near-total abortion ban was passed despite overwhelming opposition to the legislation, linking the law to the suppression of voting rights for people of color and those with low incomes.
"This is a voting issue. This is a voter suppression issue," Booker said. "Right here in this great state of Georgia, it was the voter suppression, particularly of African-American communities, that prevented us from having a Gov. Stacey Abrams right now… This gets back to the issue about making sure we are fighting every single day, that whoever is the nominee, they can overcome the attempts to suppress the votes, particularly of low-income and minority voters and particularly in the black communities we saw here in Georgia."
What Else We're Reading
Mia Raven, policy director at Yellowhammer Fund, an organization in Alabama that provides financial support for people seeking an abortion in the state, wrote in Teen Vogue this week that codifying Roe protections into law "is a reasonable response only to an audience who has no idea how impossible abortion access already is for many seeking care." Raven argues that 2020 presidential candidates should "tell us how they will expand those protections so that all people can access abortion if and when they need it."
Sen. Susan Collins (R-ME) says she won't vote for President Trump's nominee, Sarah Pitlyk, for a seat on the federal district court in Missouri, citing the nominee's lack of experience and opposition to abortion rights, Bloomberg reported. Collins is up for reelection in 2020 and has become a prime target for Democrats looking to flip Senate seats.