'Terrifying': Virginia GOP Candidate Proposes 'Ankle Bracelets' to Curb Abortion
A Virginia Republican compared gun safety regulations to placing "ankle bracelets" on pregnant people, as the state's critical November 5 election approaches.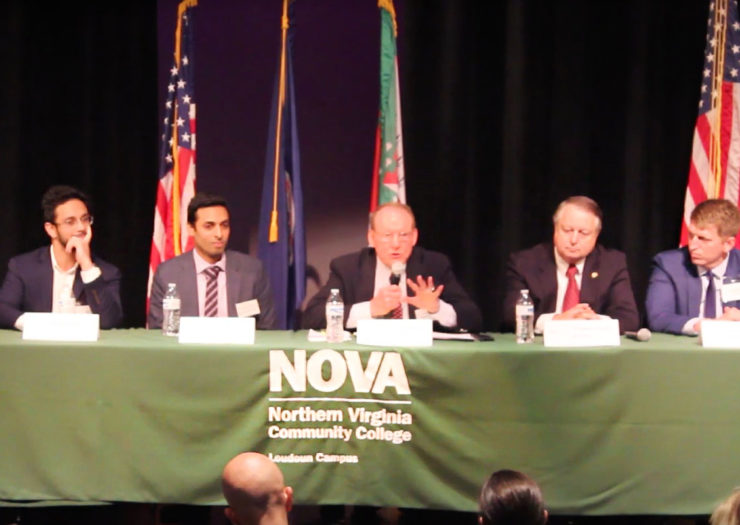 A Republican candidate for the Virginia House of Delegates, a hotly contested chamber in next month's state elections, compared gun control to forcing pregnant people to wear "ankle bracelets" to prevent abortions.
"How about this, contrarian? I'm going to impose common-sense restrictions on the constitutional right to an abortion? How about ankle bracelets? I don't think very many people would agree with that," said Bill Drennan, a Republican running in the state's 87th district. Drennan's comments, first reported on Monday by Lowell Feld at the progressive political blog Blue Virginia, were made at an October 16 forum co-sponsored by the League of Women Voters of Loudoun County and the Loudoun Campus of Northern Virginia Community College.
Drennan is firmly opposed to abortion rights, conflating a proposed expansion of abortion access in Virginia to "legalized infanticide" on his campaign website—a rhetorical flourish in line with how the state GOP smeared a pro-choice bill put forward by state Democrats in January.
Suhas Subramanyam, a pro-choice Democrat running for the open 87th district seat, told Rewire.News he was shaken by Drennan's comments. "My wife is pregnant with our first child … and the thought of her having to wear an ankle monitor is terrifying to me," he said. "I hope Mr. Drennan will reconsider his position and understand why protecting the right to choose is so important."
Roe has collapsed in Texas, and that's just the beginning.
Stay up to date with The Fallout, a newsletter from our expert journalists.
Subramanyam said door knocking and campaigning in Prince William and Loudoun counties have shown him that "the vast majority" of voters "understand the importance of reproductive justice."
Drennan was responding to a question about gun violence prevention when he made the comparison to abortion. "The number of abortions in Virginia in 2017 was 17,210. The number of gun deaths, the misuse of guns, was 1,041. That's a ratio of 16.5 to 1," Dennan said.
Drennan's comments were similar to those of Virginia House Speaker Kirk Cox (R), who in a speech on the state house floor in January compared the number of abortions in the United States to the number of "men and women that have been lost to war in this country."
Republicans hold slim majorities in both chambers of the Virginia General Assembly, despite Democratic gains in 2017. All 140 seats in the state legislature will be up for grabs on November 5, and if Democrats take both the state house and senate, they would have a legislative trifecta in Virginia for the first time since the early 1990s. Democrats, with control of the governorship and both legislative chambers, would be able to pass progressive legislation that has been stymied by Republicans, including gun safety bills and measures to increase access to abortion care.
Democrats and allied organizations have invested heavily in Virginia's 2019 election. Democrats have raised more than $30 million this year—more than double what they raised in 2015, the last time the entire legislature was up for reelection, the Washington Post reported.
Abortion access has long been a contentious issue in Virginia. It reemerged as a key issue in the Virginia legislature earlier this year when Democrats introduced a measure that would have loosened state restrictions on later abortion care. Anti-choice lawmakers, as they did in New York and Illinois when Democrats secured and expanded reproductive rights, equated the legislation with legalized murder.
"Over the past few election cycles, reproductive rights have polled in the top three issues voters support," Tarina Keene, executive director of NARAL Pro-Choice Virginia, told Rewire.News in February. "Candidates that run on reproductive rights win."
Campaign finance filings show Drennan at a massive fundraising disadvantage in the 87th district race. As of September 30, Subramanyam had raised nearly $300,000 to Drennan's $16,470. 
Neither the Drennan campaign nor the Virginia Republican Party responded to questions from Rewire.News.