Fighting for the Future of Our Planet Is Reproductive Justice
The key to ending climate change and other forms of environmental destruction is contingent on dismantling white supremacy.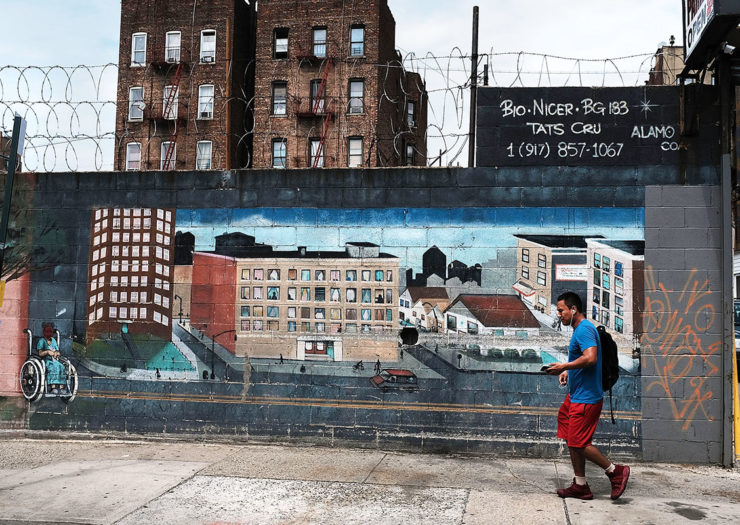 One of the fundamental pillars of reproductive justice (a framework developed by SisterSong) is the right of anyone to start and raise their family in safe, sustainable communities. Yet so many people of color do not have access to this right because of environmental racism. For progress to occur, everyone advocating for access to sexual and reproductive health care and those fighting for environmental justice needs to uplift the work and priorities of Black people, indigenous people, and other people of color.
By addressing major issues like climate change through a reproductive justice lens, our solutions can be all-encompassing.
Spit Justice, a Los Angeles-based, Black-led collective that's inspiring social change through art and grassroots organizing, defines environmental racism as "forcing working-class, colonized communities to live within close proximity to environmentally hazardous or degraded environments, such as toxic waste, pollution, urban decay, and coal plants." Such environmental racism affects the climate refugees of islands that are quickly disappearing due to rising water levels, and the community of Flint, Michigan, where there is still a lack of access to clean water. It also affects communities of color living throughout the five boroughs of New York City—which, despite its "progressive" reputation, is still leaving vulnerable people behind.
As early as 1995, reports surfaced indicating the high level of asthma among communities in the South Bronx. What we've learned in the 24 years since then is that this epidemic is not subsiding, and the root cause has revealed itself. Ninety-seven percent of the population of South Bronx's Mott Haven and Melrose neighborhoods is Black or Latinx. This area of the Bronx is positioned between three major highways and was the location selected by the city and corporate officials for the latest distribution ports for Fresh Direct, an online grocery delivery service, and the Wall Street Journal. Although community members patronize these companies at a lower rate than other New Yorkers, they are forced to deal firsthand with the environmental side effects of the hundreds of trucks coming in and out of the area daily for deliveries. In part because of this, children and adults in the South Bronx face some of the highest asthma rates in the nation.
Roe has collapsed in Texas, and that's just the beginning.
Stay up to date with The Fallout, a newsletter from our expert journalists.
Last year, a New York Times exposé also revealed just how many children tested positive for lead poisoning after it was discovered that the New York City Housing Authority (NYCHA) was knowingly in violation of health codes that outlawed the use of lead paint in 1960. Though the New York City Department of Health discovered high lead levels in the paint used in NYCHA housing buildings more than a decade ago, NYCHA leaders did nothing with this information. Instead, NYCHA officials went on to challenge 95 percent of the results of health department inspections and covered them up with investigations of their own design. The inhabitants of NYCHA housing? Low-income Black and Latinx people. In this case, the government has proven yet again that providing safe and sustainable housing is not a priority when it involves communities of color.
Those living in NYCHA housing buildings and the communities in the South Bronx not only face systemic barriers that prevent economic equity, they're also often unable to remove their families from harmful environments due to this inequity. This situation is not unique to New York City, or even to the United States. Throughout the world, due to systemic racism and socio-economic status, Black people, indigenous people, and other people of color are frequently the ones feeling the burden of environmental crises—including climate change—the most.
Groups like New York City Environmental Justice Alliance and South Bronx Unite are just two organizations on the ground in New York City fighting to end environmental racism. But the impact of their work extends far beyond the five boroughs. Immediately, their proposals would invest in building a cleaner and more sustainable environment for the communities of the Bronx. Should these proposals be implemented, they would, in turn, help New York City and the state transition to 100-percent renewable energy by 2050.
The key to ending climate change and other forms of environmental destruction is contingent on dismantling white supremacy. This is the very argument that people of color, especially Black and indigenous people, have been making for the past few centuries and beyond.
The attacks on our environment are incredibly complex, and reproductive justice provides us an intersectional lens to see it through. Embracing a reproductive justice framework means taking the lead of on-the-ground activists to safeguard the right of families to raise their children in a safe and healthy community. By doing so, we will be able to address the root causes of climate change where its effects feel most urgent, and in turn, lay the foundation for a sustainable future to build upon.