Anti-Choice Activist Takes Stand in Lawsuit Brought by Planned Parenthood (Updated)
Records read aloud in court indicate David Daleiden hoped to "ignite public outrage at Planned Parenthood" and "permanently destroy" Planned Parenthood's reputation.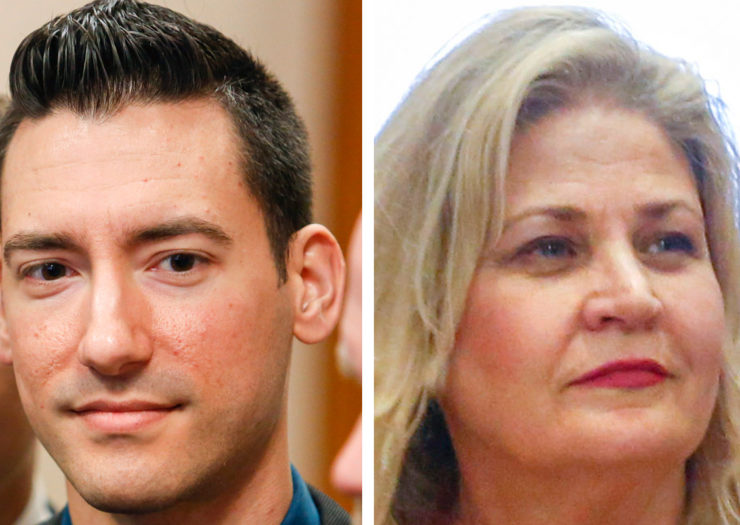 UPDATE, November 15, 2019, 3:43 p.m.: On Friday, a jury awarded Planned Parenthood a total of more than $2 million in punitive and compensatory damages. "The jury ruled in Planned Parenthood's favor on each of its claims," the organization said in a statement, "including finding that the defendants violated the Racketeer Influenced and Corrupt Organizations Act (RICO) and engaged in fraud, trespass, breach of contract, and illegal secret recording."
Planned Parenthood's civil case against anti-choice activists who four years ago smeared the organization with deceptively edited videos went to trial in San Francisco last week, where one defendant struggled to justify why she had recorded abortion providers without their knowledge or consent.
A jury will decide if the anti-choice activists' surreptitious recordings of abortion care providers were unlawful.
The recordings, used by anti-choice legislators to attack funding for Planned Parenthood, show several Planned Parenthood providers discussing fetal tissue procurement practices with defendants David Daleiden and Sandra Merritt at health-care conferences in 2014 and 2015. Merritt and Daleiden had posed as workers of a fake fetal tissue procurement company and filmed attendees without their knowledge or consent.
Roe is gone. The chaos is just beginning.
Follow Rewire News Group on Twitter to stay on top of every breaking moment.
Daleiden's anti-choice front group, known as the Center for Medical Progress (CMP), released the footage as a series of heavily edited propaganda videos, accusing Planned Parenthood of trafficking fetal tissue. The man who killed three people at a Colorado Springs Planned Parenthood facility in November 2015 repeated talking points from the videos, and Planned Parenthood says violence and threats at its clinics spiked after the recordings began surfacing the previous July. Planned Parenthood sued in January 2016.
Daleiden and Merritt face felony invasion of privacy charges in California over the recordings. In September, San Francisco Superior Court Judge Christopher Hite found Daleiden had broken the law by taping private conversations, likely clearing the way for a criminal jury trial. Hite is expected to decide later this month whether to advance that case to trial.
Calling themselves "citizen journalists," Daleiden and Merritt claim they went undercover to obtain evidence of suspected "violent felonies" committed by Planned Parenthood officials and are thus exempt from legal liability in California. Other defendants, including radical anti-choice activist Troy Newman, claim they were part of CMP's so-called investigative project.
To establish the defense of going undercover to uncover felonies, a defendant must prove they had, according to California law, a "reasonable [belief]" before the first recording was made that people being recorded had committed or intended to commit violent felonies. The defendants say their research led them to suspect Planned Parenthood of infanticide and medical battery against patients seeking abortion care in order to obtain and sell fetal tissue to researchers. Those claims have since been widely debunked.
But Planned Parenthood says CMP actually intended to smear and shut down the group via the videos. CMP records read aloud last week in court for the civil case indicate Daleiden hoped to "ignite public outrage at Planned Parenthood" and "permanently destroy" its reputation. Merritt's testimony Friday appeared to support this.
Under questioning by Planned Parenthood attorney Sharon Mayo, Merritt said she recorded about 100 people at the National Abortion Federation's 2014 annual meeting in San Francisco. When pressed, she could not name specific people she recorded whom she believed had committed violent felonies.
"It was under investigation. That was what we were trying to discover," Merritt testified.
Merritt declined to either confirm or deny Mayo's assertion that none of the evidence presented to her on cross-examination showed Planned Parenthood had acted unlawfully.
During questioning by her attorney, Horatio Mihet of the conservative group Liberty Counsel, Merritt described claims against Planned Parenthood she said had convinced her to go undercover that have either been debunked or lack supporting evidence. These included long-discredited "whistleblower" claims made to Congress in 2000 accusing Planned Parenthood of harvesting organs from living fetuses. The whistleblower, who worked as a technician for two tissue procurement companies, admitted to fabricating many of the claims and accepting over $10,000 from an anti-choice group in exchange for damaging information.
Since the release of the deceptive CMP videos, investigations launched by anti-choice state lawmakers into Planned Parenthood's fetal tissue donation program have cleared the organization of wrongdoing, as did presiding U.S. District Judge William Orrick III in a related case in 2016. Orrick last month said there was no evidence fetuses were delivered alive in Planned Parenthood facilities and barred trial evidence allegedly proving they had been.
The civil trial is expected to run through at least November 8 in federal court in San Francisco.