Yelp Fixed Its Anti-Choice Clinic Problem. Why Can't Google Do the Same?
In contrast to Google, a Yelp search for an abortion provider in an area where there are none simply turns up no results.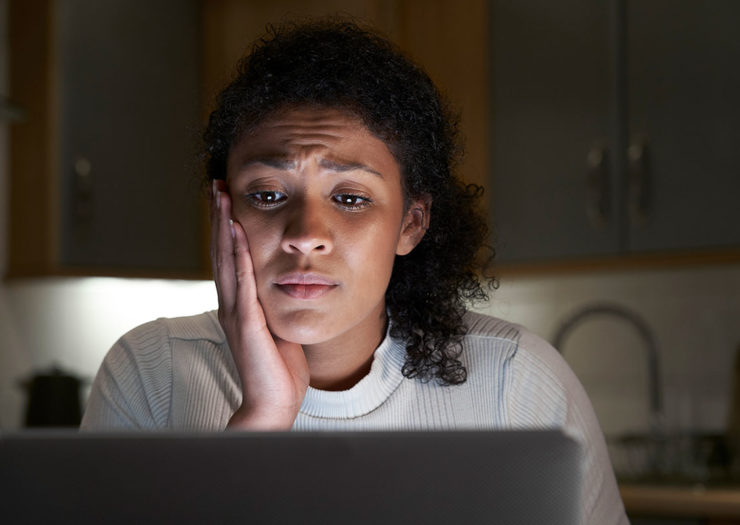 Those looking for abortion providers using Google Maps are still being led to anti-choice pregnancy centers, while searches for an abortion provider using Yelp turn up consistently accurate results. 
Yelp made a concerted effort last summer to ensure the business review site was delivering accurate results when people turn to its platform to find abortion care. Google, meanwhile, struggles to explain why it directs those seeking abortion services to clinics that offer misinformation about abortion and don't offer the service. 
Last year, news outlets 
reported
that Google Maps searches for "abortion providers" or "where can I get an abortion near me?" often turned up results for crisis pregnancy centers, or CPCs, known to intentionally mislead those seeking abortion care and influence their reproductive health decisions using shady tactics. That includes promoting misinformation about abortion to make it sound like a risky procedure—it isn't—and setting up shop next to actual abortion providers in hopes that pregnant people will mistakenly walk through their doors instead.
How did Yelp ensure abortion care seekers would not be offered search results from those looking to dissuade people from seeking the service? Yelp said it manually reviewed over 2,000 businesses and recategorized clinics that don't provide abortions as "Crisis Pregnancy Centers" or "Faith-Based Crisis Pregnancy Centers."
That included gathering information from business websites and social media pages, looking at reviews from customers, and examining information that the businesses contribute to Yelp.  
"While it's a painstaking, manual process to ensure accurate categorization at scale, it's a challenge we prioritize and take seriously," Yelp spokesperson Kathleen Liu told Rewire.News.
In contrast to Google, a Yelp search for an abortion provider in an area where there are none turns up no results. 
Yelp began weeding out deceptive results after CEO Jeremy Stoppelman watched an episode of Last Week Tonight that spotlighted how anti-choice clinics deceive people who are seeking abortion care and sometimes put their health at risk. 
"After learning about the increasing threat to consumers with this type of misinformation, it inspired Jeremy to take a look at how he can further improve the platform," Liu said.
"Maintaining consumer trust is our top priority, which is why we take measures to protect the integrity of content on our platform and mitigate the spread of misinformation," Liu continued. "When our users turn to us for searches that are this critical and sensitive, it is incredibly important that Yelp surfaces the highest quality information that truly responds to what people are looking for."
Abortion rights foes have long gamed search engine results to attract people seeking abortion services to these often nefarious organizations. 
One study found that 79 percent of Google searches for "abortion clinic" turned up ads funded by anti-choice clinics. Google removed the ads after finding they violated their policy against misrepresentation, but Rewire.News discovered in 2017 that deceptive Google ads for these anti-choice clinics remained. 
CPC vastly outnumber abortion care providers, especially in states where lawmakers passed restrictive laws that make it difficult for abortion clinics to operate. In Texas, for example, anti-choice clinics outnumber abortion clinics 10 to 1.
It is in those areas—abortion care deserts—that Google's search results continue to fail those seeking abortion services. 
Take Arkansas, for example, where the two remaining abortion providers are located in Little Rock. A Google Maps search for "Where can I get an abortion near Fort Smith," pulls up results for two local anti-choice clinics, Heart to Heart Pregnancy Center and the River Valley Pregnancy Medical Center. 
In South Dakota, the only remaining abortion provider is the Planned Parenthood in Sioux Falls. A search for an abortion provider in the state's second-largest city, Rapid City, turns up one search result, for Black Hills Pregnancy Center. That is an anti-choice clinic that doesn't offer abortions, although that's not explicitly stated on the website's landing page. The "What to Expect" section of their website states "Privacy, Respect, and Information and Options." 
Google results in major metropolitan areas with multiple abortion providers can also be misleading to people looking for an abortion provider. In Nashville, a search for abortion providers delivers results for two anti-choice clinics, two abortion providers, and another abortion provider that has been shut down for more than a year.  
Despite being repeatedly called out for promoting deceptive anti-choice clinics, Google has been unable to fix the problem and has been reluctant to give much insight into how—or if—it's addressing it. 
"We work hard to surface business results that are relevant, accurate, and help users find what they're looking for," Google spokesperson Paul Pennington told Rewire.News. "We have policies in place against businesses that misrepresent themselves on Maps, and when we become aware of listings that violate our policies, we work to remove them as quickly as possible. We also empower our users to report listings for correction or removal if they believe a business is misrepresenting itself or its services."
Google did not respond to whether that means it's working to ensure that searches for abortion providers don't turn up results for anti-choice organizations.
Apple Maps and navigation app Waze (which Google owns) sometimes direct those seeking abortion providers to anti-abortion organizations, a Rewire.News analysis found, but Yelp, on the other hand, never mixes up anti-choice clinics and real abortion clinics in its search results.