Clinics Challenge Tennessee's 'Demeaning' Forced Waiting Period Law
While research shows people are certain of their decision to have an abortion, 27 states require abortion care patients to wait before obtaining one.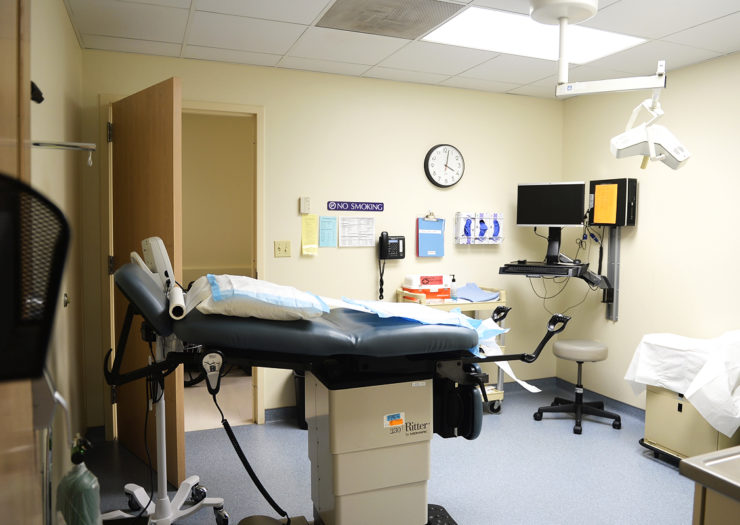 Four Tennessee abortion clinics are challenging in a federal court this week a 2015 law that mandates a 48-hour forced waiting period for people seeking abortion care.
Attorneys for the clinics argue the anti-choice law—passed by Tennessee's Republican-majority legislature—places an undue burden on those seeking abortions by complicating scheduling, pushing back abortion dates, and forcing some to change their preferred method of abortion. Dr. Sarah Wallett, the former medical director of Planned Parenthood Greater Memphis Region and Planned Parenthood of Tennessee and North Mississippi, testified Monday that the forced delay can stall an abortion by up to a month and affect the method of abortion a person can obtain.
Tennessee's forced waiting period law mandates that abortion patients undergo counseling, which means they ultimately make two separate visits to a clinic before they can have an abortion. Waiting period laws have proven not to dissuade abortion care patients while raising costs.
The law was part of a spate of anti-choice laws Tennessee's GOP lawmakers passed in 2015.
Roe is gone. The chaos is just beginning.
Follow Rewire News Group on Twitter to stay on top of every breaking moment.
"Prior to [the bill's passing], Tennessee women considering abortion were able to take all the time they needed to think about their options," attorneys on behalf of the abortion clinics said in a pre-trial brief on Aug. 16. "Those who made the decision to end a pregnancy were able to do so on the day of their scheduled appointment, after receiving appropriate counseling and giving their informed consent, just as patients do for a variety of other medical procedures."
State Sen. Jeff Yarbro (D-Nashville) said Republicans' 48-hour forced waiting period has always been about politics and never about health.
"We opposed this legislation because of its dubious constitutionality, the apparent partisan motivation, and the potential harm to patients," he told Rewire.News. "Unfortunately, the state's experience since this law was enacted has confirmed those deficiencies. It's a bureaucratic hurdle that serves no purpose other than to be a bureaucratic hurdle. The delay isn't just medically unnecessary, but it constrains the medical options available to women and needlessly imposes additional costs and frustration for families."
Tennessee Attorney General Herbert H. Slatery III (R) argued in a pre-trial response that the state's forced waiting period law "is a constitutional exercise of the State's authority to further its interest in fetal life and maternal health." In February the Tennessee Maternal Mortality Review of 2017 Maternal Deaths report determined that in that year, 78 women in the state died while pregnant or within one year of pregnancy and 85 percent of those deaths were preventable, making women's health a safety issue.
At CHOICES Memphis Center for Reproductive Health, a small and independent reproductive health clinic, the 48-hour delay period often puts under-resourced people's access to health care out of reach. According to the clinic, many clients travel from far distances, including Mississippi, Arkansas, and Missouri because the Tennessee clinic is their closest option.
"For these patients, the delay means a night or two in a hotel, taking days off from work, that you may or may not receive, and childcare that you may or may not be able to afford," Katy Leopard, the center's assistant director, told Rewire.News. "For people who aren't in this position, it can be difficult to imagine that those things can be barriers to your being able to receive health care, but they absolutely are. How this law can be twisted into being about the woman's health is a wild stretch of reality. These folks are already making difficult choices and the delay makes it more agonizing."
The experts brought to trial by the abortion clinics intend to prove just that. Wallett, Jessica Young, a board-certified OB/GYN and former medical director of Planned Parenthood of Middle and East Tennessee, and Rebecca Terrell, executive director of Memphis Center for Reproductive Health, will provide evidence that patients are certain of their decision by their initial visit to the clinic. The evidence includes research, analysis, and medical documentation showing the harmful effects of the anti-choice law.
"The evidence that has been presented in the trial shows clearly that the forced delay law in Tennessee has pushed abortion later in pregnancy and has undermined patients' decision-making autonomy," said Ashley Coffield, president and CEO of Planned Parenthood of Tennessee and North Mississippi. "The law is demeaning, intrusive, and medically unnecessary. This legal process is proving that politicians have undermined safe and ethical medical care for those seeking abortion services in Tennessee."
Research shows people are certain of their decision to have an abortion. Despite this, 27 states require those seeking abortion care to wait before obtaining one, according to the Guttmacher Institute. In 2018, the Iowa Supreme Court ruled that a 72-hour forced waiting period was unconstitutional. In 2017, Florida's 24-hour forced waiting period was blocked by an American Civil Liberties Union lawsuit but is back in question after an appeals court ruled in August that a circuit judge erred in his decision against the anti-choice law, the Associated Press reported.