What I Want the Democratic Candidates to Say About Abortion—Without Being Asked
Being "pro-choice" doesn't tell us how a candidate would protect and expand access to reproductive health care, including abortion.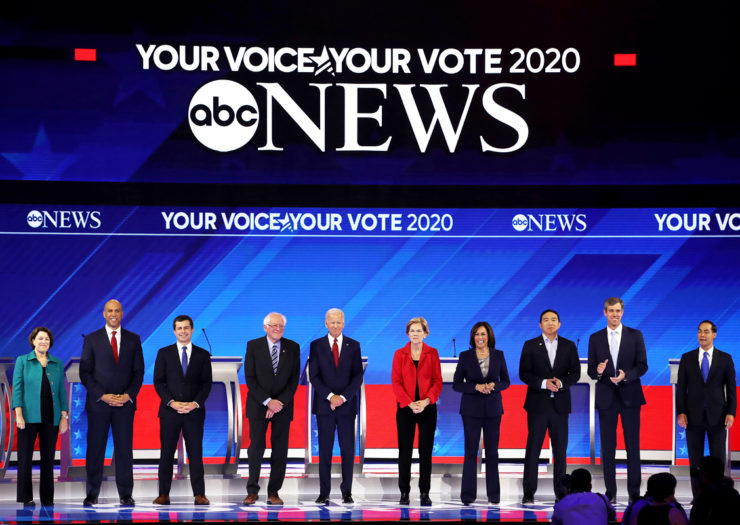 When I started the #AskAboutAbortion hashtag in 2016, I hoped to push presidential debate moderators to ask candidates about reproductive rights. I didn't think we'd still have to have this conversation three years later. But now, as Democrats again face off for the presidential nomination, we are not only facing a dearth of questions about abortion from debate moderators but a reluctance from some candidates to even use the word "abortion."
Last time, we were on the verge of the U.S. Supreme Court's decision in Whole Woman's Health v. Hellerstedt—which challenged key provisions in Texas' omnibus anti-choice law, HB 2—and states were passing restrictions on abortion left and right. I was frustrated that moderators at each debate were recycling the same questions about how the Democratic presidential candidates would create jobs and regulate Wall Street, but not about how they'd protect access to abortion—the very medical procedure that makes my life possible.
Many said the question was pointless to ask because both Democratic candidates were pro-choice, so there was nothing for them to debate. But the reality is that being pro-choice doesn't tell us where a candidate stands on specific issues, and it definitely doesn't tell us how a candidate would protect and expand access to reproductive health care, including abortion. Both Democratic primary candidates in 2016 said they were champions of abortion access and had records to back it up, but I wanted to hear more. Access was crumbling. It wasn't enough to hear a candidate say they believe abortion should be legal. I wanted to hear how they were planning to truly make it accessible and affordable, and to hear them affirm those of us who've had abortions.
I had grown tired of the debate questions and began to tweet about how abortion was connected to each topic the moderator raised. Question about Medicare for All? Perfect—the moderators could ask about whether the plans would be required to cover abortion. A question about education access? Lovely! How can we ensure students have access to comprehensive, medically accurate information about abortion and queer-inclusive, consent-based sex education? A question about the military? How would the candidates ensure service members are able to access abortion care?
Roe is gone. The chaos is just beginning.
Follow Rewire News Group on Twitter to stay on top of every breaking moment.
I incessantly tweeted for months, as did others. NARAL Pro-Choice America ran a campaign on it. Secretary Hillary Clinton herself asked the moderators why abortion hadn't been brought up. It wasn't until October that FOX News finally asked then-Democratic nominee Clinton and reality TV host Donald Trump whether they'd support access to later abortion.
I thought things might be different this time. I was excited when Sen. Kirsten Gillibrand (D-NY) took to FOX News to defend later abortion and when former Housing and Urban Development Secretary Julián Castro spoke about reproductive justice in the first debate and mentioned trans folks' need for abortion access (despite mistakenly saying trans women when he meant trans men). I appreciate candidates who are trying to change the conversation.
I had hoped debate moderators might follow their lead. But unfortunately, at last week's debate the moderators didn't ask about abortion and the candidates didn't volunteer it.
This cycle, advocates are back, trying to force the conversation on the debate stage. All* Above All Action Fund revived the #AskAboutAbortion campaign—this time focusing on repealing the Hyde Amendment and other coverage restrictions.
Last week, All* Above All Action Fund invited me and a dozen other reproductive justice activists to Houston ahead of the debate to talk with candidates' staff about how the candidates could truly demonstrate their commitment to abortion access. We explained to the Warren, Harris, Booker, and Buttigieg campaigns how their candidates should continue to talk about their commitment to issuing a clean budget without the Hyde Amendment's ban on federal funding for abortion, fighting for the passage of the EACH Woman Act to permanently end Hyde, and vetoing any bill with restrictions on abortion coverage. We explained that we'd love to see one of their candidates remind the nation from the debate stage that "everyone loves someone who's had an abortion" to set the tone that we deserve respect and compassion.
So when nobody brought it up on the debate stage last Thursday, I felt like I was in 2016 all over again. We are in a monumental moment with a slate of solidly pro-choice candidates eager to say that they are pro-choice—something we haven't always had—and yet it's still not enough.
Several candidates tweeted after the debate about the lack of questions on reproductive rights, and a few expanded on the topic in interviews. But, I was still left frustrated. In her morning-after interview on MSNBC, Sen. Kamala Harris (D-CA) didn't mention abortion by name; South Bend Mayor Pete Buttigieg's team couldn't even tweet the word. (Disclosure: This writer has donated to the campaigns of Secretary Castro and Sens. Warren, Harris, and Gillibrand.)
How can a candidate claim to be supportive of abortion—a champion even—if they can't say the word? How can they say they're 100 percent pro-choice if they continue to use stigmatizing language about how difficult and tragic our decision was—language that opens the door to restrictions like government-mandated waiting periods and biased counseling?
Voting records are important, but so are language and action.
I am excited that we have a stage full of candidates who are ready to defend our right to an abortion. That's monumental—but it should be the bare minimum. I want to hear plans: how are they going to not only protect access but expand it nationwide. Some candidates have released plans, but I want to hear them debate their ideas in front of the nation.
I want a candidate who doesn't just have a digital team tweeting about the lack of questions on abortion, but one who actually brings it up on the debate stage. I want a candidate who looks into the camera and tells the 1 in 4 of us who've had or will have abortions that they truly support and understand our decision, and explains how they'll advance our access to abortion. I want a candidate who has thought about this issue as hard as they've thought about ending college debt or the Affordable Care Act.
What I really want is a candidate who shares their abortion story from the debate stage. But until then, I'll just settle for a candidate who says they love someone who's had one.