Culture & Conversation Abortion
'13 Reasons Why' Missed an Opportunity to Show a Major Hurdle for Teens Seeking Abortion
At Jane's Due Process, I hear from teens nationwide experiencing the burden of parental consent laws.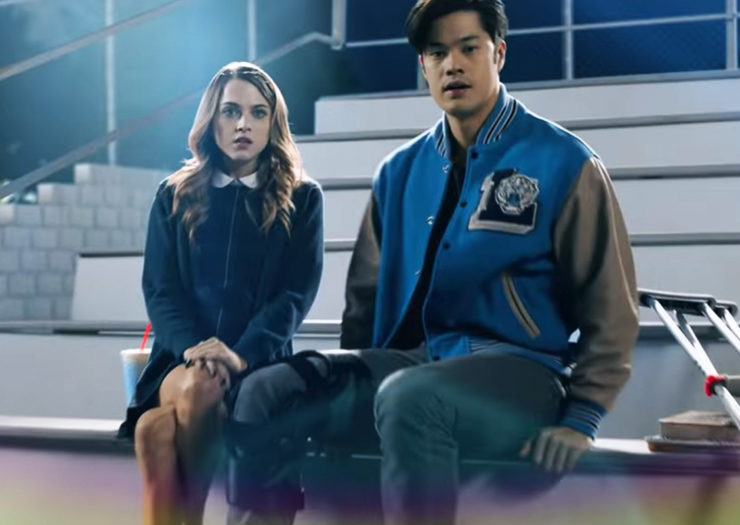 I've been a viewer of 13 Reasons Why since it first aired on Netflix in 2017 because of the way it explores many issues I experienced as a teen. As a volunteer at Jane's Due Process, a Texas-based nonprofit that assists teens seeking an abortion, I was immediately drawn to the latest season, which became available on August 23, because it includes an abortion storyline. However, after watching the episode, I felt it missed a perfect opportunity to address a difficult restriction many teens face when seeking an abortion: parental involvement laws.
As other media outlets acknowledged shortly after the episode's release, the character, Chloe Rice, does experience common forms of anti-abortion stigma while visiting what we know as a crisis pregnancy center (CPC), or a fake clinic that doesn't provide abortion. Known to lie and shame, these anti-choice centers often attempt to influence people who have already made the decision to have an abortion. In this case, Chloe, who was facing an unintended pregnancy by her abusive partner, had made the decision to have an abortion with the support of a friend. But before she visits a real abortion clinic, like many, she finds herself inside a CPC. It is during this scene that we are informed there is no parental consent law in California, the show's fictional setting.
While parental involvement may not be needed in California, the majority of states do still require it. In fact, 36 states have some form of parental involvement laws, which can range from requiring a parent's consent for an abortion to a parent being notified, or both. These laws are burdensome for teens needing abortions, and they disproportionately affect low-income people of color, as well as jeopardize the teen's own safety. While most teens do involve their parent(s) when having an abortion, the teens who are unable to do so—for good reasons—have the legal right to petition for a judicial bypass, or written permission from a judge to have an abortion.
Because the show, which films in Northern California, hasn't explicitly emphasized its location before or made it crucial to the plot (in order, as some argue, "to make the issues the teens face more timeless and relatable"), seeing Chloe experience the barrier of parental consent would have been completely believable. Had the show not blatantly specified that parental consent was not a factor in this situation, teen viewers living in states with those restrictions might have had an opportunity to learn about their rights when seeking an abortion. This is especially significant considering many teens are unaware that they have a legal right to petition for a judicial bypass.
Roe is gone. The chaos is just beginning.
Follow Rewire News Group on Twitter to stay on top of every breaking moment.
At Jane's Due Process, I hear from teens nationwide experiencing the burden of parental consent laws. Those of us answering calls or texts are sometimes the first point of contact for teens, providing emotional support through a situation they've not yet shared with anyone else.
For those in Texas, Jane's Due Process provides logistical support every step of the way. For those living elsewhere, we help teens learn about the process for a judicial bypass in their own state, providing emotional support and information as needed. In 2018, 182 Texan teens successfully secured a judicial bypass.
When a teen in Texas contacts Jane's Due Process, we locate their nearest abortion clinic and go through an intake process, so we know exactly how we can best support them. Most young people experience the additional barriers of needing money and transportation, so we help them apply for assistance through abortion funds and practical support organizations. Later, we match them with a free attorney who helps them prepare for a hearing with the judge who will decide if they are mature enough to make this decision without their parent(s). It is a burdensome process that more than 200 teens in Texas experienced last year—with over 75 percent of them being young people of color.
CoWanda Rusk, a storyteller with the National Network of Abortion Funds' Youth Testify leadership program, talked to PopSugar in July about her experience needing a judicial bypass. "As a black person in America, she said, the thought of stepping into a courtroom was traumatizing enough on its own," PopSugar reported. "Add in asking another human being for permission to make an extremely personal decision, and the experience threatened to feel completely dehumanizing."
"You only have yourself," Rusk told the publication. "If you can't govern yourself, then what control do you really have over anything?"
This is one of many experiences a teen may have while seeking an abortion in the United States that could have been addressed in the show.
Ultimately, the issue with media representations of abortion experiences is that what's portrayed isn't drawn from the lives of the people most affected by abortion restrictions: people of color, young people, LGBTQ communities, undocumented individuals, and parents. CoWanda Rusk put it this way to me: "It makes me feel isolated, underrepresented, and uncared for."
"Our health-care system was not designed with teens in mind, so as far as parental consent, most teens don't even have that type of access to their parents," she added. "Having conversations about things like sex, pregnancy, and abortion are things that many teens don't feel safe bringing to their parents. The answer to that isn't forcing their involvement."
As an adult who's had an abortion, I did feel Chloe's experience in the show resonate with me. I appreciated how sensitively the scene of her procedure was done. The length of the scene gave the viewer enough time to grasp how she was feeling. I connected most with the close-up of Chloe's face during her abortion. Anne Winters did a fantastic job showing the complexity of her character's decision-making, while reflecting that it was the right choice in her facial expression.
But for a show that aims to increase awareness around real issues, there is so much more that could have been done for teen viewers who may need an abortion in one of the 36 states with parental involvement laws.