'We Are Headed Toward a Public Health Crisis': Title X Clinics Grapple With Trump's 'Gag Rule'
Family planning officials in states with anti-choice restrictions see the new Title X rules as yet another barrier to health care for people with low incomes.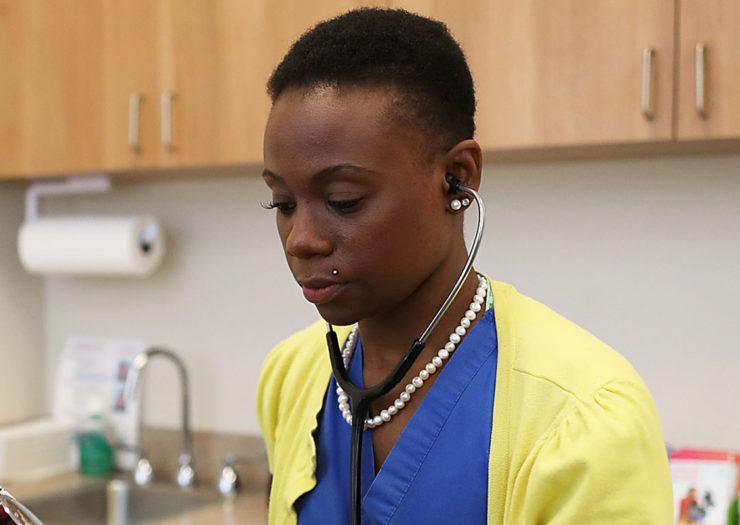 Michelle Trupiano is accustomed to dealing with burdensome laws and regulations in providing reproductive health care.
As the executive director of the Missouri Family Health Council, which distributes Title X funding in the state, she helps the 70 Title X-funded clinics in Missouri navigate red tape created by the state's anti-choice legislators. So when the Trump administration rolled out its domestic "gag rule" prohibiting Title X funding recipients from referring patients for abortion care and forcing clinics to financially separate abortion services from Title X-funded services, it was yet another hoop for Trupiano to jump through.
The new rule has led many organizations, and some state governments, to withdraw from Title X—the nation's only federal funding program dedicated to family planning. Planned Parenthood, which serves 40 percent of the nation's 4 million Title X patients, announced last month that it was leaving the program, and at least seven states have decided not to participate so that their health-care workers don't have to comply with the administration's anti-choice restrictions.
But in Missouri, one of the most hostile states when it comes to access to reproductive health care, most of the Title X clinics are choosing to remain. Because targeted regulations of abortion providers have whittled statewide abortion access to one clinic, the question of where to get an abortion in the state doesn't come up so often between family planning providers and patients, Trupiano said. And many of the organizations Trupiano works with are the only source of reproductive health care in their communities, especially in rural areas. Maintaining federal funds through Title X—even with the new restrictions in place—is critical to the continued existence of these family planning facilities.
Sex. Abortion. Parenthood. Power.
The latest news, delivered straight to your inbox.
"Because we are Missouri, because we are already in a supremely hostile environment, and because there is already a severe lack of access across the state, the majority of our health centers are choosing to stay in [Title X] because they know that's the difference between closing their doors and serving patients," Trupiano told Rewire.News.
Title X provides affordable birth control and reproductive health care to people with low incomes. In many cases, patients using Title X-funded clinics could not afford health-care services without the program, said Audrey Sandusky, senior director for advocacy and communications at the National Family Planning and Reproductive Health Association.
"For the majority of Title X patients, their Title X provider is their only source of health care, particularly in small and rural communities," Sandusky told Rewire.News. "This has not been an easy decision for providers determining whether to leave or stay in the network. As a result of this rule, some are leaving and others are forced to figure out how to navigate the restrictions of the rule while also hanging on to the trust of their patients."
Another part of the "gag rule," forcing Title X recipients to physically separate abortion services and Title X-funded services, will go into effect next March.
Many clinics' compliance plans for adhering to the domestic "gag rule" have not yet been approved by the U.S. Department of Health and Human Services, Sandusky said. What the new regulations will look like in practice is yet to be determined. As providers grapple with whether to stay in Title X, the Trump administration's rule is creating uncertainty about the program's future and the availability of low-cost family planning health services for people with low incomes.
Without Planned Parenthood clinics participating in Title X, other Title X-supported sites would need to expand their caseloads by an average of 70 percent to fill the gap, according to the Guttmacher Institute. Other providers lack the capacity to absorb the influx of patients they may receive as a result of Planned Parenthood withdrawing from the program, Sandusky said, which could lead to long wait times and other barriers that may discourage patients from seeing their providers.
In Michigan, Planned Parenthood served about 65 percent of the 66,000 Title X patients in the state, leaving a large gap for other agencies to fill, said Deanna Charest, manager of the reproductive health unit of the Michigan Department of Health and Human Services. The department is working to fill the gap by reaching out to local health departments who don't yet participate in Title X and seeking partnerships with federally qualified community health centers. But developing a wider network of Title X providers won't happen right away.
"All those things take time," Charest told Rewire.News. "It's not easy to get a clinic up and running immediately. These are long game strategies."
The largest Title X administrator in the United States, Essential Access Health delivers funds to more than 200 clinics in California. The organization received federal approval on their plan outlining how it will comply with the new rules, Politico reported, though the details of the plan have not been made public.
"We have an obligation to advance two important goals in tandem—supporting the ability of our sub-recipients to provide the best care they can while the regulations remain in effect, and fighting to protect Title X's mandate to provide comprehensive family planning services for all in court," the organization's CEO, Julie Rabinovitz, told Politico.
As family planning providers across the country grapple with how to deal with the new rules, patients who rely on the Title X program for care will face even greater hurdles.
"Already poor and low-income people face serious barriers in their lives, and if they can't go to the Title X provider they know and trust, then they go without care," Sandusky said. "That means they go without cancer screenings, STD testing and treatment, and HIV services. Given the uncertainty that exists across the country, we are headed toward a public health crisis."