A New Trump Rule for Federal Contractors 'Encourages People to Discriminate'
The Labor Department rule would let employers with government contracts claim religious exemptions to discriminate.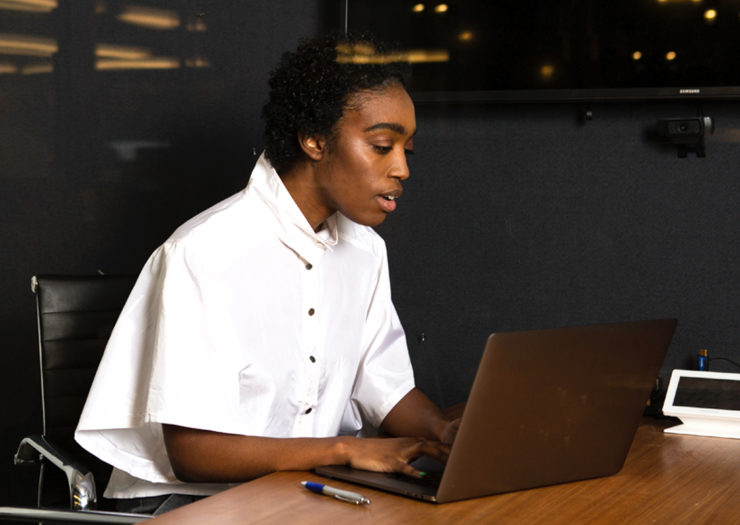 The U.S. Department of Labor could soon open the floodgates for legal LGBTQ discrimination by federal government contractors.
A rule introduced August 15 could put millions of transgender and queer people, women, people of color, and religious minorities employed by contractors at risk of discrimination, advocates say. The proposed rule would broaden the narrow exemptions for religious organizations receiving federal government contracts to include any organization or business that can cite a religious mission.
This is part of an ongoing effort by the Trump administration to undermine legal protections for LGBTQ people in all spheres of life while undoing the Obama administration's civil rights legacy. The Trump administration's push to allow discrimination by government contractors comes amid an increase in discrimination complaints at contracted companies. 
"[The rule] is part of a greater pattern," Victoria Rodríguez-Roldán, director of the Trans/Gender Nonconforming Justice and Disability Justice Project for the National LGBTQ Task Force, told Rewire.News. "We see it, for example, in how the administration is now arguing before the Supreme Court that it's legal to fire LGBTQ people from their jobs, precisely because of their sexual orientation or gender identity. There is also a process where we see similar rules around religious freedom, quote unquote, in other agencies."
Roe has collapsed and Texas is in chaos.
Stay up to date with The Fallout, a newsletter from our expert journalists.
Democrats in the U.S. House of Representatives, meanwhile, raised concerns about the Trump administration rule and its "unintended consequences" in an August 28 letter to Acting Labor Secretary Patrick Pizzella. Democrats called for a longer period for public comment on the proposed rule, citing similar rules on discrimination that had comment periods of at least 60 days.
It's difficult to know how many workers will be affected by the rule, since the permitted discrimination could take many forms. While the rule would not apply to every federal contractor, it would apply to any for-profit business able to claim a religious purpose. Even with those limitations, there are signs the impact could be enormous.
Government contracts represented $559 billion in federal spending in fiscal year 2018, according to Bloomberg Government, although the number of workers that money employs is not publicly available. According to the Congressional Budget Office, the size of the contracted workforce is not tracked across the federal government, although it noted the U.S. Department of Defense alone contracted the equivalent of 670,000 full-time workers in 2012. 
The rule's impact would be broad, affecting not only workers staffed to federal government projects but every other worker employed by those companies. 
"Even people who have nothing to do with carrying out the responsibilities of the federal contract itself are nonetheless protected under this executive order because their employer is a federal contractor," said Ian Thompson, senior legislative counsel for the American Civil Liberties Union, referring to executive order 11246, which the proposed rule would reinterpret. The order was originally signed by President Lyndon B. Johnson and has been amended by multiple presidents, most recently by President Obama in 2014 to add sexual orientation and gender identity as protected groups.
Thompson said nearly one-quarter of private sector workers in the United States are employed by a company or organization with a federal government contract. Combining that figure with the demographics of contractors audited by the Office of Federal Contract Compliance Programs (OFCCP) suggests that many millions of women and people of color work for federal contractors. Contractors likely also employ millions of workers who are queer, trans, or part of a religious minority, based on these groups' shares of the population. 
The proposed rule comes as the number of workplace discrimination complaints have increased, including at federal contractors. OFCCP, the agency that published the proposed rule, has received a growing number of complaints about bias on the basis of sexual orientation and gender identity, according to its data. Sexual orientation claims have increased from three in 2015 to 65 in 2018, and complaints based on gender identity have grown from three in 2015 to 20 in 2018. Overall complaints have grown over the same time period, from 670 to 1,418. Year after year, nearly 1 in 5 compliance evaluations by the agency result in at least one violation, according to data from OFCCP.
The upward trend mirrors complaint data from the Equal Employment Opportunity Commission (EEOC), which received 1,412 LGBTQ-based complaints in 2015, a number that grew to 1,811 in 2018. 
The Trump administration issued a directive last year that made a similar legal argument to the proposed rule. As a directive, it merely described the agency's interpretation and did not change any regulations. Rodríguez-Roldán said that compared to the directive, a rule is more firmly established. 
"One issue about regulations is that they are very hard to change. It takes many months and different procedures to change them. It would be harder to overturn [the rule] in, say, a future administration, for example," she told Rewire.News. "It essentially becomes part of regulatory law." 
Even though the final rule would alter regulations, it still doesn't have the power to override laws or court rulings. For example, judicial decisions about whether Title VII of the Civil Rights Act applies to LGBTQ workers would be unaffected, although those could be overturned by the U.S. Supreme Court, which agreed to hear three cases addressing that question in its next term.
A leaked executive order less than a month into the Trump presidency prefigured the directive and the proposed rule. At the time, Chad Griffin, president of the Human Rights Campaign, told the Washington Post that it "reads like a wishlist from some of the most radical anti-equality activists." 
Harper Jean Tobin, director of policy for the National Center for Transgender Equality, said the backlash from the leaked order pushed the administration to pursue the same goals through less overt means.
"[An executive order] would require the president to own the decision in a way he doesn't like to do," she told Rewire.News.
That strategy may be working. While the new Labor Department regulation has drawn almost 4,000 comments in the 15 days since the rule was published, that's far fewer than the more than 12,000 received in the first 15 days of the comment period for the most-viewed rule, one removing the gray wolf from the list of endangered species.
The proposed Labor Department rule echoes language from the 2017 leaked draft order referring to recipients of federal grants and purchase orders. But the proposed rule goes further by explicitly including for-profit businesses that can claim a religious purpose rather than stopping at religious organizations.
Advocates and legal experts emphasized that the proposed rule is not the last word. The administration will need to go through the process of releasing the final rule after the initial comment period ends on September 16, and a final rule is also likely to face legal challenges.
"They have been inviting lawsuits from the beginning. … At Lambda Legal, we are very busy now litigating multiple cases tackling these issues. Even with some of the federal courts having been made more conservative by the Trump-[Mitch] McConnell judicial appointments, we still have strong confidence that these proposals will not take effect," said Jenny Pizer, law and policy director at Lambda Legal. 
Pizer explained that while there's a longstanding tension between various rights, including equality rights and freedom of religion, "this administration is being more overt and more radical to tip the scales dramatically in favor of religious rights."
Along with being on shaky legal ground, Tobin said the rule's cost-benefit analysis was suspect. While it considers the time human resource departments will need to review the regulation as part of the rule's $20 million price tag, it doesn't take into account research indicating that workplace discrimination can be costly. A Center for American Progress report estimates workplace discrimination costs the economy $64 billion every year. The study arrived at the estimate by multiplying replacement costs for a worker by the number of workers who leave their job due to discrimination each year.
Tobin emphasized that affected workers are not powerless. Workers experiencing discrimination can reach out to organizations like Lambda Legal, the ACLU, and the NAACP Legal Defense and Educational Fund. They can submit complaints to the EEOC without a lawyer, although Tobin said that filing complaints with a lawyer's help is ideal.
"[The rule] scares people, that confuses people, it encourages people to discriminate," she said. "It really does harm people. But people should know it doesn't mean they still don't have rights. … If you are facing discrimination, reach out and get help. The Trump administration is out to harm us, but they can't take all of our rights away."