How One Texas City Exploited a Loophole in an Anti-Choice State Law (Updated)
Officials in Austin, Texas believe they've found a way around a Republican state law targeting a lease agreement between the city and a Planned Parenthood health center.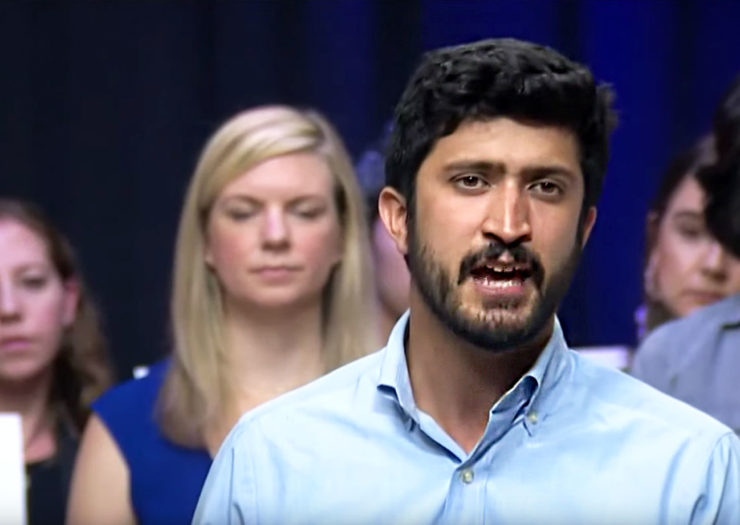 UPDATE, January 14, 2020, 12:29 p.m.: Texas Attorney General Ken Paxton (R) has barred state employees from making payroll donations to Planned Parenthood, citing the anti-choice Senate Bill 22, the Dallas Morning News reports. 

UPDATE, September 11, 2019, 10:23 a.m.: The Austin City Council on Tuesday adopted a budget that includes $150,000 to advance access to abortion. The funding can be used for lodging, transportation, childcare, doula, and emotional support for abortion care patients.
As anti-choice officials across all levels of government in Texas chip away at abortion rights, the Austin City Council is seeking to expand access with a budget measure that would direct $100,000 to organizations that provide logistical support for people seeking abortion care. 
The Austin budget proposal, introduced August 19, comes two months after the Republican-controlled Texas legislature passed Senate Bill 22, which targets a lease agreement between the City of Austin and a Planned Parenthood health center. The council's budget will be finalized by mid-September. If approved, the abortion support funds will go through the Austin Public Health Department and then be open for bidding among organizations such as the Bridge Collective and Fund Texas Choice that do not provide abortions but assist with travel, lodging, childcare, and other forms of support for those seeking abortion care. 
Roe has collapsed and Texas is in chaos.
Stay up to date with The Fallout, a newsletter from our expert journalists.
"Statewide leaders have directly attacked our constituents' ability to access abortion care every legislative session," Councilperson Greg Casar told Rewire.News. "As leaders who care about abortion access, it's important to fight back and push back; otherwise these statewide anti-abortion extremists will continue to pass barrier after barrier."
Meanwhile, some Texas cities are joining statewide efforts to restrict abortion access. In June, the Waskom City Council unanimously voted to ban abortion and named organizations that provide support for abortion as criminal organizations. Leaders in Mineral Wells attempted to pass a similar ban, but that effort ultimately failed. 
The Texas GOP's Senate Bill 22, which prohibits cities, counties, and local governments from conducting "any transaction" with an abortion provider and its affiliates, will go into effect September 1, but because Austin City Council's budget proposal directs funds to abortion support organizations and not providers, it will not be in conflict with the law. The Austin Planned Parenthood facility doesn't provide abortion care. 
Texas state Sen. Dawn Buckingham (R-District 24), who represents a portion of Austin, has already spoken out against the budget measure, and Mayor Pro Tem Delia Garza said she expects state legislators to attempt to undermine it. 
"We are well aware of the risk of retaliation of some sort," Garza told Rewire.News, "but at the same time, we're not going to back down. We can't just operate worried about what the state legislature is going to do." 
Providing logistical support for Texans seeking abortion care is one way to combat the regulations people must navigate to obtain an abortion—restrictions that disproportionately harm people of color and those with low incomes, said Amanda Williams, executive director of the Texas-based Lilith Fund, which provides financial assistance for people seeking abortion care. 
"People need to understand that these restrictions and compounding barriers, this web of laws the state has imposed, are creating a lot of suffering and pushing safe abortion care out of reach altogether for low-income people and people of color," Williams told Rewire.News. 
In 2018, 72 percent of people calling the Lilith Fund for assistance were people of color and 58 percent had children. Restrictions, like the state's forced 24-hour waiting period and ban on insurance coverage for abortion except in cases of life endangerment, exacerbate the barriers low-income people face when it comes to affording abortion care, such as finding childcare and arranging transportation, Williams said. 
Funding abortion support organizations is a matter of equity, Casar said, alleviating barriers to abortion care. "It's communities of color and working-class people who have their right to abortion taken away when unnecessary financial barriers are put in the way," he said. 
"It's unfortunate that we have to continue to have these discussions, but we've seen little by little, the ability to access abortion being chipped away. It's one of those issues that I think people don't want to talk about, but that's where our leaders have to step up and have these discussions."