Everything You Need to Know About the Helms Amendment's Restriction on Abortion Funding
Reproductive health, rights, and justice advocates say the Helms Amendment's ban on using foreign assistance funds for abortion deserves more attention.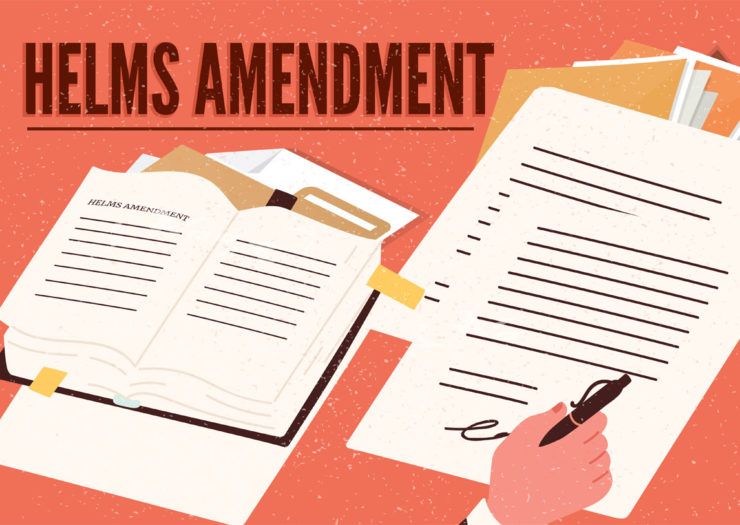 Abortion rights are a high-profile issue for Democrats on the 2020 presidential campaign trail. Candidates have stated their opposition to abortion funding restrictions like the Hyde Amendment and the Trump administration's expanded global "gag rule." But little attention has been paid in the race or the media to the Helms Amendment, a ban on foreign assistance funding for abortion.
Rewire.News asked the 2020 candidates about their stance on the anti-choice policy; ten thus far say they oppose it. The Helms Amendment—named for its sponsor, the late-Sen. Jesse Helms (R-NC)—states, "No foreign assistance funds may be used to pay for the performance of abortion as a method of family planning or to motivate or coerce any person to practice abortions." The abortion funding ban was passed as part of the Foreign Assistance Act in 1973 in the aftermath of the U.S. Supreme Court's decision in Roe v. Wade legalizing abortion in the United States.
"In effect, it's a ban on abortion services, referrals, information—really basically talking about anything about abortion, equipment that can be used for abortion—for any U.S. funding for all of those types of things," explained Patty Skuster, senior legal advisor at Ipas, an international nonprofit organization that seeks to expand access to contraceptive and abortion care.
Research shows the vast negative effect the Helms Amendment has had on access to reproductive health care abroad. A report published by Ipas and Ibis Reproductive Health in 2016 found that the anti-choice restriction "has tied the hands of government officials, U.S.-funded grantees, and reproductive health providers working to ensure access to comprehensive reproductive health care for women overseas."
Roe is gone. The chaos is just beginning.
Follow Rewire News Group on Twitter to stay on top of every breaking moment.
"The blanket ban application of the law by U.S. government officials has led to the avoidance of abortion-related service provision, information and counseling; censorship; and reduced access to life-saving equipment and supplies," the report explained.
"Around the globe, governments have been taking steps to make safe abortion more accessible through programs, policy change, legal reform—over 40 countries since the '90s have changed laws and policies to make abortion more available," Skuster said. "The United States is the largest government funder of reproductive health services in the world, and by carving out abortion through the Helms Amendment, the U.S. curtails abortion access for women who actually have the legal right to abortion."
The Helms Amendment vs. the Global 'Gag Rule'
Helms is easy to confuse with the Trump administration's expanded global "gag rule," also known as the "Mexico City Policy," a policy implemented by the president on his first day in office banning U.S. global health assistance from going to foreign nongovernmental organizations that perform or refer patients for abortion care. But it differs from the policy in key ways.
To start, the global gag rule is a restriction on eligibility for funding—meaning who is able to apply for it—while Helms is a prohibition on the spending of funds. The Helms Amendment specifically "restricts what gets done with U.S. funding," said Brian Dixon, senior vice president at Population Connection Action Fund. The global gag rule, meanwhile, "goes further and bars any global health assistance to any organization that uses other non-U.S. funds to provide or support legal safe abortion in their own countries." The gag rule "ties funding to what organizations are doing with privately raised money or money from other governments, including their own."
The funding restrictions also apply to different institutions, according to analysis from PAI, a global organization working on reproductive health and rights issues. Helms applies to other countries' governments, U.S. nongovernmental organizations (NGOs), foreign NGOs, and multilateral organizations. Trump's global gag rule applies to only foreign NGOs receiving U.S. funding for global health assistance.
Another difference: The gag rule is issued through the executive branch and has historically been rescinded by Democratic presidential administrations, whereas Helms remains permanent law—meaning Congress must repeal it, though presidents can clarify its enforcement.
But the two restrictions do have some things in common, according to Dixon: "They're both terrible."
"They both are designed to restrict access to safe abortion in parts of the world where unsafe abortion remains a pretty serious public health crisis," he said.
Since its implementation, reproductive health and rights advocates say the Helms Amendment has been enforced in an unnecessarily broad manner. During the Obama administration, advocates urged the president to clarify that the restriction allowed funding for abortion in cases of rape, incest, and life endangerment, arguing that no language in the amendment itself precludes that funding.
Those groups weren't alone in their calls for action. Democratic members of Congress also urged the administration to act. That included several of the U.S. senators running for the 2020 presidential nomination—such as Sens. Kirsten Gillibrand (D-NY), Michael Bennet (D-CO), Cory Booker (D-NJ), Elizabeth Warren (D-MA), Amy Klobuchar (D-MN), and Bernie Sanders (I-VT)—who signed on to a 2015 letter asking Obama to "take action to correct the overly constrained implementation of the Helms Amendment."
The senators sent the letter in response to what they described as the "increased use of rape as a tool of warfare," including by Boko Haram. The letter said the Helms Amendment's enforcement "serves as a critical barrier to safe abortion, particularly impacting women and girls fleeing conflict."
U.S. Reps. Beto O'Rourke (D-TX) and Tim Ryan (D-OH), who are also running for the Democratic presidential nomination, signed onto a similar letter sent to the president by House Democrats.
But the Democratic administration never took action on the matter, and nothing changed.
"Administrations of all parties have enforced this as [meaning] no foreign assistance funds can be used for abortion under any circumstances," Dixon said. "It's a bad law, badly enforced."
Looking Forward: Helms as a 2020 Issue
Though candidates' positions on the Helms Amendment hasn't been a visible campaign issue so far in the 2020 presidential race, ten candidates running for the Democratic presidential nomination told Rewire.News they supported ending it. Sens. Elizabeth Warren (D-MA), Cory Booker (D-NJ), Kirsten Gillibrand (D-NY), Bernie Sanders (I-VT) as well as Rep. Beto O'Rourke, Julián Castro, Marianne Williamson, Andrew Yang, and Tom Steyer all oppose the policy. Washington Gov. Jay Inslee also said he opposed Helms, but has since dropped out of the race.
During the 2016 elections, Helms received significantly more attention. Democratic presidential contenders Hillary Clinton and Sanders both said they opposed the policy amid pressure from advocacy groups, and the official party platform included support for ending Helms for the first time that election cycle.
Ending the Helms Amendment is still a key priority for advocates. A coalition of nearly 80 reproductive health, rights, and justice organizations released a blueprint in July that included abolishing the restriction.
"Unsafe abortion is a global health crisis driven by criminalization of the procedure and an inability to access safe abortion care," the blueprint says. "Annually, there are more than 25 million unsafe abortions worldwide that lead to millions of injuries and tens of thousands of preventable maternal deaths. The Helms Amendment exacerbates this crisis, and it is long past time for the U.S. to support safe abortion services."
The blueprint calls on federal lawmakers to take action. The groups urge Congress to pass legislation repealing the Helms Amendment and to "replace it with [an] endorsement of using U.S. funding for safe abortion services worldwide." The groups also urge the president to "champion" Helms' repeal and work with Congress to do so while simultaneously seeking "to mitigate the harms of the Helms Amendment."
Jonathan Rucks, senior director of policy and advocacy at PAI, told Rewire.News that ending the Helms Amendment was included in the blueprint "with the very clear understanding that the Helms Amendment, just like the Hyde Amendment," which bans federal funding for abortion domestically, "disproportionately affect[s] young poor women of color across the United States and around the globe—underscoring how dangerous those types of restrictions are."
Rucks said he believes the Helms Amendment has gotten less attention than some other abortion restrictions because candidates tend to speak "to their base" about the issues that affect them most directly. "I think that there's still work for us to do as an advocate community to make those connections," he said. "The same challenges that women and girls experience here as a result of the Hyde Amendment are the challenges that women and girls are experiencing in countries around the world as a result of the Helms Amendment."
"Governments around the world are grappling with high rates of maternal mortality from unsafe abortion and also recognizing that abortion services are not only health care but also a human right," said Skuster when asked why candidates should address the Helms Amendment. "We really need to change our foreign policy to really join the rest of the world in this regard. And, candidates absolutely should make abortion funding a priority for their campaigns."
Dixon told Rewire.News that the Population Connection Action Fund would like "all of the Democrats [running for president] to take that stand" against the Helms Amendment. In the 2016 election cycle, the organization sent activists and organizers to speak with candidates about the issue and were ultimately successful in getting their positions on the record. Dixon said Sanders had already reiterated his stance from 2016 and that the organization would "try to get the rest of [the presidential candidates] to make the same kind of pledge."
It is an issue that deserves more attention, Ruck said. "If we want to ensure that women and girls, not just in the [United States] but globally, have full autonomy and access to sexual and reproductive health services, harmful policies like the Helms Amendment need to go away."