Steve King Thinks Rape and Incest Are Necessary for Humanity's Existence. He's Now Facing Calls to Resign.
King was defending the omission of rape and incest exceptions in his extreme anti-abortion legislation.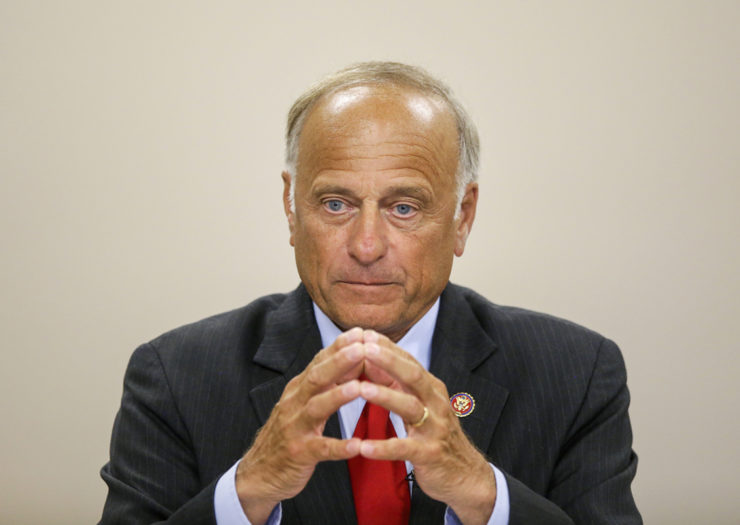 U.S. Rep. Steve King (R-IA) is facing calls for his resignation after he defended the omission of rape and incest exceptions in his extreme anti-abortion legislation.
"What if we went back through all the family trees and just pulled those people out that were products of rape and incest?" King said during remarks Wednesday at the Westside Conservative Club, according to the Des Moines Register.
"Would there be any population of the world left if we did that? Considering all the wars and all the rapes and pillages that's taken place, and whatever happened to culture after society, I know that I can't certify that I'm not part of a product of that," he continued. "And I'd like to think every one of the lives of us are as precious as any other life."
"It's not the baby's fault for the sin of the father, or of the mother," said King.
Roe has collapsed in Texas, and that's just the beginning.
Stay up to date with The Fallout, a newsletter from our expert journalists.
Ilyse Hogue, president of NARAL Pro-Choice America, urged King to step down from his seat in the U.S. House of Representatives. "Steve King has proven once again that he is a national embarrassment and a rape apologist," Hogue said in a statement on Wednesday. "He has no place in Congress. Every member of his party should condemn his misogynistic and racist views and he should resign immediately."
A growing list of Democratic presidential candidates called on King to resign, including Sens. Kirsten Gillibrand (NY), Elizabeth Warren (MA), and Cory Booker (NJ). Others like Sens. Kamala Harris (CA), Amy Klobuchar (MN), and Bernie Sanders (VT) condemned King on Wednesday.
House Republican Conference Chair Rep. Liz Cheney (R-WY) said on Twitter that it was time for King "to go."
Michelle Kuppersmith, director of Equity Forward, said in a statement that King's positions on rape and incest exceptions are not out of line with many other anti-abortion advocates. "Rep. King's comments on rape and incest may seem far outside of the norm, but his views are in line with many of the leading anti-abortion groups that guide the Trump administration's policies," Kuppersmith said. "The consequences of this extreme position, held by King and many anti-abortion organizations alike, are immensely dangerous to the health and well-being of women nationwide."
King has been a hardline anti-choice voice since joining the House in 2003. In 2017, he introduced the first federal six-week abortion ban, which would have outlawed abortion before many people even knew they were pregnant. The bill did not include rape and incest exceptions.
The Iowa lawmaker, who has faced widespread criticism for his racist remarks, was stripped of his committee assignments in the House over his defense of white supremacy, as the New York Times reported in January.
In the 2018 midterms, King retained his seat representing Iowa's 4th Congressional District by roughly 3.4 percentage points against Democrat J.D. Scholten. Scholten launched another bid in early August to take on King in 2020.
Scholten responded to King's comments in a statement to the Times, saying they "are disrespectful to survivors and don't reflect Iowan values."
This is a developing story. Rewire.News will continue to report as more information emerges.