Court Observers Are Shining a Light on the Immigration Court System
Without accountability, "it's a black hole in terms of what's happening" to asylum seekers at immigration court, one advocate told Rewire.News.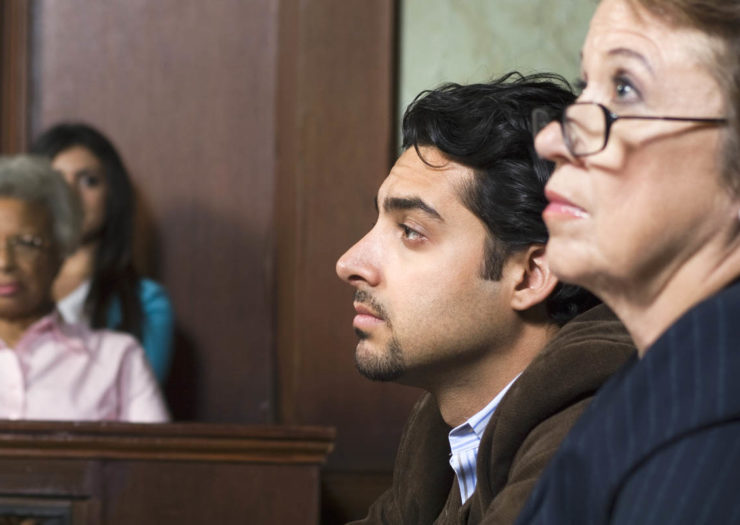 All eyes are on the border crisis our government has created.
The news of horrific conditions at immigrant detention centers, an onslaught of restrictions preventing refugees from seeking asylum, and reports of ICE raids have sent thousands of people to the streets to protest.
Amid these atrocities, many people in the United States are asking how they can help. For those who want to contribute, there is a simple way that doesn't require donating money, living in a border town, or speaking Spanish: volunteering as a court observer.
Court observers attend asylum hearings to shed light on the immigration court system, which is among the least transparent institutions of the justice system. Qualifications are minimal—one needs only a valid government photo ID and the ability to observe in silence and take legible notes, since recording devices aren't allowed. Volunteers can plug into different programs to share their observations, as well as discuss the process with family and friends or post their findings on social media. Collectively, this information can be used to highlight judges or courts that are particularly unfriendly to asylum seekers. It can also empower advocates pushing for systemic reform of the 50 immigration courts in 29 states, Puerto Rico, and the Northern Mariana Islands deciding the fate of every asylum seeker, many of whom are forced to return to the place they just barely escaped from.
Roe is gone. The chaos is just beginning.
Follow Rewire News Group on Twitter to stay on top of every breaking moment.
"The immigration court system has been so insulated from public view," Michele Garnett McKenzie, deputy director of The Advocates for Human Rights, an organization that has been running a court observation program since 2017, told Rewire.News. "It's small, it's under the radar, and it lulls us to thinking that there are a set of rules and if the rules are followed, justice will be done."
Reports, however, are surfacing of judges who haven't granted a single asylum out of 200 cases. Asylum seekers who are deported are sent back to a place where they might be tortured or killed.
Ariel Prado, who organizes the volunteer-based court watch program in Atlanta, Georgia, for Innovation Law Lab, hasn't encountered a judge who has denied 100 percent of asylum cases. "But there are judges in Atlanta with a denial rate in the high 90s," Prado told Rewire.News. 
These high denial rates don't tell us the full story, Prado noted. "You might think [the judges] have a different understanding of the law or they have a constrained understanding of what asylum is or they apply the law differently," Prado said. "In [immigration court], it's a much more human level than that. You see women who describe sexual abuse, repeated rape over the span of the year, being in captivity, being forcefully drugged … and you watch mostly male judges almost doze off through the testimony and totally trivialize [the woman's] experience in their summary."
Other advocates echo similar frustrations. Emem Maurus is an immigration attorney for Al Otro Lado, a bi-national nonprofit serving asylum seekers who seek to migrate to the United States, in Tijuana, Mexico. The organization recently launched a court observation program to collect information and bring transparency to Migrant Protection Protocols. Without accountability, Maurus told Rewire.News, "it's a black hole in terms of what's happening" to asylum seekers. Maurus described a judge who asked an asylum seeker to designate the country of his removal in case his asylum was denied. "The man said, I can't go back to Honduras," said Maurus. The judge then asked the government lawyer for a recommendation. "[The government lawyer] very glumly said, 'Honduras.' And the judge said, 'OK, Honduras,'" added Maurus.
Although Maurus finds these incidents difficult to observe, they believe it's crucial to document "the human cost of [the collective policies] that Trump [has] enacted."
Under the "Remain in Mexico" policy, asylum seekers are forced to wait in Mexico for their case to be heard, and when they eventually appear for court, most are unrepresented. Lack of representation can be detrimental to an asylum case.
As part of her court observation for Al Otro Lado, volunteer Sarah Gibb Millspaugh records whether asylum seekers appear with a lawyer and if they try to obtain council. Although the San Diego immigration court provides asylum seekers with a list of legal aid, only 5 percent of people she observed had legal representation. "When you're living in shelters, [it is difficult] to find a lawyer across the border that will connect with you in Mexico," Millspaugh told Rewire.News. "The list they had posted in the court were all in San Diego and not in Tijuana."
Compounding the issue, many U.S.-based immigration law firms don't answer phone calls from Mexico, according to Maurus. And there are other obstacles. In several immigration courts, interpreters communicate through video as they aren't present. "So if the judge talks to the prosecutor, it doesn't get interpreted for the asylum seeker," said McKenzie. "The interpreters only translate questions addressed to the asylum seekers." Given such circumstances and the lack of adequate representation, it is highly unlikely for asylum seekers to receive a fair trial.
Millspaugh found the immigration judges she observed to be compassionate. Even so, like other advocates, she thinks the law is unjust. "Some of the most emotional points were that [the judge] said we'll review [the] case at the next hearing in September." This meant the asylum seekers would have to live in Mexico shelters for another two-and-a-half months or on the streets of one of the most dangerous cities in the world, with no money or means to protect themselves. "A woman said a man had followed her twice, [while she was in Mexico awaiting her court hearing], [trying] to take her daughter," Millspaugh added. "Her daughter was about three." A man and his son who had been threatened in Mexico asked the judge if she could hold the hearing any sooner. Due to a backlog in cases, the judge was able to expedite the case by only two weeks.
Millspaugh observed another judge who asked asylum seekers to not bring their children to their court hearing. Afterwards, Millspaugh wrote the judge a letter stating that given the unstable and unsafe conditions in Mexico, asylum seekers have no choice but to bring their children to the court. "I wouldn't leave my child in Mexico. I would bring my child," said Millspaugh.
The advocates Rewire.News spoke to encouraged people of all backgrounds to volunteer as court observers. Given the background and different experiences of volunteers, McKenzie believes they can observe court hearings from different angles. "[We have] an amazing array of retired people who go [into the immigration courts] with 40 years of professional experience as a psychologist or a child protection worker," she said.
Prado, who is helping develop an Immigration Court Watch browser-based app, believes who controls the narrative is important. "It's all [up to] the community to investigate where the truth lies. Court observation is the core of truth finding and it's meant to be a national project."
Scheduled to launch in mid-August, the app uses standardized forms to document immigration judges' conduct, the hearing outcome, and other factors. "That way we can compare the immigration judge conduct and hearing outcomes by more than just [what the government and the Department of Justice] is willing to share," said Prado. The forms are uploaded onto the app, which will read responses, ask follow-up questions, and store the information in a centralized location.
"Court observation makes sure what happens [to asylum seekers] isn't completely shrouded and opaque," Prado said. There are times, however, that immigration judges determine a hearing should be closed to the public in order to protect the asylum seeker from having to share sensitive details in front of an audience. Other times a judge would rather not be scrutinized or might be concerned the observers will be disruptive. Prado noted it would be ill-advised for observers to challenge the judge. Instead they should document they were ordered to leave the immigration court along with any reasons the judge provides.
McKenzie believes court observation could help the justice system become accountable and even change the behavior of the judges. "The system is designed to operate for the benefit of the system and not the public," McKenzie said. "Without public engagement there is no sunshine, no transparency. Transparency and accountability are fundamental to protecting the human rights of the people."
When Millspaugh shared her experience as a volunteer court observer with friends, they were concerned that it is difficult to witness such heartbreaking proceedings. But Millspaugh is undeterred, as she feels contributing to stopping human rights violations is empowering. "There is something that's very life-giving … about actually engaging in the system. When we know what's happening and we're not connecting with it, there is a helpless despair we can feel. We can do something. Even if we [don't] stop it, we are mitigating the horrors that are inflicted."