Tennessee Republicans Aren't Done Trying to End Most Legal Abortion
An August hearing could reveal what's next in the Tennessee GOP's attempt to pass a six-week abortion ban that stalled this year in the state senate.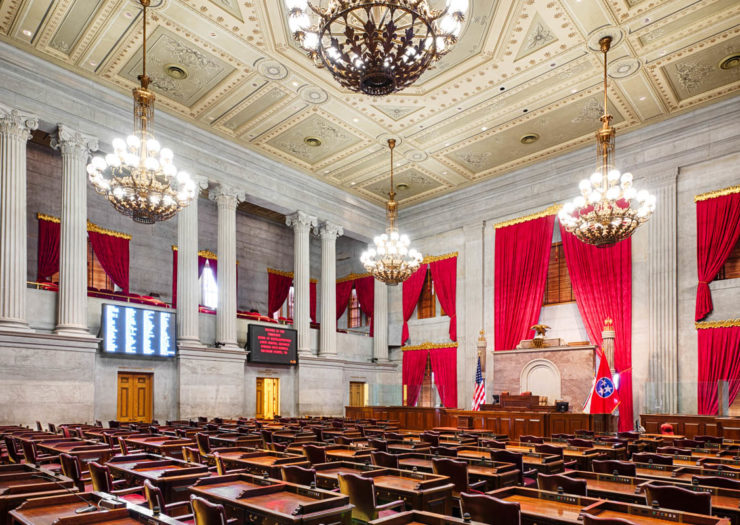 When Tennessee Republicans tried and failed to pass a so-called heartbeat bill this year, it wasn't their first time pushing a near-total abortion ban—and it likely won't be their last. 
In 2017, a similar bill was proposed in the state house but didn't make it out of committee after a warning from the attorney general about its constitutionality. This time around, the GOP-controlled house passed the bill in March despite a major anti-choice organization in Tennessee opposing the near-total abortion ban on strategic grounds. Meanwhile, lawmakers in the state senate, more concerned with legal implications, declined to vote on the legislation. 
Instead of passing the abortion ban, the senate judiciary committee sent the bill to summer study, scheduling a two-day hearing in August that will include pro-choice and anti-choice testimony before the legislative body and the public. In Tennessee, summer studies are known for being the place where legislation goes to die, but that seems unlikely in this case, according to reproductive rights advocates. 
"So far these bills have not fared well in the courts. In other states the heartbeat bill has been struck down, and states have been forced to pay attorney fees to Planned Parenthood," state Sen. Mike Bell (R-Riceville), chair of the senate judiciary committee, said in a statement in April. "My conscience would not allow me to put Tennessee on that path."
Roe is gone. The chaos is just beginning.
Follow Rewire News Group on Twitter to stay on top of every breaking moment.
The legislation, which would ban abortion around six weeks into pregnancy, before many people know they are pregnant, is misleadingly called a "heartbeat" ban—even though at six weeks' gestation, there is no fetus and no heart. There's a "fetal pole," a thick area alongside the yolk sac that extends from one end of an embryo to the other. Electrical activity in the fetal pole can be measured at around six weeks.
While a legal battle is inevitable for any near-total abortion ban, the battle over this bill began before it passed Tennessee's Republican-dominated house. When state Rep. Gloria Johnson (D-Knoxville) held up her hand for nearly 45 minutes to add an amendment exempting survivors of rape or incest, the house leader refused to call on her. 
"I was furious. I am an elected member of the body and had my hand raised for 40 minutes and they refused to call on me or hear my amendment," Johnson told Rewire.News. She believes anti-choice legislators will make whatever adjustments are needed for the bill to pass the state senate. "I don't think the constitutionality of the bill matters to the group of folks trying to pass it."
"Science is out the window on this. Research and data are out the window," she said. Johnson recalls a moment on the house floor when she explained to her colleagues that by passing this bill, they would be telling women they are not equal. She received swift pushback. A male representative lashed out, saying he didn't appreciate her telling him how to think. "As he's saying this, he's pushing a button: a vote to tell me what I can and cannot do with my body."
As in many states legislatures, Republicans in Tennessee are split on the issue of a near-total abortion ban. Even with a Republican supermajority—they hold a 28-5 advantage in the state senate and a 73-26 house majority—the bill faced serious hurdles due to factions within the party and mounting pressure from anti-choice advocates.
Francie Hunt, executive director of Tennessee Advocates for Planned Parenthood, believes opposition from pro-choice advocates and Republican intra-party squabbling led to the breakdown of the near-total abortion ban. 
Tennessee Right to Life, an anti-choice organization, opposed the "heartbeat" bill, saying it doesn't support constitutionally unsound legislation that is unlikely to survive legal challenges. The group supported a different anti-choice bill, a trigger law, which would make abortion illegal if conservative justices on the U.S. Supreme Court overturned Roe v. Wade. That bill was signed by the governor in May.
Along with a divided majority, the Tennessee GOP has been weathering tumult in its party leadership. Rep. Glen Casada (R-Franklin) in June announced his plans to resign as house speaker after the Tennessean reported on sexually explicit text messages he had exchanged with his top aide. And a campaign continues to oust Rep. David Byrd (R-Waynesboro), who has been accused of sexually assaulting teenage girls when he was their high school basketball coach. 
Hunt believes elected officials spent the session looking out for themselves rather than their constituents. "It's what citizens typically hate about politicians. [The effort to pass the bill] was ego driven rather than what's good policy for people in Tennessee," Hunt said. "It's going to be up to their base to get their own party in line around this. The national polls show that the vast majority of Republicans do not want to see Roe v. Wade overturned. It's going be up to voters to help convey what they really feel." 
Hunt's organization, Tennessee Advocates for Planned Parenthood, will present expert witnesses at the summer study on August 12-13, along with their affiliate organization Planned Parenthood of Tennessee and North Mississippi, the ACLU of Tennessee, the Women's Political Collaborative, and others. The hearings are open to the public and will likely indicate what's next for the near-total abortion ban.