The Long Road to Opening South Bend's Abortion Clinic (Updated)
"This is ridiculous that there are this many barriers for someone to open a clinic to provide something that is legal, something that's normal medical care."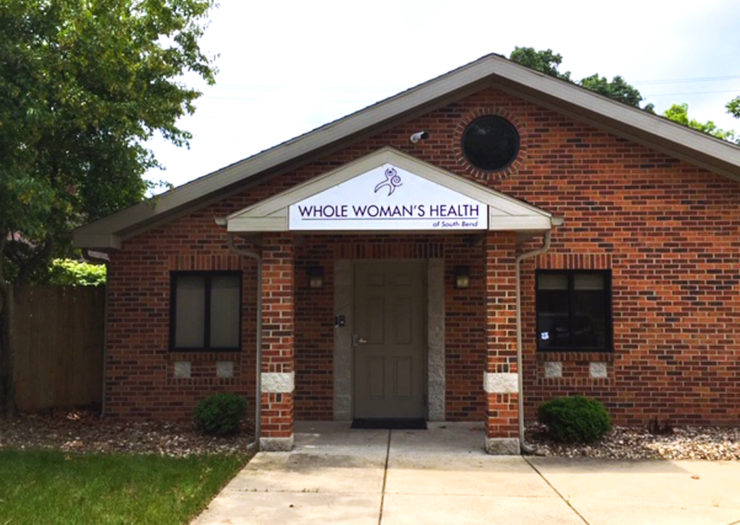 UPDATE, August 22, 4:05 p.m.: The Seventh Circuit Court of Appeals ruled Thursday that the South Bend clinic can operate.
When Whole Woman's Health of South Bend, Indiana, saw its first abortion patient on June 27, Amy Hagstrom Miller breathed a sigh of relief.
"We have a green light," she said. "We've booked patients. We have physicians scheduled all the way through the end of the summer."
The relief may only be temporary. Today, the Seventh Circuit Court of Appeals will hear the Indiana State Department of Health's argument for blocking an injunction that allowed the clinic to open. If the appeals court agrees with the state, the clinic will have to wait until a 2020 trial to make its case again. Whole Woman's Health is prepared, no matter what. 
Roe is gone. The chaos is just beginning.
Follow Rewire News Group on Twitter to stay on top of every breaking moment.
"We've been ready to go for two years with a clinic that's fully furnished," she said. "Unfortunately this waiting game is something we've had to endure for some time now." 
It had been more than four years since Hagstrom Miller, the founder and CEO, first visited the college town to see if it would be a good spot for the clinic. Since then, she and local reproductive rights advocates have faced a steady stream of hurdles, ranging from skittish landlords to lawsuits, protesters, and a stonewalling state health department.
Whole Woman's Health made national headlines in 2016 when the U.S. Supreme Court weighed in on its years-long legal dispute with the State of Texas, which had passed a slew of targeted regulations of abortion providers (TRAP) laws that placed an undue burden on patients seeking an abortion. The Court ruled in its favor, marking a landmark win for abortion rights in the United States. 
That's why a group of abortion advocates working under the name Pro Choice South Bend reached out to Hagstrom Miller in 2015 to see if she'd be interested in opening a clinic there. The town's only abortion provider had just closed its doors. 
"There was only one option," Jamie Morgan, outgoing director of Pro Choice South Bend, said of the group's decision to approach Whole Woman's Health. "We wanted an organization that was going to be able to take on Indiana the same way they took on Texas."
Hagstrom Miller was interested in opening a South Bend clinic from the start, but it was clear to her that it wouldn't be possible without significant funding. The organization decided to try to open a clinic under the nonprofit Whole Woman's Health Alliance, and began the process of applying for grants. Hagstrom Miller said most of the money has come from foundations and donors whose names have been kept confidential.
"Once we got a grant to fund us to start there, we had to look for a building, because you can't apply for a license without a building," Hagstrom Miller said. "We got denied by multiple landlords because of the work we do." The organization spent approximately eight months looking for rental space before deciding to purchase a building with the help of a donor. 
"The next hurdle we went through was trying to find a physician who would be our backup physician," Hagstrom Miller said. In Indiana, abortion clinics are required to include in their public facility license application the name of a physician who is willing to admit abortion patients to a hospital. Complying with this TRAP law took another seven to eight months, she said. "Multiple physicians didn't want their name to be public, or they wanted to work with us, but their partners said no." 
But by August 2017, Whole Woman's Health Alliance had purchased a building and found a doctor. The clinic was ready to apply for a facility license from Indiana's state health department.   
After applying for a license, staff members continued to work on the building while the health department asked for additional documents and information. Meanwhile, anti-abortion media began reporting on the license application, putting Whole Woman's Health in the spotlight. "We hired a contractor to renovate the building, and he quit halfway through the project because of harassment from protesters," said Sharon Lau, Midwest advocacy director at Whole Woman's Health Alliance.
In January 2018, the Indiana health department denied the facility license, finding that the nonprofit was "not of sound and reputable character." According to Whole Woman's Health Alliance, anti-abortion activists campaigned the department, using clinic inspection reports in other states as purported evidence that the abortion provider was not safe.
As I reported in April, nearly two dozen states require abortion clinics to have facility licenses to operate, even though other medical bodies already oversee health-care providers. These licensing requirements include periodic inspections by state health departments, which often find minor deficiencies that are promptly corrected by clinics. Anti-abortion advocates, however, often mischaracterize these minor deficiencies as gross health violations that threaten patient safety.
Whole Woman's Health appealed the denial and won a hearing on the issue in July 2018. The health department then appealed that ruling before instructing the clinic to apply for a license again. Whole Woman's Health complied.
"We felt it was really important to do every single thing they ever asked us to do so we could say we did what was required," Hagstrom Miller said.
After Whole Woman's Health Alliance submitted a second application facility license application in January 2019, Indiana's health department began asking for many of the same documents it had previously requested, according to Hagstrom Miller. "At that point, we were like, the state has no intention of ever giving us a license," she said. "That was obvious." So her organization filed a lawsuit in federal court, asking for relief from the state's licensing laws.
The clinic won a preliminary injunction on May 31, with U.S. District Court Judge Sarah Evans Barker ruling that it could proceed without a facility license. "The state stands to lose little if an injunction is issued," the judge wrote. "But women in northern Indiana stand to lose a great deal if it is not."
Indiana's health department appealed the injunction, and that hearing before the Seventh Circuit is set for today, meaning the clinic's status is still at risk. 
Until there is a new ruling, Hagstrom Miller is proceeding as planned. "We're just proceeding full steam ahead," Hagstrom Miller said.
The clinic provides free pregnancy tests, ultrasounds, family counseling services, and medication abortion up to 10 weeks.  
Having an abortion clinic in South Bend "makes a huge difference for patients," according to Paulina Guerrero, national programs manager at All-Options, a full-spectrum pregnancy resource center based in Bloomington, Indiana. Before the Whole Woman's Health Alliance clinic opened, patients seeking an abortion had to travel approximately two hours to either Chicago or Indianapolis. Because Indiana requires an 18-hour waiting period, these were often two-day trips. "People have not been able to get the finances and the time off work," said Guerrero, adding that for parents seeking an abortion, "it's very difficult to find somebody to take care of children for two days."
Throughout the last four years, as Whole Woman's Health battled the state of Indiana, volunteers with Pro Choice South Bend have been working behind the scenes to rally local support. "For us, the waiting has been the hardest part, and keeping people assured that it's possible to do this," Morgan said.
The clinic has also faced challenges from anti-abortion protesters. A crisis pregnancy center opened up in a building across the street, and protesters have gathered outside the clinic nearly every day since Judge Evans Barker issued the injunction. Two doors down from the clinic, a private citizen erected a large trailer-sign with the words "Abortion Pill Reversal," referring to a treatment leading medical organizations say is "unproven and unethical," followed by a phone number.
Hagstrom Miller believes anti-abortion lawmakers intentionally created the many hurdles Whole Woman's Health faced on its way to opening. In the clinic's board of health hearing, a state representative testified that no one had applied for an abortion clinic license in Indiana for over ten years, according to Hagstrom Miller. "The licensing scheme and multiple layers of TRAP laws are working," Hagstrom Miller said. "Abortion is legal, but the scheme has worked to keep anyone from opening a facility."
"This is ridiculous that there are this many barriers for someone to open a clinic to provide something that is legal, something that's normal medical care," she said.