'Giants Fall' as Tiffany Cabán Pulls Off Progressive Upset in Queens District Attorney Race (Updated)
Tiffany Cabán's win is the latest in a string of progressive victories transforming the makeup of the Democratic Party, progressives say.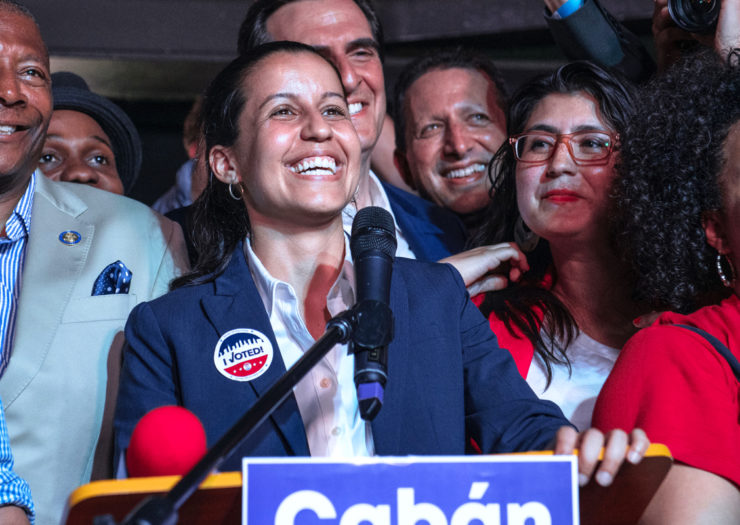 UPDATE, August 7, 9:15 a.m.:

Tiffany Cabán conceded to Melinda Katz on Tuesday. The move came after a judge decided not to reinstate most contested ballots following a manual recount, "effectively ending any hope that Ms. Cabán could erase Ms. Katz's lead," according to the

 

New York Times

.
Tiffany Cabán declared victory in Tuesday's New York Democratic primary for Queens District Attorney, pulling off a major progressive upset with a platform that centered on "decarceral" policy.
Cabán led the six-way Democratic contest by 1.3 percentage points, with 99 percent of precincts counted as of Wednesday morning, according to the New York Times. Though several thousand absentee votes remain uncounted, Cabán declared victory at a campaign event late Tuesday night. Queens Borough President Melinda Katz, who trails Cabán by 1,090 votes, has not yet conceded.
"This campaign started with just four women, sitting around a kitchen table, saying: we have to change the system. So I did what many thought was unthinkable for a 31-year-old Queer Latina public defender whose parents grew up in the Woodside Houses. I decided to run," Cabán said in a series of tweets. "We built a campaign that said every community deserves justice. Respect. Fair treatment under the law across racial and class lines …. Transforming this system will not be easy, and it will not happen overnight. But I am ready. We are ready."
Cabán, a 31-year-old public defender, ran on a decarceral platform of ending mass incarceration in Queens. She supports ending cash bail, raising the charge standard for misdemeanors, advocating against indefinite incarceration, and opposing the construction of new jails.
Roe is gone. The chaos is just beginning.
Follow Rewire News Group on Twitter to stay on top of every breaking moment.
Bill Lipton, director of the New York Working Families Party, celebrated Cabán's win in a statement. "Tonight, Queens is turned upside down. Giants fall and empires crumble. Tiffany Caban has defeated the field and won the Democratic Primary for Queens District Attorney. By running, Tiffany changed the narrative. As District Attorney, she'll change thousands of people's lives," Lipton said. "Tonight's victory is most of all a victory for the humanity of those at the margins of society that have been criminalized and incarcerated for no good reason. This is a victory for people who want to see a criminal justice system with justice and safety for all."
The Working Families Party spent over $250,000 in support of Cabán, helped to recruit and fund key campaign staff, and paid for mail and advertisements supporting her candidacy, according to a press release from the organization.
Lipton noted that Cabán's win is part of a wave of change in local elections to the criminal justice system. "We have a criminal justice system that lets the rich off easy and cracks down hard on poor people, people of color and immigrants. But there has been a sea change in America on the politics of criminal justice," Lipton said. "Tonight is more proof that the era of chest-beating 'tough on crime' is over. The era of a criminal justice system that sees success as locking up as many undesirables as possible is over. The era of mass incarceration is over."
Alexandra Rojas, executive director of Justice Democrats—a progressive political organization that recruited Alexandria Ocasio-Cortez to run for office last year—called Cabán's win the latest in a string of progressive victories transforming the makeup of the Democratic Party.
"Tiffany Caban's victory is not just a victory for Queens; it is a victory for the entire progressive movement. Not only will Caban's leadership save countless lives lost to a racist and classist criminal justice system, she will also be a reminder to an entrenched establishment that the tide is turning," Rojas said. "The upset victories by Alexandria Ocasio-Cortez, Ayanna Pressley, and Tiffany Caban are not a fluke—they are part of a new generation of diverse, progressive leadership that will transform the Democratic Party into a party that fights for its voters, not big corporate donors."
The winner of the Tuesday's Democratic primary is favored to win the district's general election in November.