Pro-Choice House Lawmakers: Strike Discriminatory Hyde Amendment From Budget (Updated)
Reproductive rights advocates lauded the introduction of the pro-choice budget amendment, noting the critical role women of color have played in leading the fight to end Hyde.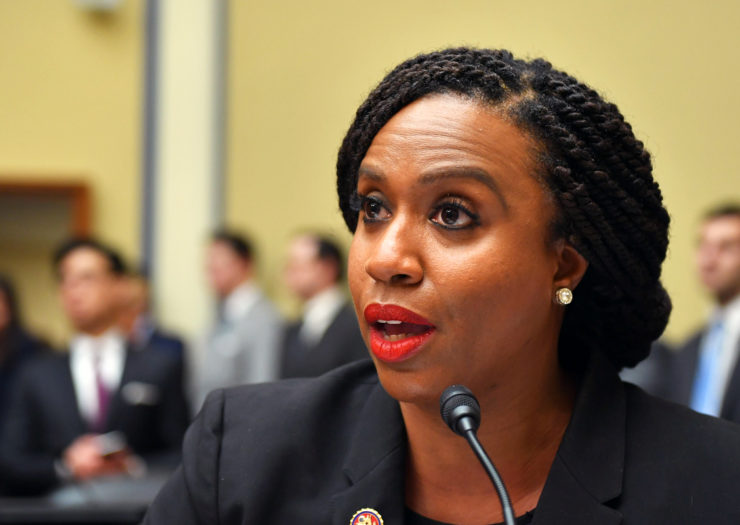 UPDATE, June 12, 9:23 a.m.: The House Rules Committee on Tuesday did not advance the pro-choice amendment striking Hyde language from a budget bill.
Pro-choice leaders in the U.S. House of Representatives introduced a budget amendment last week seeking to remove the Hyde Amendment from a funding bill and expand access to abortion coverage.
Though it is unlikely to pass, reproductive health and rights advocates say its introduction is a victory.
The amendment would strike Hyde—the anti-choice budget rider passed annually by Congress banning federal funding for abortion care—from the 2020 Labor, Health and Human Services, Education, and Related Agencies (LHHS) funding bill. The restriction disproportionately affects people of color and those with low incomes, putting abortion care out of reach for many. U.S. Reps. Ayanna Pressley (D-MA), Diana DeGette (D-CO), Barbara Lee (D-CA), Pramila Jayapal (D-WA), and Jan Schakowsky (D-IL) introduced the pro-choice amendment. 
Roe is gone. The chaos is just beginning.
Follow Rewire News Group on Twitter to stay on top of every breaking moment.
The amendment would require the federal government to provide coverage of abortion in public health insurance programs such as Medicaid, Medicare, and the Children's Health Insurance Program (CHIP). It would bar the government from prohibiting or restricting coverage of abortion by state or local governments or private health plans, and require the government "ensure abortion care is made available to individuals who are eligible to receive services in its own facilities or in facilities with which it contracts to provide medical care."
Jacqueline Ayers, vice president of public policy and government relations at Planned Parenthood, told Rewire.News the amendment "seeks to enshrine" the Equal Access to Abortion Coverage in Health Insurance (EACH Woman) Act into the budget. That bill, she said, "stands for the clear proposition [that] no matter how you get your health care, you should have health care that covers all of your reproductive health care needs."
Lina Francis, a spokesperson for Pressley, told Rewire.News the amendment is an effort to fight for reproductive justice as abortion rights are attacked. "The amendment put forth by Congresswoman Pressley affirms the reproductive rights of all Americans," she said. "This amendment is a response to the coordinated attacks on abortion rights and Roe v. Wade and the congresswoman believes that she and her colleagues have to use every tool and tactics available to fight for reproductive justice." 
The budget amendment's proposal comes after House Democrats included Hyde Amendment language in their LHHS funding bill—though the bill contained other pro-choice provisions such as an attempt to block the Trump administration's restriction on Title X family planning funding, dubbed the domestic "gag rule." At the time, some abortion rights advocates expressed disappointment with the anti-choice restriction's inclusion.
Rep. Rosa DeLauro (D-CT) addressed the bill's inclusion of the Hyde Amendment at Monday's Rules Committee hearing. She said the Trump administration "would reject an appeal of the Hyde Amendment."
"That is why this bill maintains current law with regards to the Hyde Amendment," she said.
"Make no mistake, the Hyde Amendment is a discriminatory policy that makes access to basic reproductive health care based on your income," DeLauro said. "It's simply wrong. I oppose it, as do others. We will continue the long fight and we will win that fight in the near-term to ensure that women of color, low-income women, and all women are on equal footing with regard to their reproductive rights."
A senior Democratic House aide told the Washington Post it is "unlikely" the budget amendment will be allowed a floor vote. It was not on the list of amendments approved by the House Rules Committee on Monday evening for consideration on the floor. The committee will reconvene Tuesday afternoon.
Reproductive rights advocates lauded the introduction of the budget amendment, noting the critical role women of color have played in leading the fight to end the discriminatory abortion restriction.
"We are pleased to see Reps. Pressley, Jayapal, and Lee put forward such strong language to lift abortion coverage bans," Destiny Lopez, co-director of All* Above All, told Rewire.News in a statement. "We are particularly grateful that three women of color are leading this effort and will continue to work with them to overturn this harmful policy."
Adrienne Kimmell, vice president of NARAL Pro-Choice America, said the organization "applaud[s] the amendment being put forth by Reps. Pressley, Jayapal, and Lee that seeks to strip Hyde out of the bill. The lives and freedom of women are at stake, now more than ever."
"That's why every elected official must both speak out in support of abortion access and put forth specific policies to end harmful restrictions," Kimmell said. "From working to repeal the discriminatory Hyde Amendment to passing the EACH Woman Act, we must take every opportunity to ensure no woman is discriminated against based on her zip code, her health insurance, or how much is in her bank account."
Ayers said Planned Parenthood is "really pleased to see that champions are talking about this issue [and] are raising awareness about the harm of the Hyde Amendment," and noted that Pressley spoke out against the anti-choice restriction before being elected.
"I think that it is really important that young women and women of color elected leaders are really starting to change that narrative and push back on the history of how this came to be," said Ayers, pointing out the "mean-spirited nature" of Hyde and its more than 40-year history of targeting low-income people.
"By filing this amendment, this is another way to continue to show that the narrative really has shifted on these issues," Ayers said. "And for voters, they understand that your health care should not be limited."