Culture & Conversation Immigration
What Is 'Sanctuary' for a Black Immigrant Family in the United States?
The Thompsons may be the only Black family in sanctuary, but they want you to know they are a family first and asylum seekers second.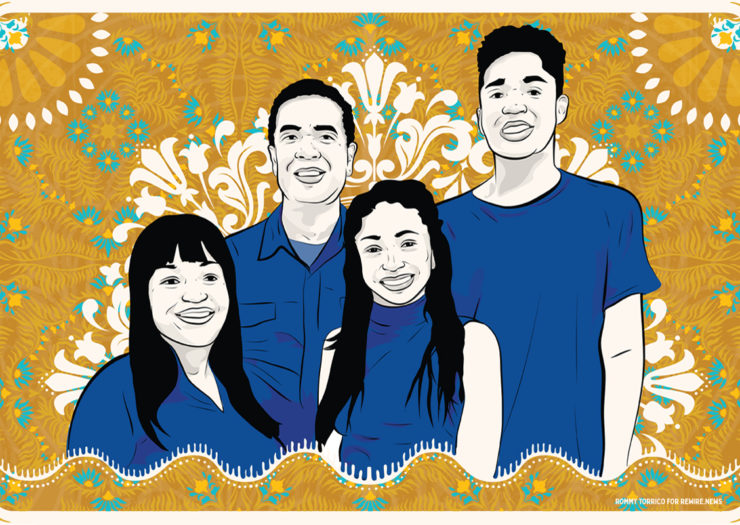 Media outlets have given Oneita and Clive Thompson a great deal of coverage since the couple entered sanctuary in Philadelphia. Journalists have dug deep into complicated, sensitive subjects, like the family's reason for fleeing Jamaica, the way their case illustrates the "dysfunction" of the immigration system, and how challenging it's been for their U.S. citizen children to live alongside them in a church. But all of the reporting has neglected to mention one basic fact about the Thompsons: They are the only Black family currently taking sanctuary at a church in the United States.
To be precise, the Thompsons are the only Black family with a public sanctuary case in the United States. There are people in sanctuary who decide not to make their cases known for safety reasons. According to Jennie Belle, a community organizer with Church World Services' immigration and refugee program who tracks sanctuary cases nationwide, 47 people, including 6 children, are in sanctuary. Three people have been in sanctuary since 2016. Most in sanctuary are non-Black Latinx immigrants from Mexico and Central America, but the demographics of sanctuary also include Albanian, Pakistani, Russian, and Indonesian immigrants.
Clive and Oneita have lived at First United Methodist Church of Germantown for nine months. When I sat down with them in March, I was clear about the focus of the interview: What is it like for the only Black family in sanctuary? Clive excitedly stood up and clapped his hands. Oneita laughed, and said they'd been waiting for that question. Her assumption, she said, is that people are "scared" to talk about race.
"So let's talk about it," Oneita said. "My husband looks into this all the time. I looked into it. From what we've seen, we're the only family like us. When reporters come to us, saying they want to do big stories on us, we think it's because we are the only Black family [in sanctuary]. But they never mention it."
Roe has collapsed and Texas is in chaos.
Stay up to date with The Fallout, a newsletter from our expert journalists.
Clive and Oneita said they want to be clear: While they may be the only Black family in sanctuary, they are more than that. They are more than the story of Immigration and Customs Enforcement (ICE) targeting them for deportation, and they are more than the trauma that forced them to flee Jamaica. Yes, they want their blackness to be acknowledged in the context of sanctuary and immigrants' rights. But they also want their family to be fully seen, away from the prying eyes of the U.S. immigration system. They are a family first and asylum seekers second, Oneita said.
A family separated
To be a member of the Thompson family is to know you are loved and cared for, according to the couple's children. Oneita is the mother of seven children, and she and Clive have five children together. Christine, 16, and Timothy, 13, are U.S. citizens in sanctuary with their parents. Twenty-three-year-old Shannakay Thompson-White and 21-year-old Clive Thompson Jr. are Deferred Action for Childhood Arrival (DACA) recipients. The three eldest children—Angel Brown, 27, Debbie Thompson, 32, and Tracey-Ann Thompson, 33—are also authorized to be in the United States.
To say they are a close-knit family would be an understatement. In a phone interview with Rewire.News in May, Shannakay said she couldn't recall ever going on a vacation without her parents. After work, she would often meet up with Oneita for a meal or to grab a coffee, mostly as an excuse to chat.
In the Thompson family, food is a manifestation of Clive and Oneita's love for their children. Family dinners were a regular occurrence, and Clive's curry goat and Oneita's chicken pumpkin soup nourished their children and instilled a connection to their culture.
"When reporters come to us, saying they want to do big stories on us, we think it's because we are the only Black family [in sanctuary]. But they never mention it."
Any issues that affected the family were tackled as a team, with all of the Thompson children gathering around their parents' living room for family meetings. It was at one of these family meetings that Clive and Oneita's children first learned their parents were being targeted by the Trump administration for deportation.
"As soon as our parents sat us down, I knew this would impact all of us tremendously," Shannakay said. "We decided as a family that sanctuary was the best decision at the time."
The children have kept their word to support their parents throughout the process. Shannakay and her siblings visit their parents and two younger siblings in sanctuary as often as possible, bringing them groceries and other supplies. Clive Jr. put his studies at a local college aside so that he could work full-time at a local factory, where his pay goes toward the mortgage on the family's New Jersey home.
Christine and Timothy's lives have also been upended. The youngest members of the Thompson clan moved from New Jersey to Pennsylvania to live with their parents, which meant a new school and a new way of life. Timothy, who regularly runs errands for his parents, has been bullied at school for living in a church. Christine, who helps her parents cook for a monthly fundraising dinner, has been transparent about the challenges of staying focused on school while in sanctuary.
When a person is forced to enter sanctuary, the effects are clear and foggy at the same time. Many in sanctuary have said it's like time stops, and just as the physical space they navigate becomes limited, so does their thinking. Immigrants in sanctuary have told Rewire.News that it's hard to stop obsessive thoughts: How do I get out of here? When do I get out of here? What can I do to get out of here? Should I just give up?
Clive and Oneita are grappling with these questions too—and so are their "roommates," for lack of a better word. The Thompson family shares living quarters with Honduran immigrant Suyapa Reyes and her four children. The families entered sanctuary together on the same day and they are walking the same emotional tightrope, one in which they are grateful to the church for opening its doors to them, while also clear in their feelings that sanctuary is its own form of detainment.
"Sanctuary has changed our lives forever. This will now always be a part of our history. I ask God every day for peace of mind because I cannot let this place tear me down. This is just part of our journey—and it can be a hell of a journey. No one knows what this is like until they're here," Oneita said.
Clive told Rewire.News he prays for strength every day that he is in sanctuary. "I have to keep this fight in me because if I don't, that's like letting [ICE] win," he said.
"I have to keep this fight in me because if I don't, that's like letting [ICE] win."
Many immigrants in sanctuary across the country have shared similar sentiments. Juana Luz Tobar Ortega, a Guatemalan immigrant who just marked two years in sanctuary at St. Barnabas Episcopal Church in Greensboro, North Carolina, told Rewire.News last summer that sanctuary is a "golden cage."
More than anything, Clive and Oneita simply want to go back to their home in Cedarville, New Jersey, and live unbothered. Clive wants to go back to his job as a machine operator at a dairy factory and Oneita to her job as a certified nurse's assistant in a retirement community. Oneita said she sometimes thinks about how her husband was responsible for processing the milk that children in their community drank, while she was responsible for caring for the community's elderly. These are the "funny things" she thinks about as she sits in the church, she told Rewire.News.
"Nobody ever heard of Jamaicans taking sanctuary"
Among asylum seekers, Oneita's story is sadly common, but no less painful. Her brother, Christopher Santana Lewis, was a master tailor in their community in Jamaica, and his business was lucrative. In 1999, when he refused to pay a local gang who demanded money, they murdered him.
To this day, Oneita cannot prove to U.S. immigration officials that a gang murdered her brother, which would have greatly benefited her family's asylum case. The Thompsons say that local police in Jamaica lost her brother's homicide case file, a fact confirmed by the Philadelphia Inquirer. (Officials told the newspaper that all homicide records from 1999 were lost or misplaced.)
The Thompsons stayed in Central Village, Jamaica, after Oneita's brother was murdered and didn't just survive—they thrived. They were successful farmers who leased their land. Their children went to private school, and the family could afford occasional vacations to the United States. But it all came crashing down when the same gang members who killed Clive's brother-in-law confronted him in 2004. He faced a similar proposition from the gang: Give us money and join our gang, or we will kill you and your family. Not only did Clive refuse, he reported the incident to the police. Oneita was sure her family would be killed, and a few days later the gang burned their fields. Oneita understood the message as both a warning and a promise of more violence.
The family stayed with Oneita's mother until they obtained visitor visas to come to the United States. Once in the country, they applied for asylum, marking the beginning of a long, expensive legal process that ended unsuccessfully.
Government officials denied their asylum claim both at their initial hearing and in immigration court. The family appealed the decision, but were denied again by the Board of Immigration Appeals. The family petitioned the U.S. Court of Appeals for the Third Circuit, which officially rejected their asylum claim in 2013. But they were not ordered deported. At this point they had been in the country for nine years. ICE knew where Clive and Oneita lived and even authorized them to work. As long as they attended their regularly scheduled check-ins with the federal immigration agency, there was no issue.
Then Donald Trump came into power.
As many others in sanctuary have reported, Clive and Oneita's first check-in with ICE after the 2016 election was markedly different. Minerva Garcia, who spent 96 days in sanctuary in Greensboro, North Carolina, told Rewire.News that at her first post-election check-in, ICE agents were openly rude and treated her like "nobody," like she was "not a human being."
Clive said that he immediately noticed a difference at the family's August 2018 check-in in Newark, New Jersey.
"There used to be buzzers to go in and out of rooms, but all of a sudden there were locks on the doors and instead of talking to you, it was like [ICE was] interrogating you," Clive said. "They were acting very aggressive. One guy, he said, 'Why are you still here? You need to go back home.' That's when I knew it was all changing."
On August 21, 2018, ICE called Clive at work and told him that he and Oneita needed to purchase one-way tickets to Jamaica and be out of the country by August 29, giving them eight days to pack up 15 years of their life.
Simply put, they didn't have the funds to buy last-minute, one-way tickets to Jamaica. Their daughter ended up putting the purchase on a credit card.
"We had to prove to ICE we did it; they wanted to see copies of the tickets. We thought if we didn't show this proof, they would come to our house and pick us up," Oneita said. "So we did it; we bought the tickets. But I knew I was not going back to Jamaica. That was not an option. We would be killed there. Maybe nobody ever heard of Jamaicans taking sanctuary, but we decided that's what we were going to do."
"The story of Jamaica, what is advertised for tourists, is very one-sided."
People in the United States tend to think of Jamaica as a vacation spot for a "beautiful island getaway." Oneita cites this as a primary reason why it may not have occurred to some people that, just like immigrants from Central America, Jamaicans can also be asylum seekers fleeing gang violence.
Even a cursory news search provides a glimpse of the violence Oneita says has plagued the region for years. Central Village police have instructed community members to avoid certain areas so as to avoid being robbed. In the last several weeks, three young people, all around Christine and Timothy's age, have gone missing in the community. In October, a married couple in Central Village was shot to death in their home. In February, law enforcement officials in the region implemented a curfew because of a "flare-up of violence" after the bodies of two men were found, one riddled with bullets and the other decapitated. Like law enforcement in Mexico and Central America, officials in Jamaica are often affiliated with organized crime or help cover it up to receive kickbacks from gangs.
"The story of Jamaica, what is advertised for tourists, is very one-sided," Oneita said. "I know that Jamaicans who have returned get killed because gangs think they are coming back with money. This happens to people who get deported too."
"Sanctuary is very tenuous for us"
Nekessa Opoti told Rewire.News she "has a thing" about not using the word "first"—as in, "The Thompsons are the first Black family in sanctuary." Opoti, communications manager for the UndocuBlack Network, a multigenerational network of currently and formerly undocumented Black people, said too many histories and stories of Black people go untold. In other words, there is really no way of knowing who is "first."
"Historically, African immigrants have been here since the 1960s. Sometimes the way they built solidarity with African Americans was through quietly organizing or creating subversive networks we don't read about in history books," Opoti said. "These people navigated Jim Crow together. I know these stories exist, it's just not always safe for Black people to talk about strategy publicly. So when we say the Thompsons are 'the first known,' my question is: known to whom?"
The UndocuBlack Network is familiar with the dynamics that erase the realities of Black people. The organization formed, in part, because the mainstream immigrants' rights movement failed to acknowledge both the existence and the needs of Black immigrant communities. Upon learning of the Thompson family, UndocuBlack's members in Philadelphia connected with Clive and Oneita to offer them support in sanctuary.
Opoti said that while she was "glad" the Thompsons were able to take sanctuary in order to continue fighting their deportations, it's important to acknowledge that white churches have historically been hostile to Black people. Opoti said that perhaps the reason other Black families haven't taken sanctuary, whether publicly or not, is that trust is an issue.
"A family is entrusting a church and its congregation with a lot, and they are going into the situation rushed with a lot of unknowns. Sanctuary is very tenuous for us. What is sanctuary for a Black family in America, in a country founded on anti-Blackness?" Opoti said.
Many of the churches that have opened their doors as part of the new sanctuary movement are white, and this is a double-edged sword, explained Deborah Alemu, who does community outreach for UndocuBlack.
According to interviews conducted by Rewire.News, immigrants in sanctuary nationwide are navigating uncomfortable racial and cultural dynamics. Many experience racist microaggressions and overt racism, but speaking out is not an option because of the discomfort and discord it would cause.
Alemu told Rewire.News that the optics of ICE raiding a church may be too extreme, even for an agency that's been "unleashed" under the Trump administration. But she also suspects that the church's proximity to whiteness keeps ICE at bay.
"Imagine if a Black immigrant was Muslim and they decided to enter sanctuary at a mosque. In 2019, under Donald Trump, will a mosque be respected as a sanctuary? That's a real question. My belief is that ICE would raid a mosque in a minute," Alemu said. "I think churches are respected because of their proximity to whiteness. White Jesus, white pastor, white congregation, that's what gets you sanctuary."
In fact, churches are only considered sensitive locations under an ICE memo that says immigration enforcement should not to be conducted in houses of worship, hospitals, and schools. This is not a law or even an ingrained policy; it is simply a memo from 2011—one that contains exceptions and has been loosely interpreted by ICE. In 2016, for example, ICE lured an undocumented immigrant out of a church with text messages pretending to be a family member.
People entering sanctuary, then, are taking a leap of faith. They are often moving to a new city or state and entrusting their safety to the church's congregation, community members they have never met before. They are entrusting their safety to the church's leadership, who they interact with minimally before moving into the church. They are also trusting that ICE won't violate its own memo on conducting immigration enforcement in the church.
Oneita said that living in sanctuary is her biggest burden, but her faith gets her through and inspires her to keep pushing forward. She is also learning new things about herself, like the depths of her resilience and her desire to fight for immigrants no matter what happens. Oneita and Clive are learning Spanish because, when they get out of sanctuary, they want to fight for immigrants' rights and will need to communicate with Latinx immigrants like Suyapa Reyes. For now, they use a translation app on their phone to communicate with Reyes and her children.
"I think churches are respected because of their proximity to whiteness. White Jesus, white pastor, white congregation, that's what gets you sanctuary."
– UndocuBlack's Deborah Alemu
Their time in sanctuary has also forced them to confront their own assumptions. Clive told Rewire.News he is now embarrassed to admit that he and Oneita didn't truly interrogate news headlines about the Trump administration's targeting of so-called criminals for deportation. He said his belief had always been that when you are a guest in someone's country, you follow the rules, do the best you can, and make the country a better place.
"So when I heard that they were deporting 'criminals,' I didn't question it. But now I know better," Clive said. "When they came after my family, I asked what we did wrong. I asked, 'Are we being punished for living by the rules?' But it's not about deporting criminals; it's about deporting regular people who have tried to play by their rules, only to have the rules change, and then they call us criminals."
"We have no choice but to fight"
Whether it's a "healthy" approach or not, Clive and Oneita try not to let themselves get too emotional about their predicament. They often funnel their anxieties into nervous energy that they try to use in productive ways. Oneita spends a lot of time researching potential allies who may be helpful to their case. Clive paces and busies himself with work around the church. The couple often cook together. Whatever they can do to keep moving and stay busy.
Clive told Rewire.News that when he first moved into the church, he couldn't sleep. He couldn't eat. He'd lost his taste for food and he always felt cold. The transition was difficult, and it was rough on all of the children.
Clive Jr. told Rewire.News he had a sort of delayed reaction. "Emotions didn't happen until their first few nights in the church and I sat in our house alone," he said.
His older sisters have families; he is the only Thompson child entirely on his own. This pains Clive and Oneita. It is one subject they can't talk about without becoming deeply distressed.
"When I think of my children, it breaks my heart. All of my life we have fought to protect them and now when I look at my children, I can see they're fighting to protect us. I can hear in their voice that they are terrified for what will happen to us. It's not fair," Oneita said.
The 21-year-old video chats with his parents once a day and visits them weekly, often spending the weekend with them at the church. He is always happy to see his parents, but he explained that the church doesn't inspire the same kind of joy.
"We sit around and talk and catch up like we've always done. We laugh and joke like nothing changed, but after a few seconds of silence there's that looming feeling that this is where they're at and it's not where they want to be. When I sleep there I'm reminded that it's not really a home," Clive Jr. said.
During a recent visit, Clive heard his oldest son telling his siblings that he "weeps every night," and it nearly broke Clive. It made the father think back to something that happened shortly after they first took sanctuary.
Clive Jr. called around 2 a.m., saying that the house was flooding because a pipe had burst. On the phone, Clive had to walk his overwhelmed son through the process of turning off the water. The seemingly innocuous interaction was overwhelmingly painful to Clive, who heard the panic in his son's voice. Clive said he could have easily fixed the problem, but he was stuck in a church miles away from home.
"They have taken a lot from us. We cannot work in this country. We cannot leave this church. We have no privacy here. We cannot go back to our home with our children. I know the kids understand this, but it's hard," Clive said, growing emotional. "This is why we have no choice but to fight."
The fight continues
On May 30, Clive and Oneita's daughter Angel became a U.S. citizen. Now, the couple may be able to adjust their immigration status through her, though it can be a lengthy process. The Thompsons' attorney, David Bennion, told Rewire.News that the next step is to file I-130 petitions, which currently have processing times between five and 13 months. The couple will then have to ask the Board of Immigration Appeals to reopen their case, a process that has no definite timeline.
President Trump has repeatedly attacked what he calls "chain migration," which means family-based immigration programs like I-130. This despite the fact that the president's own wife has benefited from such programs. The administration has also thrown its support behind legislation that would make it more difficult for the Thompsons to receive a family-sponsored visa. Advocates have called such legislation "inherently racist" because of the way it affects the primary pathways Black immigrants take to both migrate to the United States and adjust their status.
But Clive and Oneita will not be discouraged. The couple say they are "very happy" about the latest development. Even before their daughter became a citizen, their faith could not be deterred.
"I know we will get out of this place," Oneita said. "I know it in my heart."