Transgender Pennsylvanians Challenge State Law Stopping Them From Changing Their Names
Pennsylvania is among at least three states facing lawsuits from trans people whose criminal records prevent their name changes.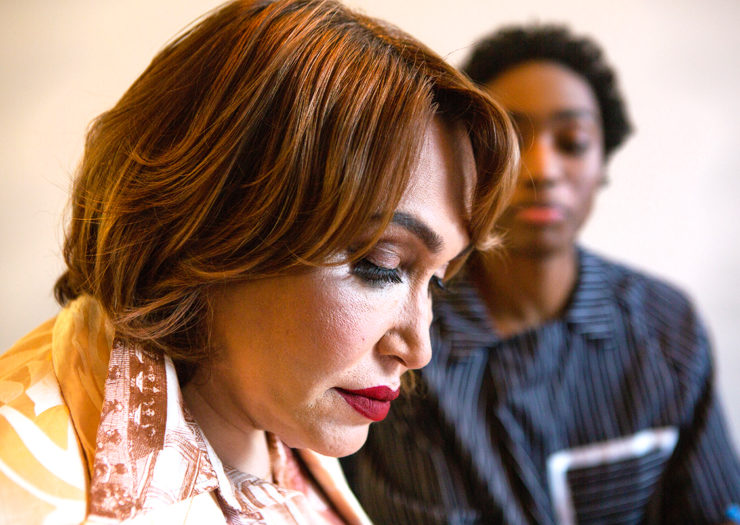 For Chauntey Mo'Nique Porter, obtaining a legal name change is about more than correct paperwork. Two years ago, doctors told her she wasn't eligible for gender confirmation surgery because she isn't "living as a woman," with an ID that reflects her female name.
Porter is among many transgender Pennsylvanians who can't change their names because they have felony convictions. Now, she and two other trans women are challenging that law in a suit filed last week. The suit names the Commonwealth of Pennsylvania, the Pennsylvania Department of State, and Acting Secretary Kathy Boockvar as defendants.
"I have endured abuse, harassment, and humiliation from police, employers, co-workers, and other public service providers such as bank employees," Porter said in a court affidavit filed as part of the complaint.
Porter, Alonda Talley, and Priscylla Renee Von Noaker allege that the Pennsylvania legislature violated the federal and state constitutions in 1998 when it amended the law to bar people convicted of felonies from changing their names. Under the rule, such individuals are blocked from name changes for two years after their sentence is complete. Those convicted of serious offenses, like aggravated assault or murder, can never apply.
Sex. Abortion. Parenthood. Power.
The latest news, delivered straight to your inbox.
The law prevents Porter, 39, who was convicted of aggravated assault, from updating her ID with the name she goes by in nearly every other part of her life. In 2017, doctors told her this meant she wasn't living in her preferred gender and couldn't get gender confirmation surgery. It also results in daily struggles: According to court records, a bar bouncer announced to patrons "that's a dude!" after seeing her ID.
Talley, 33, also has an aggravated assault charge on her record that prevents her from ever changing her name. She volunteers as a receptionist at the Philadelphia AIDS Consortium and says she skipped attending a National Black Trans Advocacy Conference in Dallas because she fears her ID makes her a target for harassment while traveling.
"I have been harassed and had my identity questioned when showing identification in order to vote, and my voting has been delayed longer than those whose identities match their identification," she said in her affidavit.
Von Noaker, 68, who was convicted of rape 32 years ago, described the stress of not being able to use her name when she was hospitalized twice for heart attacks.
Patrick Yingling, an attorney for the women, argues the law is not just regressive but is unconstitutional because it violates due process and the right to privacy.
"The right to control one's name is protected by the constitution and particularly the Pennsylvania constitution," he said in an interview with Rewire.News. "Someone's name is a huge part of their identity, their self-definition."
Only 13 states have no laws that prevent or make it difficult for people convicted of felonies to obtain name changes, according to 2017 data compiled by transgender mental health organization Trans Lifeline. Of the states with restrictions, Pennsylvania's are among the most onerous, barring people with felony convictions from even submitting a name change petition until two years have passed—or for cases like the three women in the lawsuit, for their entire lives.
"These individuals never really had an opportunity to get their cases off the ground," says Yingling.
The suit aims to strike down both the two-year ban and the lifetime rule. It does not, however, seek to overturn the policy entirely: Petitioners would still have to publish notice of their name changes and go before a judge to show they are not committing fraud.
Noah Lewis, a senior staff attorney at the Transgender Legal Defense & Education Fund (TLDEF) and one of the lawyers representing the three women, says he thinks the case could set precedent for further challenges to make the process easier.
"There are plenty of other [cisgender] people who need to change their names, for any number of reasons, including religious conversions and wanting to establish names related to their family," Lewis said.
The case grew out of the Name Change Project at TLDEF in which attorneys help trans people navigate the application process. Lewis says his organization encountered many transgender people over the last five years who wanted name changes but couldn't get them because of their criminal records.
"Because transgender people are economically marginalized and sometimes engaged in survival crime, transgender people are actually more likely to be affected by these" bans, said Lewis. "It just becomes a vicious cycle of someone continuing to be subjected to discrimination because their documents don't match who they are."
Pennsylvania is among at least three states facing lawsuits from trans people whose criminal records prevent their name changes. In May, the Chicago-based legal activism organization Transformative Justice Law Project filed suit in Illinois on behalf of eight transgender women seeking name changes, and an attorney filed suit in Wisconsin on behalf of a transgender woman who cannot change her name because she is registered as a sex offender after a 1992 conviction.
Keisha Allen, a plaintiff in the Illinois case, says she was denied food stamps under her preferred name and twice assaulted at work because she was outed as a transgender woman.
"On each of these occasions, Keisha has left the job to seek employment where she could feel safe at the job site," the suit argues. "Due to the Illinois Name Change Statute, Keisha is continually forced to out herself as a transgender woman in the workplace."
Identity documents that out transgender people can subject them to harassment, violence, or result in them being denied medical care, making accurate identification into a matter of life and death. The 2015 U.S. Transgender Survey found that 32 percent of trans people who presented IDs that didn't match their presentation had been discriminated against, harassed, or attacked. Sixteen percent said they were denied services or benefits, and 9 percent said they were asked to leave because their IDs didn't match their presentation.
Violence against the transgender community has been on the rise in the past five years. In 2017, at least 29 transgender people were murdered, and at least 26 were killed in 2018. This year has already seen the slaying of eight Black transgender women. Many of these deaths can be attributed to attackers learning that their victim was trans.
A spokesperson for the Pennsylvania Attorney General Josh Shapiro declined to comment on any potential response to the suit and deferred questions to the Pennsylvania Department of State. That agency declined to comment due to the pending litigation.