Missouri Lawmakers' 'Cowardly' Attempts to Silence Voters on Abortion Rights (Updated)
When drafting Missouri's monster anti-abortion omnibus bill, lawmakers included a provision they claim prevents voters from trying to repeal it.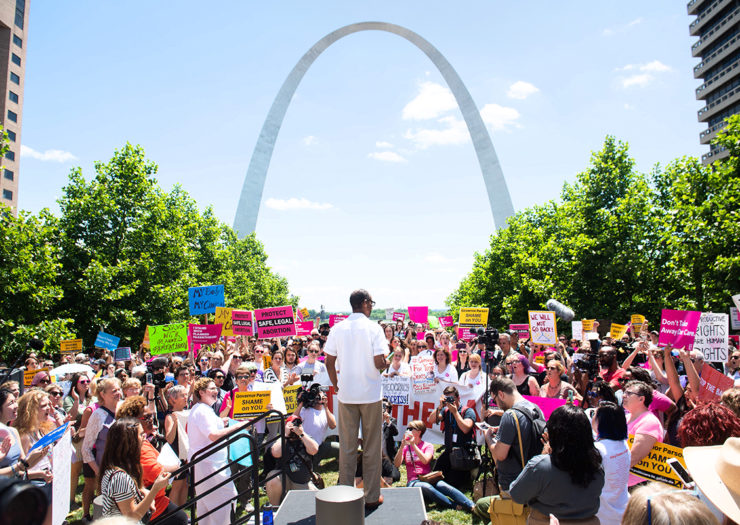 UPDATE, July 9, 5:05 p.m.: A three-judge panel of the Missouri Court of Appeals ruled Monday that the American Civil Liberties Union can move toward putting the state's eight-week abortion ban to a public vote.
HB 126 is a monster of an anti-choice bill, even by Missouri standards.
Passed on the last day of the legislative session, HB 126 bans abortion at eight weeks' gestation; revises the state's parental notification laws; and puts in place a "trigger" that would automatically outlaw abortion statewide should the U.S. Supreme Court overturn Roe v. Wade. It also contains an emergency clause lawmakers claim insulates the bill from the possibility of challenge by voter referendum—making explicit the connection between banning abortion and disenfranchising voters.
Under Missouri law, unless a law contains an emergency clause or is an appropriation act, it takes effect 90 days after the session adjourns. But sometimes legislators pass unpopular laws, and so the Missouri Constitution allows laws to be put on the ballot and subject to a vote of the people. Citizens have the right to approve or reject any law passed by the General Assembly—except certain appropriation bills and emergency measures, defined as being "necessary for the immediate preservation of the public peace, health or safety."
Roe is gone. The chaos is just beginning.
Follow Rewire News Group on Twitter to stay on top of every breaking moment.
Well, wouldn't you know it, but when drafting HB 126, Missouri lawmakers tacked on an emergency clause designed specifically to thwart a possible citizen referendum. That emergency clause is attached to the provision that requires both parents to be notified in most cases when a minor is seeking an abortion and states:
Because of the need to protect the health and safety of women and their children, both unborn and born, the repeal and reenactment of section 188.028 of this act is deemed necessary for the immediate preservation of the public health, welfare, peace and safety, and is hereby declared to be an emergency act within the meaning of the constitution, and the repeal and reenactment of section 188.028 of this act shall be in full force and effect upon its passage and approval.
The existence of the emergency clause, Missouri lawmakers claim, both allows that change in the parental notification requirements to take effect immediately and also insulates the rest of HB 126 from voters.
Gov. Michael Parson (R) signed HB 126 into law on May 24. Four days later, the American Civil Liberties Union of Missouri (ACLU-MO) submitted a proposed referendum petition to Missouri Secretary of State Jay Ashcroft seeking to place HB 126 on the ballot for general election. On Thursday, Ashcroft rejected the proposed petition, prompting an immediate legal challenge by the ACLU-MO.
"Denying the people their constitutional right to referendum is a sad and cynical ploy, but it is not surprising given that HB126's entire purpose is to elevate the legislature above constitutional rights," Tony Rothert, ACLU-MO's acting executive director, said in a statement.
"This cowardly move by the Secretary of State proves that Missouri's anti-abortion zealots understand that they're acting against the wishes of the majority," Rothert continued. "They hope to short-circuit the people's vote because they know they will lose if the people get their say."
Like the Alabama lawmakers who crowed about the fact that they passed their total abortion ban hoping to force a direct challenge to Roe v. Wade, lawmakers in Missouri were explicit about including an emergency clause in HB 126 specifically to try and thwart a referendum on the abortion restrictions. "What we did in the bill is actually preempt that type of situation by putting an emergency clause in there," Sen. Andrew Koenig (R-Ballwin), told St. Louis Public Radio. "So there can't be a referendum."
Preventing the voters from speaking out on unpopular measures is a strategy that conservative lawmakers are frequently relying on. In 2018, voters successfully repealed Missouri's "right-to-work" law via referendum. Conservative lawmakers were not about to face another high-profile and embarrassing defeat in their effort to ban abortion. The state is embroiled in a similar fight over efforts by voters to address the political gerrymandering that has allowed a conservative base to disproportionally hold state power. Last year, Missouri voters passed a ballot initiative that would give them more power over the next round of redistricting following the 2021 Census. Lawmakers are working at passing legislation to undo much of the reforms contained in that ballot initiative.
Public support for legal abortion is stronger than public opposition to it, even in Missouri. This is why lawmakers in states seeking to ban abortion are working to keep as many people as possible out of the political process.
The court has not yet acted on the ACLU-MO's request to have its referendum petition accepted. The rest of HB 126, including the eight-week ban, will take effect August 28 unless the court blocks it.