Trump Administration Bans Government Scientists From Using Fetal Tissue
Scientists condemned the administration's decision on fetal tissue research in the strongest possible terms.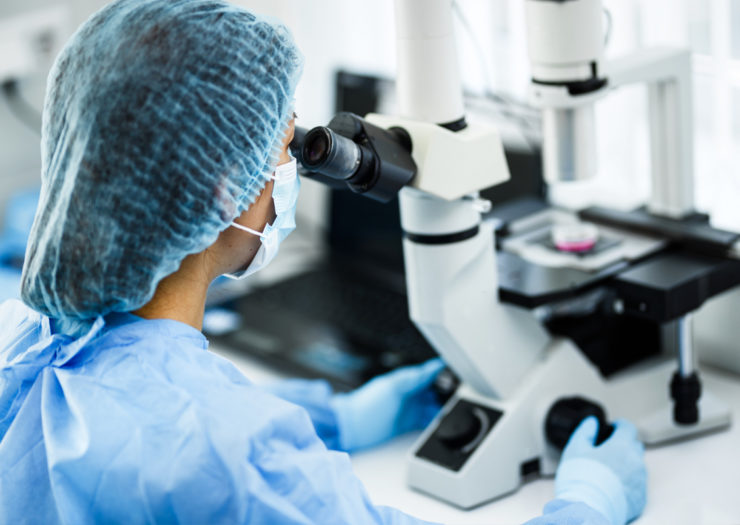 Government scientists will be barred from conducting research using donated fetal tissue the Trump administration announced on Wednesday, dealing a major blow to scientists who say it is an irreplaceable part of ongoing scientific research.
In a six-paragraph statement, the Department of Health and Human Services (HHS) said the administration will no longer allow government scientists within the National Institutes of Health (NIH) to conduct research that includes donated fetal tissue from abortion. The administration also ended a contract with the University of California, San Francisco (UCSF).
Scientists condemned the administration's decision in the strongest possible terms. "We believe this decision to be politically motivated, shortsighted and not based on sound science," read a prepared statement by UCSF Chancellor Sam Hawgood.
UCSF is using fetal tissue to find a cure for HIV.
"Today's action ends a 30-year partnership with the NIH," Hawgood continued, adding the ban will "undermine scientific discovery and the ability to find effective treatments for serious and life-threatening disease."
Roe has collapsed in Texas, and that's just the beginning.
Stay up to date with The Fallout, a newsletter from our expert journalists.
Donated fetal tissue is used in research for a range of medical conditions, including Alzheimer's and spinal cord injuries. It's considered especially crucial in studies on the Zika virus, which attacks fetal tissue during pregnancy, leading to severe neurological deformities in newborns.
In the past, fetal tissue has been used in the development of vaccines for polio, rubella, and chickenpox.
The tissue is donated by those who have elective abortions, and would otherwise be discarded. Fetal tissue cells contain unique properties that are not found in other types of human tissue.
HHS has already dedicated $20 million to finding alternative technologies so that scientists will no longer need to rely on donated fetal tissue for medical research. According to a senior administration official, "for several scientific applications, there are highly promising alternatives currently being investigated."
But for the time being, scientists say there is no adequate alternative.
According to HHS, the move was carried out "in light of the serious regulatory, moral, and ethical considerations involved" and is consistent with the Trump administration priority to promote "the dignity of human life from conception to natural death."
In recent years, anti-choice groups have rallied against medical research that includes fetal tissue, arguing its very existence encourages abortions—a claim widely contested by scientist and doctors.
The federal government has funded research through the NIH using fetal tissue since the 1950s. The issue gained renewed attention in 2015 after the Center for Medical Progress, an anti-choice group, began circulating videos falsely claiming Planned Parenthood profited from fetal tissue donations.
In September 2018 the Trump administration announced it was launching a "review" of federally funded research that includes human fetal tissues. Over the ensuing months, the administration met with anti-choice advocates and with scientists in separate closed-door meetings.
In October, the administration canceled a contract with fetal tissue supplier Advanced Bioscience Resources Inc. During a congressional hearing held in December, scientists insisted that fetal tissue has unique properties that cannot be replicated with other types of tissue or alternative laboratory technologies.
As tensions mounted over the increasing politicization of fetal tissue research, journalists reported a rift in President Trump's administration, with the White House advocating a full ban on fetal research while HHS officials arguing for a more measured approach, according to Politico.
This week's decision to severely restrict federal support of fetal research was made by President Trump himself, according to the Washington Post. "This was the president's decision," spokesperson Judd Deere told the publication, going on to say it is "another important policy … to protect the dignity of human life."