Renee Unterman Helped Bring a Near-Total Abortion Ban to Georgia. Now She's Running for Congress.
Unterman didn't just sponsor the bill—she played a key role in shepherding the six-week ban through Georgia's Republican-controlled state senate.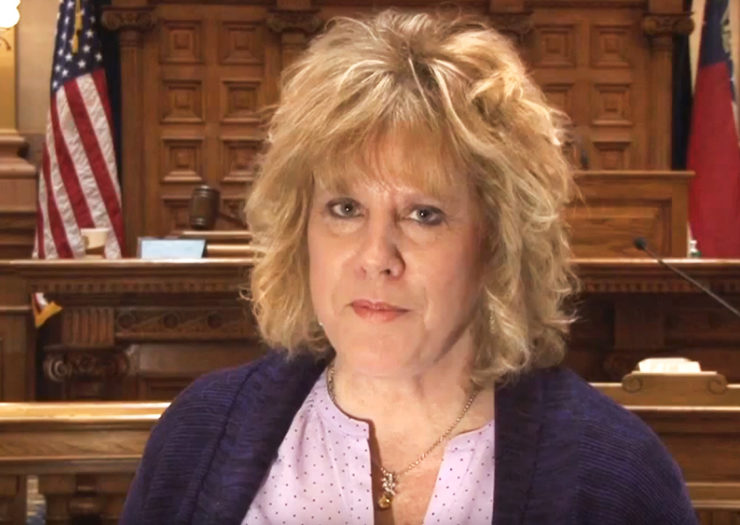 Georgia state Sen. Renee Unterman (R-Buford), who sponsored the state's six-week abortion ban, looks like she wants to bring her anti-choice platform to the U.S. Congress.
Unterman on Wednesday filed a statement of candidacy for Georgia's 7th Congressional District with the Federal Election Commission. She's scheduled to make an announcement about her decision for the 2020 race on Thursday evening, and is expected to officially announce her bid for the Republican nomination in the district.
The Georgia legislation—HB 481, the "Living Infants Fairness and Equality (LIFE) Act"—would ban abortion around six weeks gestation, before many know they are pregnant. Such legislation is often misleadingly referred to as a "heartbeat ban," though at six weeks' gestation, there is no fetus or heart. What can be measured is electrical activity in the fetal pole.
Unterman didn't just sponsor the bill—she played a key role in shepherding the six-week ban through her chamber of the legislature, according to the Atlanta Journal-Constitution. When the state senate passed it, Unterman was "the only woman to vote in favor of the legislation," according to AJC.
Roe has collapsed and Texas is in chaos.
Stay up to date with The Fallout, a newsletter from our expert journalists.
"Preserving the sanctity of life beginning at conception has been the cornerstone of my legislative tenure," Unterman said in a statement on the anti-choice restriction's passage in early May. Such language uses so-called personhood rhetoric, which if passed into law could criminalize abortion and ban many forms of contraception. The statement continued that her views on abortion have "always been a top priority" for her and touted her anti-choice record in the state legislature—which includes co-sponsoring a law to funnel money to crisis pregnancy centers, anti-choice clinics that often disseminate misinformation about abortion.
The race for the 7th Congressional District is considered highly competitive. Inside Elections with Nathan L. Gonzales/Roll Call race ratings consider it a "toss-up." In the 2018 midterm elections, Republicans won the seat by only 433 votes—"the closest margin of any House race in the country last year," according to Roll Call.
Republican Rep. Rob Woodall announced in February that he would not run again for the seat. Several Democrats and Republicans have already jumped into the race.