NARAL Jumps Into Kentucky Governor's Race Ahead of Democratic Primary (Updated)
This isn't the first time NARAL has jumped into a contentious Democratic primary where abortion rights have been a top-line issue.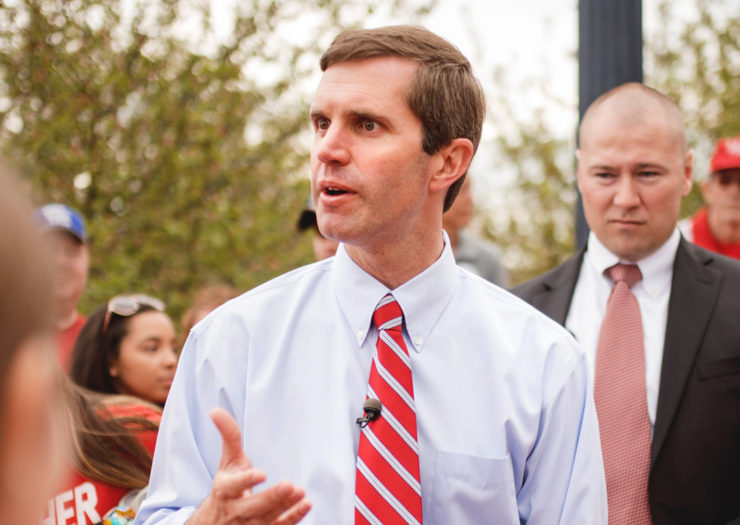 UPDATE, May 22, 11:20 a.m.: Andy Beshear won the Kentucky Democratic gubernatorial primary on Tuesday .
NARAL Pro-Choice America endorsed Kentucky Attorney General Andy Beshear in the state's Democratic gubernatorial race one day before voters take to the polls.
"Kentucky women and families deserve someone who will fight for them as governor, and Andy Beshear has always been there to defend Kentuckians' rights and freedoms," Ilyse Hogue, president of NARAL, said in a statement Monday morning. "Andy represents our strongest bet to defeat [Republican Gov. Matt] Bevin, bring real change to Frankfort, and protect the rights of all Kentucky families. NARAL is proud to endorse his candidacy."
Beshear's platform supports abortion rights, as Rewire.News has reported. But Jacqueline Coleman, his running mate, in a 2014 candidate forum called herself "a pro-life, compassionate Democrat." Since then, Coleman has clarified she is "personally pro-life. But as a woman, I do not believe politicians should impose their views on others, which is why I support each individual woman's constitutional right to make her own reproductive and health-care decisions."
Roe is gone. The chaos is just beginning.
Follow Rewire News Group on Twitter to stay on top of every breaking moment.
During his time as Kentucky's attorney general, Beshear said he would defend some of Kentucky's anti-choice restrictions—like is forced ultrasound law, which was upheld by a federal appeals court in April—but has refused to defend the state's 20-week ban and in January sent a letter to Kentucky legislators condemning legislation (since signed into law and blocked by a court) to ban abortion as early as six weeks into a pregnancy "unconstitutional."
Eric Hyers, campaign manager for the Beshear campaign, said in an email to Rewire.News that Beshear "has always publicly opposed mandatory ultrasound laws. As attorney general, he has a duty to defend laws he disagrees with if courts are split. That said, AG Beshear thought the state would lose the suit, and he requested his office be removed from the suit entirely, which they were. This is why it is so important to elect Andy as governor; he will veto any legislation like it."
Hyers reiterated Beshear's record on anti-choice legislation. "As attorney general, Andy Beshear has refused to defend numerous anti-choice bills, and recently submitted an amicus brief in front of the 6th Circuit in favor of reproductive rights and in opposition to Matt Bevin's attempt to shut down Kentucky's only remaining facility," he said. "He is the only candidate in this race who has done more than just talk when it comes to a woman's right to choose."
Kentucky's gubernatorial race is critical for abortion rights. Bevin has signed restrictions on abortion care during his tenure, including a 20-week abortion ban, restrictions on medication abortion, a "trigger" law that would immediately ban abortion in Kentucky should Roe v. Wade be overturned, and a six-week ban, or near-total abortion ban. The state has one abortion clinic remaining.
The general gubernatorial matchup is considered a "toss-up" by the Cook Political Report. However, the Democratic gubernatorial field is not wholly supportive of abortion rights. While former state auditor Adam Edelen has been vocal about his pro-choice views on the campaign trail, state House Minority Leader Rocky Adkins is a member of the legislature's Pro-Life Caucus who voted in favor of the state's six-week ban on abortion.
National anti-choice group Susan B. Anthony List also appears to have jumped into the Democratic primary. A robocall provided by the Beshear campaign and reviewed by Rewire.News attempts to paint Beshear as an advocate for "abortion extremism." The call says it was paid for by the Susan B. Anthony List Action PAC. The anti-choice group did not respond to a request for comment.
This isn't the first time NARAL has jumped into a contentious Democratic primary where abortion rights have been a top-line issue. The abortion rights organization in 2017 backed Ralph Northam, then Virginia's lieutenant governor, in his primary bid against Tom Perriello, a former U.S. congressperson with a mixed record on abortion rights who later embraced progressive policies including reproductive rights.