Transgender People Report 'High Levels of Violence' in the U.S. South
A new study found that nearly half of transgender people living in 13 Southern states reported "high levels of violence by strangers."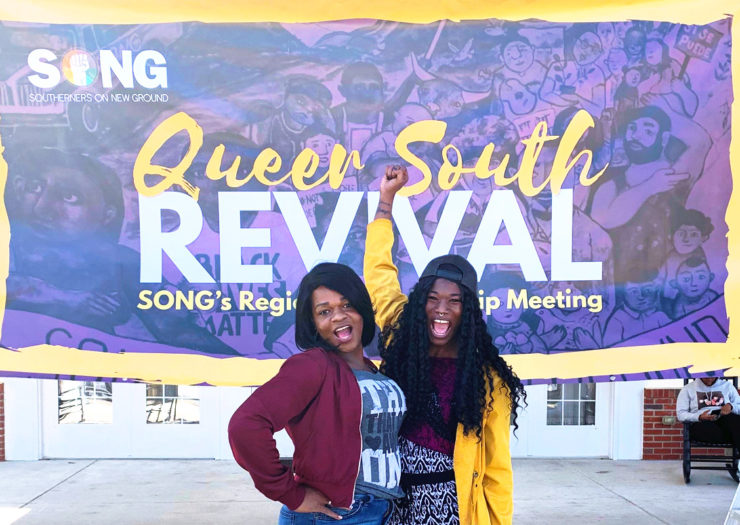 Kayla Gore knows transgender people face overwhelming violence in the Southern United States. She sees the evidence regularly.
"Navigating life as a Black trans woman here in the South has been traumatic and violent, to say the least," Gore tells Rewire.News.
Gore works with homeless transgender women as a southern regional organizer for the Atlanta-based organization Southerners on New Ground (SONG), which operates five chapters in six states across the South. On Friday, a member of the local trans community was shot in the leg at a Waffle House in Southaven, Mississippi. Although the unincorporated community is just over the Tennessee state line, it's often viewed as a suburb of Memphis, the city Gore calls home.
According to Gore, 23-year-old Jimtarius Hampton and his friends began verbally harassing the victim when she entered the Waffle House, calling her a "man." After a physical altercation, Hampton allegedly shot the victim, who has yet to be identified in news reports, with an AK-47.
Roe is gone. The chaos is just beginning.
Follow Rewire News Group on Twitter to stay on top of every breaking moment.
"She's 95 pounds soaking wet," Gore tells Rewire.News. "I'm not sure what type of threat she was posing that he had to use that much force. She was hungry. She just wanted to get something to eat."
The victim's femur was shattered, as the Mississippi NBC affiliate WMC reported. She will require surgery and a rod in her leg.
This isn't the only act of violence against the local trans community in recent weeks. According to a press release from the Transgender Law Center, Jazzaline Ware was found dead in her Memphis apartment last month. The legal advocacy organization claims the case is being investigated as a homicide, but her name has yet to make headlines in local newspapers.
While incidents like these are all too common for trans people, who experience disproportionate levels of harassment, discrimination, and violence across the United States, a new report from SONG and the Transgender Law Center testifies to the overwhelming challenges that they face in the South.
Released on Tuesday, the study, Grapevine: A Southern Trans Report, found that 47 percent of transgender people living in the 13 Southern states surveyed—which include Tennessee, North Carolina, Kentucky, Louisiana, South Carolina, and Georgia—reported "high levels of violence by strangers" as they go about their daily lives. Forty-one percent of those surveyed say they have been targeted, harassed, or physically assaulted by members of law enforcement.
Those numbers are even higher for transgender women and people of color. Of these uniquely vulnerable populations, nearly 6 in 10 trans women say they have experienced harassment or abuse from someone they do not know. Meanwhile, a majority of transgender people of color (52 percent) have allegedly faced similar treatment from police officers.
While there are no racial or gender breakdowns for health-care discrimination, 4 in 10 respondents say they have been mistreated—whether verbally or physically—by a medical provider because of their gender identity.
Zahara Green, executive director of the trans advocacy group TRANScending Barriers, says these issues are systemic and pervasive across the country. But one of the reasons transgender people face such profound hardship in the South, she says, is because of the total lack of legal protections. Not a single state included in the survey has a statewide law banning discrimination against LGBTQ people in housing or employment.
The silence from state lawmakers has a way of trickling down, according to Green, who noted that the South had the highest rates of anti-trans violence in the United States in 2017.
"These numbers are not changing because the system that keeps us in these place is not changing," Green tells Rewire.News.
Green has faced the brutality of this system firsthand. Before she was able to legally change her name, hiring managers would be confused about who she was when she called to check on the status of job applications. When she explained the discrepancy, potential employers told her they would follow up, but she never heard back. Like many many transgender people in the South, the near-daily rejection and marginalization she faced "pushed [her] to a state of survival."
"I have experienced homelessness and incarceration," she says. "I was rejected by my family at 17. These are the experiences you see in the South all over."
One of the reasons Green says reports like the Grapevine study are so critical is that the wider movement often overlooks the stories of LGBTQ people outside the coasts. Queer and transgender communities in Mississippi and Alabama rarely get the same attention as those in New York and California, she says, even though more LGBTQ people live in the South than the Midwest, Northeast, or Pacific.
According to UCLA's Williams Institute, around 35 percent of queer and trans people reside in the South, though the Williams Institute's tally includes Maryland while the Grapevine study does not.
Gore, who has also faced job discrimination because of her gender identity, says she became "emotional" when she read the raw data included in the report. She recalled an incident in which an HR manager abruptly removed her from a cashier job and reassigned her to assist with prep work in the back—away from the public eye—when her employers learned she was transgender. This week's survey was one of the first times those experiences had ever been recognized.
"One of our biggest needs [as trans people] is validation, and a lot of times folks don't get that," she claims. "The report gave me that."
As advocates work to make the experiences of trans people in the South visible, they hope those with the power to make change are paying attention. At least six states in the Southern United States—Alabama, Georgia, Mississippi, North Carolina, Virginia, and Oklahoma—do not have any form of LGBTQ-inclusive hate crimes protections at the statewide level. Two Southern states have yet to pass any hate crime laws at all: Arkansas and South Carolina.
Because the Waffle House incident technically took place in Mississippi, it's unclear if the victim will be able to pursue hate crimes charges. She is currently "fighting for her life," according to Gore.
"A lot of people—including governments—are looking for numbers and hardcore data to support what we've been saying has been going on in our community for a very long time," Green adds. "This report provides the evidence to hopefully be able to get the resources we need to address these issues."