The Trump Administration Is About to Make It Harder for People With Limited English Proficiency to Get Health Care
For people with limited English proficiency, Section 1557 is the only line of defense against being denied service because of who they are, where they're from, or the language they speak.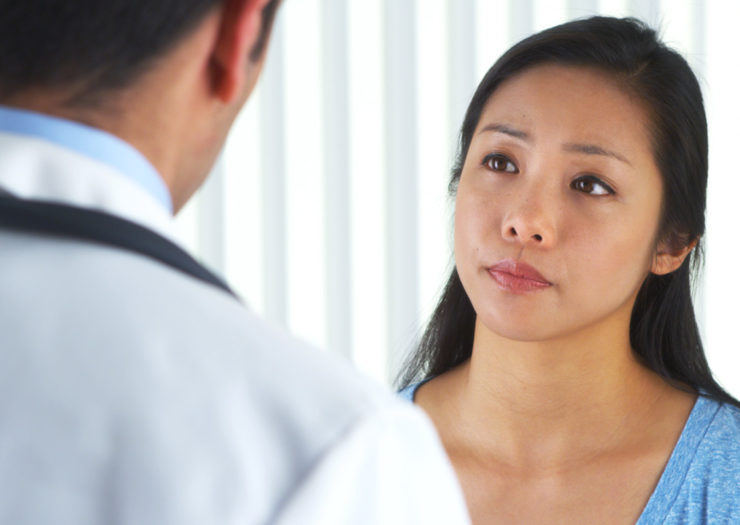 For the average person, going to a doctor's appointment can be a challenge. Many of us have had that moment when the co-pay is too expensive, the doctor's only availability is three months out, or travel is too difficult. But once you make it to the doctor's office, you expect to get the care you need and deserve.
But LGBTQ people, people with disabilities, immigrants, people with limited English proficiency, and members of communities of color may face discrimination on top of these everyday hurdles that can make it impossible—and at times dangerous—to seek and receive care.
Take the case of Blanca Borrego. In 2015, Blanca, an undocumented immigrant and mother of three, was arrested in her gynecologist's office after checking in with a false Texas driver's license. Blanca went to her doctor for  a cyst that was causing her abdominal pain. She left in handcuffs, facing the risk of being deported. This case shines a light on why underserved communities will simply forgo needed health services, live with lumps in their breasts, and endure daily suffering because of the barriers involved with seeking care. People with limited English proficiency can also often feel intimidated speaking about the symptoms they may be feeling. Stories like Blanca's are all too common—but we're now at risk of these stories becoming the norm.
According to reports from advocates, the Trump-Pence administration will soon take aim at our communities by proposing a rule that rescinds Section 1557 of the Affordable Care Act. Some people know that Section 1557 protects LGBTQ people from discrimination in a health-care setting—but fewer may know that it also safeguards people with limited English proficiency (LEP).
Sex. Abortion. Parenthood. Power.
The latest news, delivered straight to your inbox.
Section 1557 includes protections for people with LEP when they go to a provider's office. For instance, it is critical in ensuring that individuals whose primary language is not English can receive documents and services in a language they understand. When a person with LEP goes to the doctor, the law requires medical providers to have resources to inform them they're entitled to care in their language. We cannot overstate what a difference it can make for someone who feels targeted or intimidated to see a sign at a doctor's office stating that they are protected under the law to get the care they need without discrimination.
For people with LEP, Section 1557 is the only line of defense against being denied service because of who they are, where they're from, or the language they speak. Notably, this law also expands to Medicaid, a vital program that provides health coverage for many individuals and families with low incomes and that disproportionately covers women of color and the LGBTQ community.
This law was a turning point for our communities, who for decades had to withstand subpar care—if we got any at all. Section 1557 allows us the protections we need to go to the doctor. And now, the administration is attempting to roll back all our progress.
Communities of color, including immigrant women and LGBTQ Latinxs, have historically experienced many systemic barriers such as high costs, lack of access to clinics in rural areas, and insufficient culturally and linguistically competent health care. Additionally, discriminatory immigration policies force many immigrants, like Blanca, to forgo critical, affordable, and comprehensive routine health care altogether.
For our communities, getting in the door of a health center is hard enough. In states like Texas, we have seen an increase of Border Patrol and Immigration and Customs Enforcement (ICE) at clinics and hospitals. The National Latina Institute for Reproductive Health (NLIRH) has received calls, heard stories, and talked to people in the Lower Rio Grande Valley of Texas who are afraid to attend their medical appointments due to the presence of Border Ppatrol along their route and who see ICE parked outside of their health clinics. Imagine overcoming all those barriers, facing the risk of deportation and family separation, to then be denied services in the languages you speak or being targeted and turned away from care once you arrive.
Individuals with LEP may fear that speaking a foreign language could make them the target of increased scrutiny about their immigration status. Additionally, due to a person's country of origin, they may also fear immigration-related consequences at the doctor's office. Although 1557 does not forbid doctors from calling ICE, it says that "individuals are protected regardless of immigration status who are subject to discrimination on the grounds of race, color, national origin, sex, age or disability." Immigrants often lack access to transportation and may have to travel great distances to get the care they need. In rural areas, there may be no other sources of health care, and when individuals encounter refusals of care, they may have nowhere else to go.
These are the realities our communities face.
By removing the anti-discrimination protections of Section 1557, the administration is saying we don't deserve access to the care we need when we need it and in the language we need. Instead, Trump is giving providers free rein to discriminate against our communities, further exacerbating the health disparities we face—like cervical cancer, lack of access to family planning services, and other health inequities. This is an extremist attack against our civil rights and our fundamental right to health care.
But, unfortunately, it is no surprise. Since the Trump-Pence administration came into office, it has attacked reproductive rights, LGBTQ rights, immigrants, and health-care access, disproportionately affecting communities of color. Earlier this month, the U.S. Department of Health and Human Services released a dangerous new rule, the Denial of Care Rule, which allows for health-care professionals to outright deny health care, including life-saving care, to LGBTQ people under the guise of religious freedom.
By removing Section 1557, and coupled with the recent Denial of Care Rule, the administration is allowing providers, including hospitals and health-care institutions, to refuse the LGBTQ community and individuals with LEP, not just the services they need, but also the information they need in the language they speak to make fully informed decisions regarding their own health care.
It's shameful that to exercise our rights to dignity, bodily autonomy, and reproductive freedom, the administration wants us to leave our whole selves at the door. We can't and we won't.
NLIRH fought fervently for Section 1557, and we will keep fighting against those attempting to undermine it. Our lives depend on it. Our communities depend on it. The future of this country depends on it.