Rhode Island Democrat Threatens Safeguards for 'Roe' at the Last Minute (Updated)
Rhode Island state Sen. Stephen R. Archambault, widely considered a pro-choice legislator, announced on Facebook that he would side against the Reproductive Health Care Act.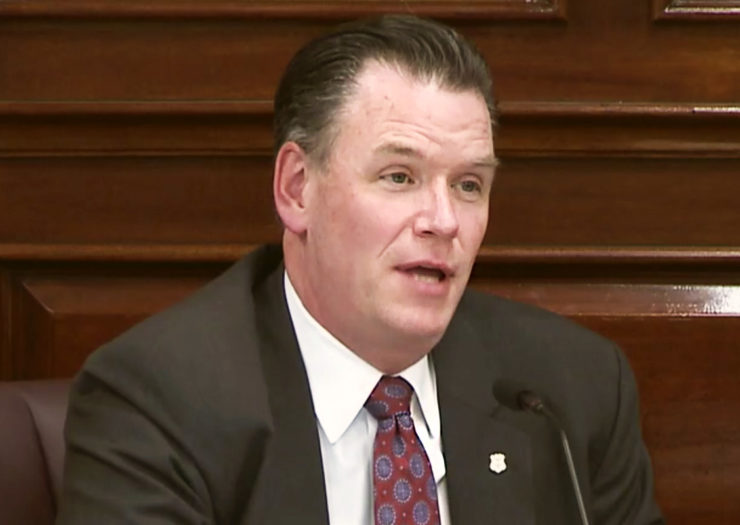 UPDATE, May 15, 8:56 a.m.: The Reproductive Health Care Act did not clear the Senate Judiciary Committee, as state Sen. Stephen R. Archambault (D-Smithfield) followed through on his pledge to oppose the pro-choice bill. 
A Rhode Island Democrat, the swing vote on the Senate Judiciary Committee, said Monday he would not vote for the house-approved bill to protect abortion rights in the state.
State Sen. Stephen R. Archambault (D-Smithfield), widely considered a pro-choice legislator, announced on Facebook that he would side against the Reproductive Health Care Act (RHCA), which would codify Roe v. Wade protections into state law. Archambault said in his statement he believes "in reasonable restrictions on abortions."
"While I am pro-choice, I do believe in reasonable restrictions on abortions, once a pregnancy moves beyond viability. Simply put, viability means when a fetus is so close to fully formed that it is likely to be able to survive outside the womb—if born," Archambault posted late Monday, echoing talking points used by President Trump and anti-choice lawmakers in their attacks on state-level efforts to protect abortion rights. 
Roe is gone. The chaos is just beginning.
Follow Rewire News Group on Twitter to stay on top of every breaking moment.
Local advocates are taken aback by the last-minute switch. Last July, during his failed run for attorney general, Archambault talked about standing up to Trump and making the RHCA "a priority" in the 2019 session.
"It is clear that he is falling for the gross-misinformation campaign that opponents have been spreading for months," the Rhode Island Coalition for Reproductive Freedom said in a statement Tuesday. "Senator Archambault is clearly trying to circumvent the democratic process with this last minute stunt."
In the largely progressive New England state where 71 percent of registered voters support a law to protect legal abortion, this is the latest example of Democrats undermining such an effort, as they did in New Mexico while pro-choice lawmakers pushed to repeal a dormant law criminalizing abortion.
Archambault's amendment to limit later abortion care displays a lack of knowledge and clear mistrust in women, said Amanda Skinner, president and CEO of Planned Parenthood Votes! Rhode Island.
"Abortion care later in pregnancy is extremely rare, and women and their families in these situations often face devastating decisions. They deserve compassion and support—and certainly not politicians telling them what to do or attempting to imprison their physicians. How dare Senator Archambault think he knows better than women and their doctors when it comes to their own decisions and lives?" she said in a statement. "As the vile attacks on reproductive rights escalate across the nation, Rhode Island is poised to set an example by protecting an individual's right to control their own body and their own future. Unfortunately, Senator Stephen Archambault has decided the lies and distortions of those who seek to ban safe, legal abortion will give him cover to have it both ways."
The American College of Obstetricians and Gynecologists (ACOG) defines viability as "the capacity of the fetus for sustained survival outside the woman's uterus. Whether this capacity exists is a medical determination, may vary with each pregnancy and is a matter of judgment of the responsible health-care provider."
"The repeated use of extreme and unrealistic hypotheticals and the deliberate misuse of medical language, like 'late term,' to undermine the passage of the RHCA has dangerously obfuscated the intent and scope of this legislation," Dr. Emily White, Rhode Island chair of ACOG, told Rewire.News. "The RHCA recognizes abortion care as an essential part of comprehensive women's health care and would permanently protect access to this care in Rhode Island's legal code. It is in line with the precedent set by Roe v. Wade and the official policy of the American College of Obstetricians and Gynecologists (ACOG). It does not permit the delivery of abortion care after a pregnancy is determined viable and to suggest otherwise wrongly maligns the ethical and compassionate standard of care established by women's health care providers and patient advocates."
Rhode Island is the most Catholic state in the United States. It has a powerful anti-choice lobby and anti-choice Democrats who have blocked the abortion rights legislation in the past. Rhode Island voters in last year's midterms added more women and pro-choice legislators than ever before, many of whom support the RHCA.
This late stance and the possibility that the bill may not reach a full state senate vote is "unthinkable" after all the support that has been garnered for the bill, including the successful house vote in March, said Jordan Hevenor, co-director of The Womxn Project, a local nonprofit that has hosted weekly events at the state house to advocate for its passage.
By Senate rules, it's too late for a substitute amendment. State Sen. Gayle Goldin (D-Providence), who has sponsored the bill for three years, has said she will not accept any amendments, that the bill must be passed as it is.
The Senate meets at 4 p.m. Tuesday. The nine-member Senate Judiciary Committee seems to be divided between four supporters and four opponents. Without Archambault's approval, the bill is likely to be voted down.