Can Kentucky Democrats End an Era of 'Absolute Hell' for Abortion Access?
Support for reproductive rights varies among Democratic gubernatorial hopefuls in Kentucky, where one of the country's least popular governors is up for re-election in November.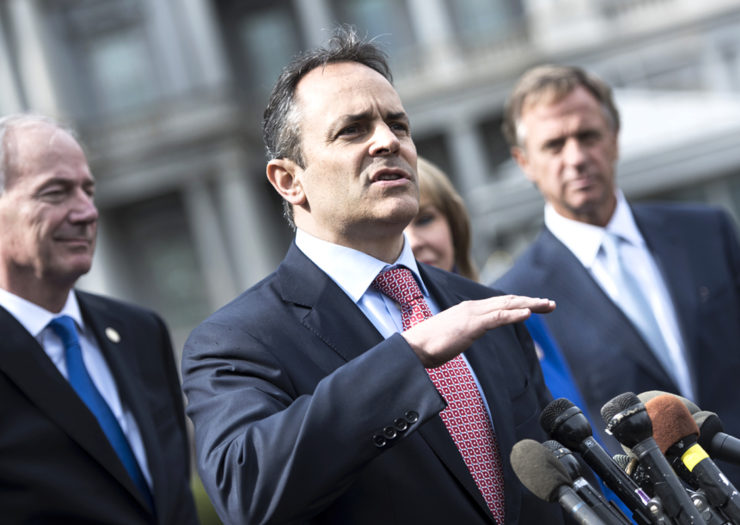 Only a single abortion clinic remains open in Kentucky—and if Republican Gov. Matt Bevin wins another term, that number could be zero.
Democrats can stop Bevin by winning the state's next gubernatorial race in November, but first they must nominate a candidate to run against him. Four candidates are running in the looming May 21 primary: state Attorney General Andy Beshear, former State Auditor Adam Edelen, State House Minority Leader Rocky Adkins, and perennial candidate Geoff Young. Recent polling shows Beshear leading the pack of Democrats, though Edelen has surged in the polls since February, according to a report from the Courier-Journal.
Bevin has been referenced in the media as the country's most unpopular governor—in the first quarter of 2019, the Republican had a 33 percent approval rating with 52 percent disapproving, according to Morning Consult. Still, winning back the governor's mansion won't be easy for Democrats. President Trump carried Kentucky in 2016 by almost 30 percentage points, and Bevin has since enjoyed a close working relationship with the president. Republicans have a firm grip on the state's General Assembly, holding overwhelming majorities in both chambers.
The race is considered a "toss-up" by the Cook Political Report, meaning the race is competitive and "either party has a good chance of winning."
Legal Abortion in Kentucky
"It's absolute hell." That's how Marcie Crim, executive director of the Kentucky Health Justice Network, describes the climate for abortion access in the state. "We have one clinic in Kentucky, and that is in Louisville," Crim said in an interview with Rewire.News, referring to the EMW Women's Surgical Center.
That isn't for the GOP's lack of trying to shut the clinic's doors and make Kentucky the only state in the country without an abortion clinic. According to Crim, Bevin's administration has already successfully shut down other clinics in the state and has "has attempted in multiple different ways" to shut down EMW as well.
Since Bevin won office in November 2015, he has been a vocal opponent of abortion rights and signed a host of anti-choice legislation into law. That includes a 20-week abortion ban, restrictions on medication abortion, a "trigger" law that would immediately ban abortion in Kentucky should Roe v. Wade be overturned, and a string of legislation currently blocked by courts—like an 11-week ban targeting dilation and evacuation (D and E) abortions and a so-called heartbeat ban that would criminalize abortion before many even know they are pregnant.
Roe is gone. The chaos is just beginning.
Follow Rewire News Group on Twitter to stay on top of every breaking moment.
"It's been an absolute nonstop," Crim said of the onslaught of abortion restrictions since Bevin won and the GOP swept the state's General Assembly during the following year's election. "It's been one bill after the other and then one law after the other that is continually taking away access from Kentuckians."
Those seeking abortion care at the state's only clinic face high costs, a state-mandated waiting period (though use of telemedicine is allowed to meet the abortion counseling requirement), and "with the one clinic being open in Louisville, it's not centrally located in the state, so it can be up to almost six-hour drive one way for people," she said. Once a patient arrives, they also face harassment from anti-choice protesters. "There have been at times hundreds of people screaming at patients as they walk into the clinic," Crim said.
"As soon as governor Bevin took control, it's been one thing after the other putting Kentuckians lives in danger. We feel it every single day … people are scared. They're scared to death, and we don't know what the future's going to bring."
A Democratic Ticket May Not Be a Pro-Choice Ticket
It wasn't that long ago that party control of Kentucky was different. Bevin's term-limited predecessor, Steve Beshear—the father of Democratic gubernatorial candidate and state Attorney General Andy Beshear—was a Democrat. Though the GOP already had control of the state senate, it wasn't until the year after Bevin's election that the state's house flipped to Republican control, creating a pipeline to usher through anti-choice legislation.
But flipping the governor's mansion doesn't necessarily mean a pro-choice governor. Though both Andy Beshear and Edelen have voiced their support for abortion rights, state House Minority Leader Rocky Adkins has made no such commitment to defending reproductive choice.
A member of the General Assembly's "Pro-Life Caucus," Adkins has voted to restrict abortion. Among the legislation he has supported are the state's 11-week ban, a forced ultrasound law, and the controversial "heartbeat" ban—a near total abortion ban currently blocked by the courts.
In a May interview with WFPL News, Adkins described himself as "pro-life" and claimed he represents "a very conservative district and you know, you express the views of your constituents on your vote."
Adkins hedged when pressed on whether his views meant that, if elected, his administration would fight in court to defend Bevin's anti-choice laws. "My issue is not there. What I would do as governor, I would uphold the law of the land."
When the outlet noted Bevin's laws were being challenged, Adkins still didn't give a straight answer: "That's right, and it's the job, as far as I'm concerned, of the attorney general to fight that," he said. "As governor, I think each piece of legislation that comes through the door—regardless of what the issue is, whether it's this issue or another one—you put your hand on a Bible and you basically take an oath that you will uphold the Constitution and the law of the land. And that's what I would do as governor."
On whether he would "go against" Roe v. Wade, which is the "law of the land," Adkins said it "would be irresponsible for me to do that, as governor" but didn't give any specifics about what he might do should Roe be overturned despite having voted for the "trigger law" measure to automatically ban legal abortion in the state should the Supreme Court overturn the ruling.
Adkins' campaign site makes no mention of his position on abortion in his platform, and during a recent debate between the Democratic gubernatorial candidates, he again offered few specifics about how he intended to govern on the issue should he be elected. When asked whether he would sign anti-choice legislation if elected, Adkins said he "can't say that I would do that because I don't know what 'all' would be," according to the Associated Press.
Adkins' running mate, Stephanie Horne, has reportedly said "she wouldn't personally get an abortion, but the decision should be between a woman 'her faith and her doctor.'" When asked by Rewire.News about his position on abortion rights and whether he would further restrict abortion if elected governor, the campaign said in a statement: "Rocky is pro-life, but his primary focus is on giving every Kentucky child the opportunity to go to a good school, have a roof over their head, and get the education and training they need to have a successful career. He will follow the law of the land when it comes to legislation around this and any other issue."
Beshear supports abortion rights, a campaign spokesperson told the Louisville Courier-Journal in February. But his running mate, Jacqueline Coleman, has strayed from the party line when it comes to the issue. "Like any two people, they won't agree on everything, but they both support Roe v. Wade," the spokesperson told the publication of Coleman's and Beshear's position on abortion. "This ticket … opposes legislation that violates this decision and the Constitution."
During a 2014 Mercer County candidate forum, Coleman said: "I am a pro-life, compassionate Democrat who believes in exceptions for the life of the mother, rape, and incest." Now, Coleman says she opposes abortion personally but supports the rights of women to choose themselves. "I believe life is sacred, and that is why I am personally pro-life. But as a woman, I do not believe politicians should impose their views on others, which is why I support each individual woman's constitutional right to make her own reproductive and health-care decisions," Coleman said, according to the Lexington Herald-Leader.
"Like many people, I continue to wrestle with finding the right balance between keeping abortion rare and protecting a woman's right to make her own reproductive decisions."
"Reproductive rights" are listed as a component of Beshear's platform on his campaign's website. "I support the Supreme Court's decision in Roe v. Wade," the site says. Women should be able to make their own reproductive health-care decisions without interference from the government. I've repeatedly stood up to the legislature when they've tried to unconstitutionally undermine women's rights, and I'll continue to stand with Kentucky's women as governor."
Beshear, whose campaign did not respond to an interview request from Rewire.News, has opted not to defend some of Kentucky's most extreme anti-choice laws as the state's attorney general—an issue that has sparked contention between him and Bevin. Though he said in 2017 he would defend a forced ultrasound law, Beshear wouldn't defend Kentucky's 20-week ban, which he said was "clearly unconstitutional." In January, prior to the bill being signed into law, Beshear sent a letter to Kentucky lawmakers calling legislation to ban abortion as early as six weeks into a pregnancy "unconstitutional."
Edelen, who served as Kentucky's state auditor from 2012 to 2016, called the right to access reproductive health care, including abortion and contraception, "a bedrock belief" on Twitter. In an interview with Rewire.News, he said his position on the matter was that he "fundamentally believe[s] in a society that properly values the equality of all women, that they ought to be able to make their own health-care decisions."
Kentucky is "ground zero in this fight" over whether "the state government [has] the ability to completely restrict a woman's right to make her own reproductive decisions," he continued.
"If I'm governor, I'll serve as a check on the very political efforts to make Kentucky the first state in the country where a woman doesn't have this kind of access [to abortion]," Edelen said. "And so stopping that … being able to block the attack on women's rights is a really important function of the next governor—and it's one I intend to fulfill."
On the campaign trail, Edelen has made his support for abortion rights clear and has suggested that this issue differentiates him from the other frontrunners in the race. "Neither I nor my running mate has ever wavered on supporting women's fundamental and constitutionally protected rights," Edelen said in a February press release criticizing the Adkins and Beshear campaign. As state lawmakers worked to pass a six-week abortion ban into law, Edelen in a statement said it was "dangerous to the health of Kentucky women" and "will cost taxpayers a fortune in expensive litigation."
"Simply put, Kentucky women deserve a government that respects them enough to stay out of their doctor's office .… It's a bad bill, and Kentucky lawmakers should reject it," he said at the time.
When asked during a recent debate what restrictions on abortion he did support, Edelen said, according to WDRB: "I support the constitutionally protected under current case law approach that says the first trimester, those should be legal."
That there is a spectrum of beliefs about abortion among the Democratic candidates feeds into, for some, a strategy. Some Democrats have suggested that in order to win broader support in states where Republicans have power, the party should back candidates who don't support abortion rights. According to Crim of the Kentucky Health Justice Network, those Democrats suggest that "essentially, we can't die on that hill."
"But yes, we can die on that hill because if we don't die on that hill then other people may die. And it's just as clear as that," she said.
Looking Ahead: The Primaries and Beyond
Whichever Democrat comes out on top in the primary will face a competitive race against Bevin. And in a state whose governor has worked to reverse Medicaid expansion and come under fire for his handling of teacher strikes, abortion is bound to be just one of many critical issues to be debated. But given that Bevin claims he holds the title of the "most pro-life governor in America," there's little doubt abortion will continue to be a topic of discussion. Already, Beshear has mentioned it's an issue he thinks the Republican will turn to.
Edelen said it's an issue that could motivate voters to get to the polls or the primary this month and for the general election in November. "I think it's an issue that will certainly have impact in the primary, and I certainly think it has the potential to be a big issue in the fall because I think the position that Governor Bevin and his cohort have taken is so radical that it's motivating a lot of people who believe in access to healthcare for women," he told Rewire.News. "I think it's animating them to get involved in politics … there are a lot of folks who [are] maybe personally pro-life who think what the governor's doing here is a significant overreach and ought to be blunted."
Regardless, Kentucky's present political climate is has a lesson to teach the rest of the country, Crim suggested. "Don't rest on your laurels and understand that at any minute—any minute—that folks' rights can be snatched away, and it's somewhat shocking how fast it felt like it happened in Kentucky."
"It's just a whirlwind after November 2015, and then November 2016, and it was an absolute whirlwind and everything's happened so fast and now we're down to this last clinic that is constantly in danger," she said."I feel like Kentucky is just a really good snapshot of what the rest of the country could look like if everyone does not stay engaged and stay motivated."