Pro-Choice Advocates Don't Expect Louisiana's Democratic Governor to Stop Near Total Abortion Ban
Louisiana's senate judiciary committee amended the bill last week so that it would only take effect if a near total abortion ban in Mississippi is upheld in court.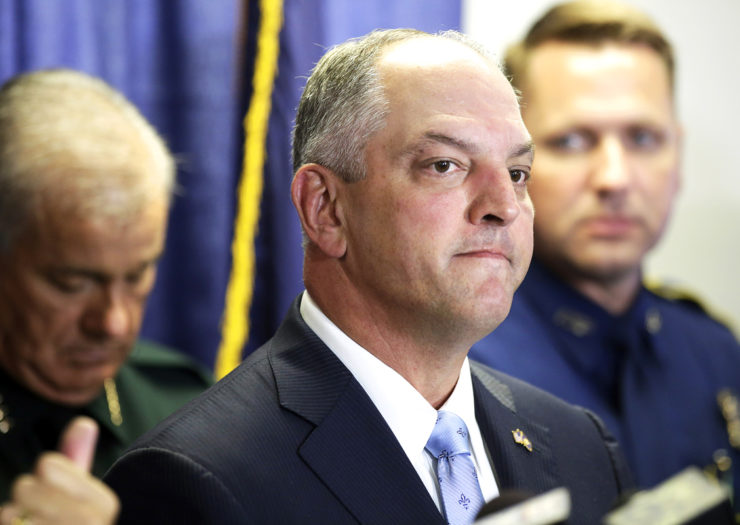 A day after the Democrats joined Republicans in the Louisiana Senate to pass a bill that that would ban abortion when a "fetal heartbeat" is detected, abortion rights advocates told Rewire.News there is little reason to believe Gov. John Bel Edwards (D) will veto the measure if it reaches his desk. 
SB 184 passed the state senate in a 31-5 vote on Monday. It prohibits abortion around the sixth week of pregnancy, before most people know they're pregnant, making it a near total abortion ban. Similar bans, designed to challenge the legal underpinnings of Roe v. Wade now that conservatives dominate the U.S. Supreme Court, have been proposed in 14 other states. A near total abortion ban was signed into law Tuesday in Georgia.
The Louisiana bill includes exceptions when abortion is necessary to prevent the death or serious injury of the pregnant person. Apart from those exceptions, a physician who performs or induces an abortion after a fetal heartbeat is detected would have their medical license revoked, be fined up to $1,000, and face up to two years in prison. The ban would not apply to abortions performed when a pregnancy is diagnosed as medically futile.
Six Democrats joined Republicans on Monday to pass the bill, which will head to a committee hearing in the house, where Republicans hold an outsized advantage. Advocates told Rewire.News that they believe Edwards, who has long supported anti-choice policy, will sign the measure. The governor's office did not respond to several interview requests from Rewire.News. 
Roe has collapsed in Texas, and that's just the beginning.
Stay up to date with The Fallout, a newsletter from our expert journalists.
Last year Edwards signed a 15-week abortion law, and in 2016 he approved laws requiring people to wait 72 hours to get an abortion and banning abortion facilities from receiving taxpayer funds. Those laws are being challenged in court and are not in effect.
Louisiana has three clinics that provide abortion services. As of 2014, 63 percent of Louisiana women of reproductive age lived in a county with no abortion clinic, according to Lift Louisiana.
The state senate judiciary committee last week amended the near total abortion bill so that it would only take effect if a similar measure in Mississippi is upheld by the courts—a change state Sen. John Milkovich (D) objected to. Milkovich, the bill's author, also opposes exceptions for cases of pregnancy resulting from rape and incest. Among the anti-choice activists he invited to testify in support of the ban was Jennifer McCoy, who served prison time for trying to burn down abortion care clinics in the 1990s. McCoy has links to Scott Roeder, the murderer of abortion provider George Tiller.
The New Orleans Abortion Fund pointed out that Milkovich's extreme views on health care extend to vaccines, which he has falsely suggested cause autism.
Amy Irvin, executive director of the New Orleans Abortion Fund, called the so-called heartbeat ban "unconstitutional" in her public testimony and warned it would drag the state through a costly legal battle. Irvin pointed to national polls that show 7 in 10 people in the United States support legal access to abortion. Recent polling shows public support for "heartbeat" bans plummets when people are told what the anti-choice policy would actually do. 
"The decision to have an abortion is a personal medical decision made in consultation with her doctor, as well as faith leaders, family, and other people close to her, not by politicians," Irvin said. "In a state with dismal health outcomes and high rates of maternal and infant mortality, passing such a ban in Louisiana poses a serious threat to women's health, their families, and their futures."