Delaying Trump's Latest Abortion Coverage Restriction Shows That When Women Speak Out, We Win
The Trump administration has been thwarted for now. But the work doesn't stop here.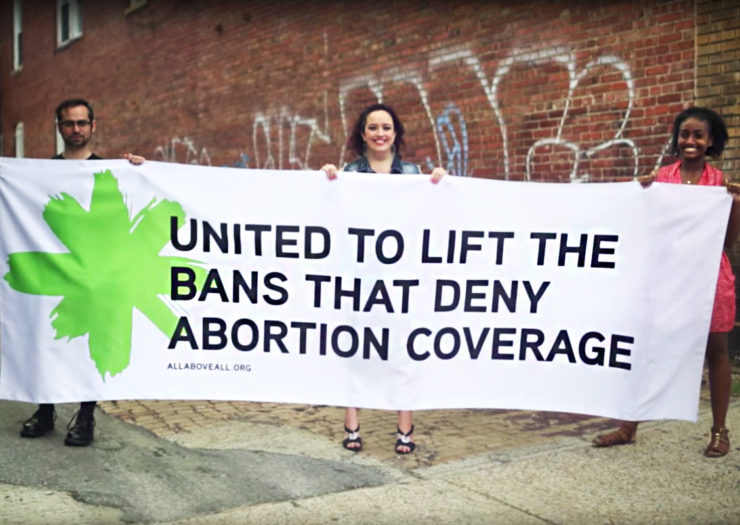 Earlier this year, the Trump administration proposed a new restriction to dissuade private insurers from offering abortion coverage. Last week, the Department of Health and Human Services (HHS) announced it had so received many comments on the proposal that it is unable to put its plan into action.
The Trump administration thought it could get away with another attack on abortion coverage by quietly proposing this rule and burying it in a 300-page document. Those of us who understand the serious harm insurance restrictions can cause didn't let them. People across the reproductive justice movement answered our call to submit comments opposing the rule, and now HHS is still reviewing the more than 25,000 comments it received. Thanks to our collective resistance, the rule won't go into effect until at least 2021—that is, if it is ever finalized.
The policy would have forced insurers who cover abortion and offer plans through the Affordable Care Act marketplace to offer the same plan without abortion coverage, creating an unnecessary burden for insurers intended to dissuade them from providing abortion coverage altogether. We saw Trump's proposal for what it truly was—a back-door ban on abortion. The proposal doubled down on the administration's strategy to make abortion unaffordable and push it out of reach. By isolating it from other health care, it was aimed at stigmatizing abortion and shaming those who seek, provide, and cover abortion care.
This attack on insurance coverage of abortion didn't happen in isolation. Weeks after the rule was proposed in January, anti-abortion politicians proposed two other barriers to abortion coverage. One was a sweeping ban, introduced in the U.S. Senate, that would have made the Hyde Amendment permanent if we hadn't called upon our elected officials to vote it down. And in November 2018, the administration pitched another burdensome administrative rule intended to dissuade insurers from covering abortion by requiring them to send a separate monthly bill for abortion coverage—increasing overhead costs and confusing plan enrollees who may get dropped from their plans if they didn't understand they now had to send two payments every month. We are still waiting on HHS to announce whether that rule will be final and go into effect. While the rules and bill included different burdensome regulations, taken together, they would have a devastating impact on abortion coverage.
Roe is gone. The chaos is just beginning.
Follow Rewire News Group on Twitter to stay on top of every breaking moment.
Bans on abortion coverage have far-reaching consequences. They force people to delay care, stop women from getting abortions, and push people deeper into poverty. And the people who are harmed are disproportionately women of color and young people. It's also women of color who have been leading the movement to lift these bans by organizing in our communities, sharing our stories, and demanding accountability from our elected officials.
The delay of this rule comes on the heels of the historic reintroduction of the EACH Woman Act in Congress. This year, it was introduced in the Senate for the first time by Sens. Tammy Duckworth (D-IL), Kamala Harris (D-CA), Mazie Hirono (D-HI), and Patty Murray (D-WA), and for the third time in the House by longtime champion of the bill Rep. Barbara Lee (D-CA), as well as Reps. Diana DeGette, (D-CO) and Jan Schakowsky (D-IL).
The EACH Woman Act would prohibit rules like this and ensure abortion coverage for each of us—however much we earn, however we are insured, or wherever we live. This bill respects that we should be able to make our own decisions about pregnancy, without political interference. It is what it looks like when women of color lead. Our vision is bold and it includes each and every one of us. This victory is what it looks like when we raise our voices together, one rule at a time.
Women of color have long been the foundation of the resistance, organizing in states for years to protect our rights, our families, and our communities. In the last few years, Oregon and Illinois have taken bold action by passing legislation that ensures insurance coverage for abortion in their states. And more than a dozen municipalities—most recently St. Louis—have also passed resolutions declaring their support for abortion coverage.
The Trump administration has been thwarted for now, but the work doesn't stop here. Whether someone has private or government-funded health insurance, each of us should have coverage for a full range of pregnancy-related care, including abortion. It's time to lift the bans on abortion coverage once and for all.