Lucy Flores Raised Questions About Women Working in Politics That We Still Need to Answer
Lucy Flores could be a spark for us to finally change the way campaigns and political organizations handle inappropriate behavior and harassment.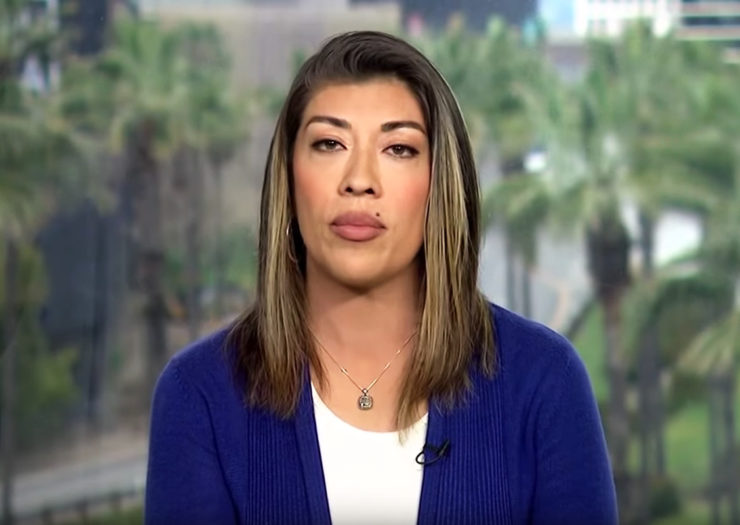 Days after Lucy Flores published an essay detailing inappropriate touching and kissing she says she experienced from former Vice President Joe Biden at a 2014 rally in Las Vegas, she appeared on CNN and presented viewers with a question: What does a person in the political arena do when they face such an experience?
Flores, a former Nevada state assemblyperson, asked, "What do you say? Who do you tell?"
I have not been able to stop thinking about those two questions, and I believe that we owe her—and ourselves—an answer.
In the days after Flores' article was published, we witnessed many dismissing her claims, politically weaponizing her story, questioning her intentions, or coming to Biden's defense as if one individual's positive testimony could erase the possibility that others could have a negative experience. We saw Latino men in politics be some of the first to react, not in her support but rather to dismiss her truth.
As a Latina woman, I have to admit, I was not surprised—but I was disappointed and pissed off. There was an alternative scenario in which the Latinx political community could have come together. Regardless of what political party they support, what presidential campaign they endorse, or who they were about to work for, Latinxs could have united to show the country that we believe women, and we expect better. We could have risen above partisanship and demonstrated that we will no longer tolerate such actions and will stand in support of those who courageously come forward. It could have been a moment to express our values as a community and make participation in politics more accessible for us all.
That did not happen, and we should sit with that. We should ask ourselves: Why not?
Roe has collapsed and Texas is in chaos.
Stay up to date with The Fallout, a newsletter from our expert journalists.
In most institutions, organizations, and spaces in the progressive movement and political realm, there are no structures of accountability that create a safe environment and process for women or anyone else who experience inappropriate behavior from someone in higher power. There is very little sense of a culture of security and support to come forward without fear of retaliation. Flores' public testimony could be a spark for us to finally change that.
Weeks after her story was brought into the public eye, no one has attempted to answer her two simple questions, "What do you say? Who do you tell?"
I do not pretend to believe I can answer that alone, but I do want to honor her courage by attempting to shed light on what could be at least three attainable steps to get closer to an answer.
First, if it does not already exist, every campaign and political organization should develop a statement of principles that outline the values it upholds. Campaigns should also establish a code of ethics that outlines how those principles are to be reflected in the action it takes. Every single staff member should be made to sign and expected to adhere to them no matter their rank in the organization or political campaign.
Along with the statement of principles and values and the code of ethics, campaigns can adopt a grievance procedure that includes clear reporting processes and outlines steps for investigation and resolution. For this to work, the appropriate internal infrastructure should be set in place. That should include mandatory training on sexual harassment for employees, volunteers, and managers. In the case of political campaigns, candidates should be expected to do the same.
One effective way to help ensure these protocols are followed is to enter into a collective bargaining agreement that holds both employer and employee accountable.
I work in the labor movement, and I come from a proud family of worker and immigrant rights organizers. Believe me when I say I know that the nonprofit sector and unions are not immune to inappropriate behavior and lack of accountability toward the perpetrators. However, it is in this same space that I have also witnessed women leverage their collective power to address sexual harassment in their workplaces, push institutions to do the same, and lead the charge for public policy that benefits all working people.
Collective bargaining is not just about wages and hours. Workers have the right to negotiate with their employer about any working condition they deem necessary. Therefore, many union contracts in different sectors have clauses in them addressing sexual harassment and inappropriate behavior—all of which are binding and actionable if violated.
Two examples show us the potential of putting such demands at the forefront of our work. In California, working women in the janitorial sector—many of whom were members of SEIU United Service Workers West—led and won a campaign to pass an anti-sexual harassment law in their state. Women janitors, born from their experience working late in office buildings and other commercial settings, recounted being raped, harassed, and threatened on the job. In 2016, then-Gov. Jerry Brown (D) signed the law after some of those workers began a hunger strike in front of the California State Capitol. Their demand that employers be trained to address sexual harassment became a state law governing every workplace for every worker in their industry.
Another example comes from hotel workers in Illinois. After a union there conducted a survey of hospitality workers in which 58 percent of them shared that they had been sexually harassed by a guest, UNITE HERE Local 1 successfully pushed for and passed the "Hands Off, Pants On" ordinance. Thanks to the measure, hotel companies in Chicago are required to provide panic buttons to hotel workers in case of harassment or any other form of violence against their staff.
Both examples show what's possible when we center the experience of women—especially women of color—instead of dismissing their issues as peripheral or a distraction from business as usual.
It's overdue for us to discover what it can look like when we do the same in the realm of politics. Society looks at harassment as an issue between two individuals where the rest of us have to take a side and decide who is telling the truth. Individuals need to be held responsible for their behavior. But the conditions that allow them to get away with it are systemic issues rooted in power dynamics that can then only be addressed collectively.
Lucy Flores raised these questions, and collectively we can find solutions.