Culture & Conversation Maternity and Birthing
Mothers Who Make Liberation: New Book Explores Black Parenting as Political Practice
Dani McClain's We Live for the We: The Political Power of Black Motherhood is both memoir and a collective parenting primer based on Black women's stories and experiences.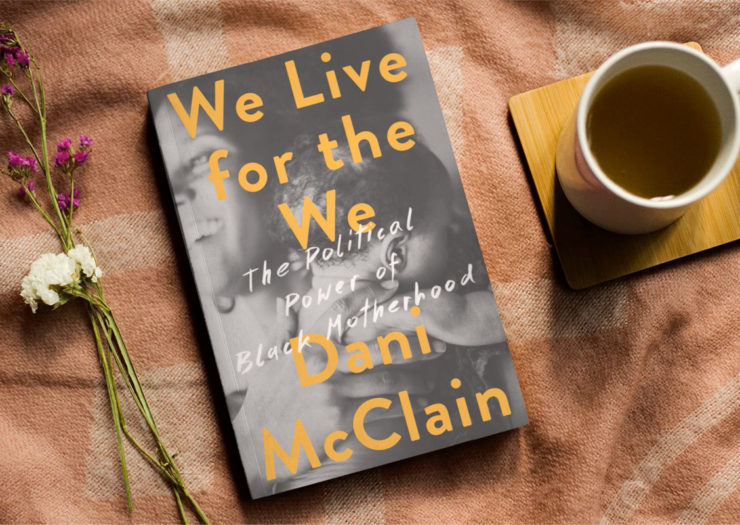 Author Dani McClain's timely new book, We Live for the We: The Political Power of Black Motherhood begins with this heart-stirring epigraph from queer feminist Audre Lorde: "Raising black children  … in the mouth of a racist, sexist, suicidal dragon is perilous and chancy. If they cannot love and resist at the same time, they will probably not survive."
McClain—a longtime journalist who's covered reproductive health, race, and activism for The Nation and Colorlines—clearly heeded Lorde's call to consider definitions of resistance, love, and survival. In a similar spirit, she intertwines her childhood memories and mothering experiences with the diverse experiences of Black mothers, activists, and caregivers who understand how crucial the ability to simultaneously "love and resist" is to Black survival. Neither naïve nor jaded, We Live for the We is a pragmatic yet empowering primer for anyone devoted to uplifting the Black community and its future generations. 
A riveting hybrid of memoir and deeply researched journalism, McClain's meditation on motherhood begins with recollections of her own pregnancy, followed by the birth of her daughter. Early on, McClain emphasizes the importance of incorporating our ability to "imagine what we could do if we actually had resources. [To] imagine what we could do if we actually were on fertile soil and not in a desert." Although McClain's definition of motherhood is one rooted in possibility, it recognizes the realities that Black mothers face: medical racism, sexism, financial instability, and balancing parenting alongside career or activism.
Through a captivating chorus of voices, McClain's book expands readers' expectations of what Black motherhood looks like while examining many of the obstacles that go hand in hand with parenting. Aided by earnest conversations with fellow mothers, she unpacks countless stereotypes about Black mothers and the roles they play within and outside of the home. She and her interviewees unabashedly dispel the harmful stigmas and stereotypes that perpetuated within U.S. culture for centuries, untethering Black motherhood from the impossible demands that history has imposed upon it. No longer the matriarch with unfaltering strength nor a villain, the Black mother is reimagined in a way that is more accurate, more fluid, and both deeply personal and universal.
Roe is gone. The chaos is just beginning.
Follow Rewire News Group on Twitter to stay on top of every breaking moment.
This in part is due to the way We Live for the We lets Black mothers speak for themselves. In each conversation, McClain illustrates the multiplicity of Black motherhood. Through Tamika Middleton, an Atlanta-based doula, readers learn about the medical and sociologically affirming benefits of midwifery and how accessing prenatal care with Medicaid can be difficult. Chicago's Zahra Alabanza challenges McClain's audience to consider how heteronormativity and respectability politics have silenced mothers who are queer and those who, like Alabanza, practice polyamory and believe in cultivating a chosen family rather than solely relying on biological bonds. With searing sincerity, Aya de Leon—an academic and writer based in Berkeley—reckons with motherhood's joys, struggles, and what her relationship with her husband taught her about partnership and sharing power.
Readers might wonder how those who identify as nonbinary or trans navigate motherhood. Still, the omission of these voices doesn't erase the book's heartfelt sincerity. McClain is refreshingly aware of the fact that her experience as a mother differs from others'. Yet she acknowledges that socioeconomic privilege—education, access to quality health care, financial stability—still isn't enough to ensure that she and her daughter will thrive.
"I'm under no illusion that my class privilege will save me," she confesses, reminding readers how racism harms all Black Americans, regardless of class. Throughout the earliest chapters of the book, McClain sifts through her own efforts to cultivate a nurturing home, community, and bond with her daughter. That commitment is mirrored in dedication of the doulas, activists, physicians, and educators—many of which are also mothers—she interviews. As certified nurse-midwife Anayah Sangodele-Ayoka suggests, "People…want [a care provider] who's more familiar. They want to know that somebody is going to understand the concerns they have around racialized trauma, around bringing kids into the world, around family dynamics." Like McClain, she too yearns to improve the health and longevity of Black mothers, children, and families.
Although the proverbial cards might seem to be stacked against us, McClain offers readers examples of how Black mothers have beaten the odds by building community with each other and allies; through hands-on involvement in political activism and grassroots movements; and by ensuring that their communities have access to essential resources like quality health care, education, and nutrition. Best summarized by McClain's conversation with the lifelong activist G. Rosaline Preudhomme, We Live for the We reveals what is possible when Black mothers and their children are fortified by their communities. "You are being raised by a community that loves, supports, and respects you," Preudhomme says. "They will hold you up." By re-evaluating approaches to discipline, connecting mothers-to-be with health care that's aligned with their cultural traditions and politics, and fostering new approaches to co-parenting, future generations of Black children and their caregivers will be given the opportunity to live fuller and healthier lives.
This reclamation of agency and choice informs McClain's approach to her daughter's nutrition, the books she reads to her, the babysitters she hires, and even how much time she spends on her smartphone.
"I am claiming for myself and my child time that was historically denied Black women and children who wanted and needed to bond," she writes. "I am taking the time that so many Black women before me could not because they were caring for someone else's child or cooking someone else's food or toiling away in someone else's field."
Each choice made by McClain and mothers featured in We Live for the We plants a seed of freedom for themselves and the children that they raise. This mission becomes a collective goal. As activist and playwright Cat Brooks says, "Our job as Black mothers is to keep pushing the liberation ball down the court."