Republicans' Near Total Abortion Ban Is Dead in South Carolina—for Now
Fourteen states have introduced, moved, or enacted so-called fetal heartbeat bans in 2019.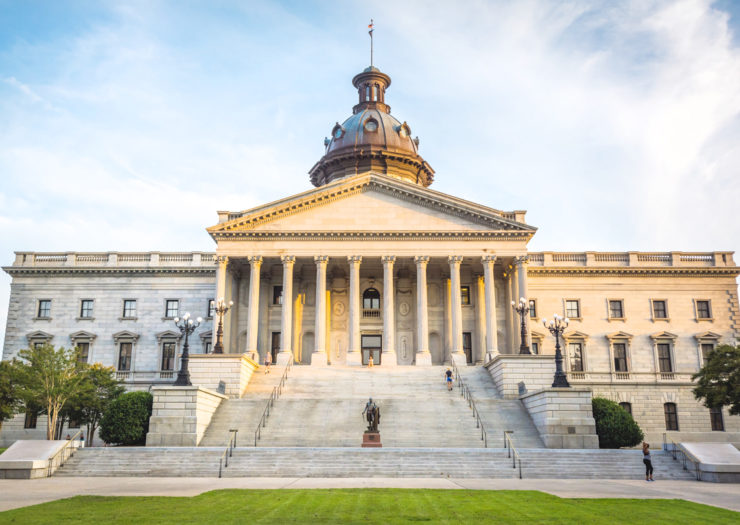 South Carolina Republicans' near total ban on abortion likely won't pass through the legislature this year, advocates told Rewire.News.
Introduced in January, the "South Carolina Fetal Heartbeat Protection From Abortion Act" is an attempt to criminalize abortion six weeks into pregnancy, before many know they are pregnant. The legislation is part of a nationwide GOP effort to push a six-week ban to the U.S. Supreme Court, where they hope conservative justices will deem the law constitutional and effectively end legal abortion in the United States.
An attempt to ban abortion six weeks into pregnancy could return to the GOP-dominated South Carolina legislature in 2020, pro-choice advocates said.
Eme Crawford, communications director at Women's Rights and Empowerment Network, told Rewire.News that similar South Carolina bills have died in the past few years, and advocates expect this one will too since it did not pass April 10 crossover deadline, which was the cutoff for when a piece of legislation can move from one chamber to the other.
Roe is gone. The chaos is just beginning.
Follow Rewire News Group on Twitter to stay on top of every breaking moment.
"Constituents here face a lot of issues and healthcare is one of them but restricting access is not the solution we need," Sarah Riddle, communications manager at Planned Parenthood South Atlantic, said. "Here at least it's just not what we want to see our legislators focusing on."
With three abortion clinics statewide, South Carolina has many rural areas with residents who do not have ready access to an abortion provider. State lawmakers have implemented a 20-week abortion ban and a forced waiting period for those seeking abortion care. 
"We know that we already have vulnerable populations of folks who are having a hard time accessing health care because of where they live and how much money they make," Riddle said. "This legislation just takes it too far."
"Heartbeat bans" have been blocked in the courts, as GOP lawmakers push the bans as a challenge to Roe v. Wade. There have been a record number of such bans filed this year, a Guttmacher report notes. Fourteen states have introduced, moved, or enacted near total abortion bans this year. Similar bans recently passed in Republican-held legislatures in Kentucky, Mississippi, and Ohio.
"With this surge in six-week abortion bans, anti-abortion activists and politicians are showing their true agenda—banning abortion for any reason and at any point during pregnancy," Elizabeth Nash, Guttmacher Institute's senior state issues manager, said in a statement. "These bans are unlikely to go into effect in the near future, but their ultimate purpose is to give the conservative majority on the U.S. Supreme Court ample opportunity to undermine or outright overturn Roe v. Wade."
According to the Population Institute's annual report card, South Carolina is 1 of 20 states to receive a failing grade for reproductive rights. NARAL Pro-Choice America, which works to protect reproductive freedom and access, issues an annual report card, which South Carolina flunked.
Despite a Republican legislative majority, many in South Carolina support abortion rights, advocates told Rewire.News.
"While we see a political will to push forward this piece of extreme legislation, there's no will of the people. According to a recent poll, most South Carolinians are not in favor of outright banning abortion like this bill would do," Crawford said.