The NRA Supports the 'Stalker Gap' in the Violence Against Women Act (Updated)
By passing legislation to prevent domestic abusers from accessing firearms, we can save lives and show the NRA that extremism won't prevail.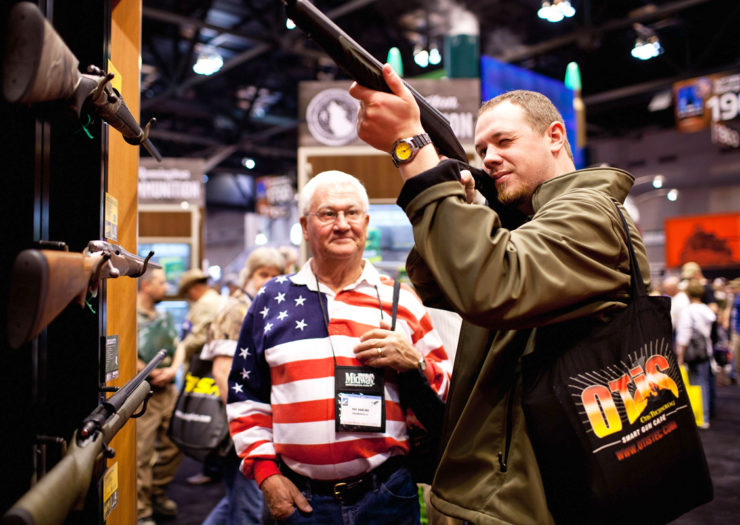 UPDATE, April 4, 4:59 p.m.: The U.S. House of Representatives on Thursday voted to approve renewal of the Violence Against Women Act, with 33 Republicans joining Democrats to approve the measure, NPR reports.
Something strange is happening at the National Rifle Association, and it has implications for the United States. Politicians have long feared their power. But as the gun safety movement has taken hold, the NRA countered it by embracing extremism and paranoia.
The results are disturbing, distressing, and have led the organization down a dangerous rabbit hole that this week puts them on the opposite side of domestic violence survivors.
Gaps in federal law allowing abusers and stalkers to obtain guns are a key driver of the staggering levels of lethal violence against women in the U.S. Advocates call these gaps the "boyfriend loophole" and "stalker gap." They exist because federal law does not prohibit gun possession by people convicted of misdemeanor stalking offenses or perpetrators who abused current or former dating partners.
Roe has collapsed and Texas is in chaos.
Stay up to date with The Fallout, a newsletter from our expert journalists.
But the NRA is arguing that the inclusion of language in the new Violence Against Women Act to close these loopholes is "anti-gun." They claim it's a "slippery slope" toward eroding freedoms for gun owners. Their overheated rhetoric fails to mention that dating partners commit about half of all intimate partner homicides. By excluding them from prohibitions that could keep guns out of their hands, we are effectively leaving half of all abuse victims in danger.
One thing is very clear: The NRA is no longer an organization for sportsmen. It runs programming on NRATV, where you can find Ku Klux Klan hoods. NRA officials have been in contact with Sandy Hook conspiracy theorists to question whether the Parkland shooting actually happened. The organization's next big move: attempt to block passage of the Violence Against Women Act this week. More shocking is the fact they will be telling Republicans to oppose the bill simply because it includes provisions to better keep firearms out of domestic abusers' hands.
This move by the NRA to oppose reauthorization of this bipartisan law is dangerous because domestic violence and firearms are a deadly combination. In a domestic violence situation, guns don't protect. Instead, they escalate an already dangerous environment. The presence of a gun in a household with a domestic abuser makes it five times more likely the woman will die. In the United States, an estimated 4.5 million women have been threatened with a gun by an intimate partner, and nearly 1 million women alive today have been shot, or shot at, by an intimate partner.
These shocking numbers reflect a reality where the NRA has been key to making it far too easy for dangerous people to get guns. The group's zeal allowed domestic abusers to access firearms and has made the United States unique in one of the worst ways. The gun homicide rate for women in the United States is 21 times higher than in other high-income countries.
Thankfully, the NRA and the gun lobby hasn't slowed progress at the local level. Twenty-nine states, plus Washington, D.C., prohibit firearm purchase or possession by persons convicted of at least some misdemeanor domestic violence offenses. Forty-one states and D.C. prohibit firearm possession by abusers who are subject to at least some domestic violence protective orders.
Now we need Congress to step up. This federal legislation is an important and necessary step—and the vast majority of the public supports it. Eighty-one percent say legislation that keeps guns out of the hands of domestic abusers and stalkers should be passed. The NRA is out of touch with how people think and feel about this issue, and we can only hope members of Congress pressured by the organization recognize this and choose to stand with survivors of domestic abuse over the perpetrators.  
The timing has never been more urgent. Each year, at least 600 women in the United States are shot and killed by an intimate partner—that's one woman every 16 hours. This is on us. For too long, our country has failed to protect survivors of abuse.
We have an opportunity to come together and prevent domestic abusers from accessing firearms. Regardless of party, we should all get behind this. History will prove the NRA's stance was a pursuit for power over principle. By passing legislation to prevent domestic abusers from accessing firearms, we can save lives and show the NRA that extremism won't prevail.
Lindsay Nichols is the federal policy director for the Giffords Law Center to Prevent Gun Violence.