Legislative Lowlights: Misinformation Abounds in Latest Round of Anti-Choice Laws
From bills about Down syndrome to "born alive" legislation, GOP lawmakers continue to advance measures based on common anti-choice propaganda.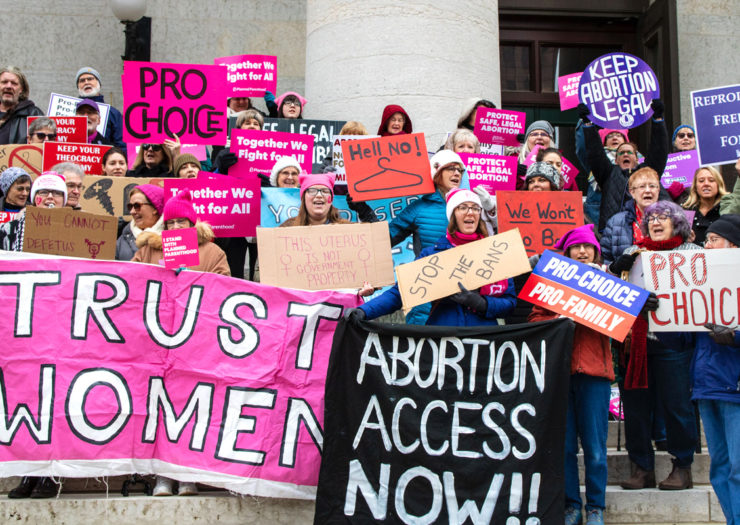 Rewire.News tracks anti-choice and anti-LGBTQ legislation as it works its way through state legislatures. Here's an overview of the bills we're watching.
Lawmakers in Georgia and Mississippi approved unconstitutional "heartbeat" bans, the Arkansas legislature advanced a handful of anti-choice measures, and Republican lawmakers in Washington state want to criminalize abortion at any stage.
Arkansas
The Arkansas General Assembly last week advanced another round of anti-choice measures. The state senate on Wednesday passed SB 2, the "Down Syndrome Discrimination by Abortion Prohibition Act." The measure would make it a felony for a physician to perform an abortion if they know the pregnant person is seeking it due to a possibility the fetus has Down syndrome. The doctor would have to ask the patient if they are aware of any test results, prenatal diagnosis, or anything else suggesting that the fetus may have Down syndrome. If the patient is aware of any such possibility, the doctor would be required to investigate the patient's medical history to see if they have ever had an abortion after becoming aware that the fetus may have had Down Syndrome. Three Democratic lawmakers joined Republicans to pass the measure in a 29-2 vote: state Sens. Eddie Cheatham (D-Crossett), Bruce Maloch (D-Magnolia), and Larry Teague (D-Nashville). This type of anti-choice legislation is often used to pit reproductive rights against the rights of those with disabilities.
Roe has collapsed in Texas, and that's just the beginning.
Stay up to date with The Fallout, a newsletter from our expert journalists.
The state senate last Monday passed SB 278, which would require abortion facilities to be located within 30 miles of a hospital that provides gynecological or surgical services, increase the state's medically unnecessary waiting period before abortion from 48 to 72 hours, and require physicians to report on abortions that results in a live birth—an extraordinarily rare occurrence used by anti-choice lawmakers to curb access to later abortion care. The bill would charge physicians with a felony for failing to comply with informed consent requirements. Two Democratic lawmakers—state Sens. Maloch and Teague—joined Republicans to pass the measure in a 28-6 vote.
Both measures are now pending in the house committee on public health, welfare, and labor, with hearings scheduled for March 26.
Arkansas Gov. Asa Hutchinson (R) on Wednesday approved SB 341, which clarifies what information abortion providers need to give their patients when explaining it might be possible to "reverse" the effects of a medication abortion. The measure passed the state house last Monday in a 70-14 vote. The law requires doctors to give a pregnant person a written notice containing "reversal" information after the first dose of abortion-inducing drugs. In 2015 Arkansas became the first state to require physicians to provide "reversal" information. Since then, lawmakers in Idaho, South Dakota, and Utah have enacted similar laws. Similar abortion "reversal" laws passed the Kentucky and North Dakota state legislatures two weeks ago. Abortion "reversal" is a medically dubious concept that's not widely accepted by mainstream medical organizations.
SB 341—now Act 522—will take effect this summer.
The senate public health, welfare, and labor committee on Wednesday approved HB 1399, which would prohibit state funding of certain types of research involving human embryos. The "Prohibition of Public Funding of Human Cloning and Destructive Embryo Research Act" would prohibit state funds from being used to buy or receive gametes or human embryos if it's known that they would ultimately be destroyed. Certain types of research or procedures would be exempt from the funding ban—including in vitro fertilization and the administration of fertility-enhancing drugs.
The measure—which passed the state house last month—is now pending in the full state senate.
Florida
The state house health quality subcommittee last Tuesday approved an anti-choice measure that would require pregnant minors to get a parent's consent for abortion. Current state law requires parental notification. HB 1335 would require a physician—at the risk of a felony—to obtain written consent from a parent or legal guardian before performing an abortion on a minor. Consent would not be required in cases of medical emergency or if the minor obtains a court order bypassing the parental notification and consent requirements. The bill would increase the criminal penalty for a health-care provider who fails to exercise the proper degree of care to preserve the life and health of an infant born alive during an attempted abortion from a misdemeanor to a felony.
The measure is now pending in the state house judiciary committee.
Georgia
Republicans in the state senate on Friday passed HB 481, an omnibus abortion bill that would prohibit abortion once a fetal "heartbeat" is detected, effectively banning abortion as early as six weeks into a pregnancy. The measure—which passed by a 34-18 vote—includes exceptions for medical emergencies and pregnancies that are the result of rape or incest. A similar law was blocked in Kentucky this month.
The "Living Infants Fairness and Equality (LIFE) Act" would require any abortion after the first trimester be performed in a licensed hospital, in a licensed ambulatory surgical center, or in a licensed abortion facility. Only a licensed physician would be able to perform an abortion. The bill contains a fetal "personhood" provision that would include embryos and fetuses in state population-based determinations.
The bill needs one more procedural vote in the state house before it heads to Republican Gov. Brian Kemp, who is expected to sign it.
Kentucky
Kentucky Gov. Matt Bevin (R) last Tuesday signed HB 5 into law—a measure that would make it a felony to perform an abortion if the pregnant person is seeking it because of the sex, race, color, national origin, or potential disability of the fetus. The legislation is based on anti-choice misinformation about why people seek abortion care. Bevin signed the measure less than a week after the American Civil Liberties Union (ACLU) filed a lawsuit challenging the measure. The complaint argues that the law violates the 14th Amendment right to privacy and autonomy, and it is unconstitutional because it prohibits abortion—under certain circumstances—prior to viability.
One day after Bevin signed the law, District Court Judge David Hale issued a temporary restraining order blocking it from taking effect.
Mississippi
Mississippi Gov. Phil Bryant (R) on Thursday signed SB 2116 into law—a measure that bans abortion as early as six weeks into a pregnancy, constituting a near total abortion ban. Except in cases of medical emergency, the law prohibits a person from performing an abortion on a pregnant person once a fetal heartbeat has been detected. The measure received final approval in the state senate last Tuesday in a 34-15 vote. Two Democratic lawmakers joined Republicans to grant final passage: state Sens. Russell Jolly (D-Houston) and J.P. Wilemon (D-Belmont). The measure is set to take effect in July.
The Center for Reproductive Rights intends to challenge the law in court. A federal court last year blocked the state's 15-week abortion ban, so it's likely this law will have the same fate.
Montana
State Sen. Albert Olszewski (R-Kalispell) on Friday introduced the "Born-Alive Infant Protection Act," which advances anti-choice misinformation and would make it a felony to deny "medically appropriate and reasonable medical care" to infants born after a failed abortion. The bill, SB 354, copies legislation drafted by Americans United for Life and is based on the myth that infants are "born alive" after abortions—and that doctors then murder them.
The measure is pending in the state senate judiciary committee.
South Dakota
South Dakota Gov. Kristi Noem (R) last Wednesday signed a handful of anti-choice measures into law. HB 1177 requires physicians to offer patients the opportunity to view a sonogram and hear the fetal heartbeat before an abortion. The physician must offer a description of the sonogram image if the pregnant person consents. HB 1190 requires physicians to include the number of pregnant people who availed themselves of the opportunity to view a sonogram image or hear the fetal heartbeat in each abortion report. HB 1193 creates a criminal penalty for causing an abortion against a pregnant person's will. And SB 72 requires abortion providers give their patients a specific form prescribed by the state health department that contains the state's informed consent requirements.
SB 72 won't take effect until January 2020. The other measures will take effect on July 1.
Utah
Utah Gov. Gary Herbert (R) on Friday signed the "Down Syndrome Nondiscrimination Act" into law. The measure prohibits a physician from performing an abortion if the pregnant person's sole reason for the abortion is that the fetus has or may have Down syndrome, unless it's necessary to avert the death or serious risk of substantial and irreversible impairment of a major bodily function of the pregnant person. The law contains a trigger clause stipulating that it will only take effect if a similar law is upheld in court elsewhere. A similar ban is pending before the U.S. Supreme Court—a 2016 Indiana law signed by then-Gov. Mike Pence (R) that was blocked in federal court.
Washington
State Rep. Matt Shea (R-Spokane) and fellow Republicans on Thursday introduced a measure to criminalize abortion at any stage. The "Abolition of Abortion in Washington Act" would completely ban abortion—even for pregnancies that result from rape or incest, or for fetuses with severe genetic anomalies. If passed, all parties involved in an abortion—including the patient—may face murder charges. Similar measures are being considered in Oklahoma and Texas. State Rep. Shea—who has ties to a handful of far-right extremist groups—once authored a manifesto called the "Biblical Basis for War," in which he suggested that all men who support abortion and marriage equality should be killed. He later explained that it was taken out of context and that he wasn't actually advocating violence. Advocating murder charges for abortion is another story, apparently.
Democrats control the state house, the state senate, and the governorship, so this bill is unlikely to go anywhere.