Like Their 15-Week Ban, Mississippi Republicans' Near Total Abortion Ban Will Likely Be Blocked (Updated)
Mississippi Republicans are the latest to sign a near total abortion ban into law, with court challenges to follow.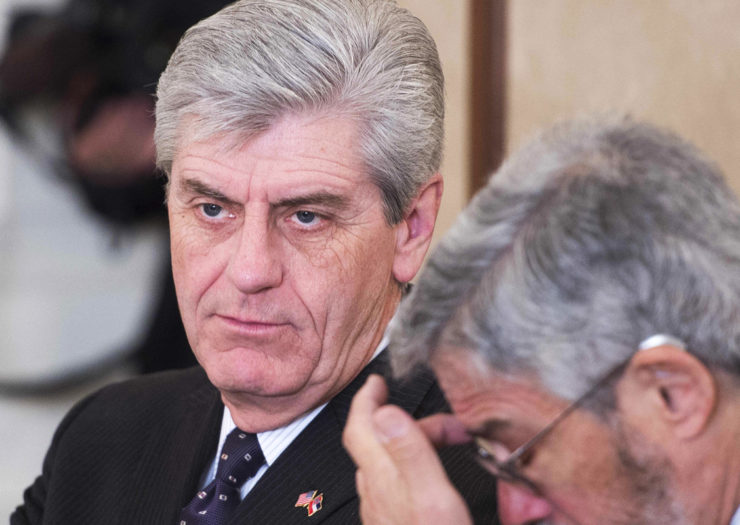 UPDATE, February 21, 2020, 11:04 a.m.: A three-judge panel on the Fifth U.S. Circuit Court of Appeals on Thursday affirmed a lower court ruling that blocked Mississippi's near-total ban on abortion. The Center for Reproductive Rights brought the legal challenge. 
A day after Mississippi Gov. Phil Bryant (R) signed what amounts to a total ban on abortion, one organization was ready to challenge the restriction in court.
Signed Thursday, the GOP's SB 2116 outlaws abortion when a fetal heartbeat is detected, which is usually around six weeks into a pregnancy, before most people know they're pregnant. It is "one of the most restrictive abortion bans signed into law, and we will take Mississippi to court to make sure it never takes effect," said Hillary Schneller, staff attorney at the Center for Reproductive Rights, which plans to file a legal challenge soon.
Effective July 1, the law "is cruel and clearly unconstitutional," she said in a statement. It comes four months after a federal court struck down the state's attempt to ban abortion after 15 weeks, following a lawsuit filed by the Center for Reproductive Rights. "They are determined to rob Mississippians of the right to abortion, and they are doing it at the expense of women's health and taxpayer money," Schneller said.
Roe is gone. The chaos is just beginning.
Follow Rewire News Group on Twitter to stay on top of every breaking moment.
In addition to blocking access to abortion well before fetal viability, the near total abortion ban says that doctors who perform abortions after six weeks' gestation can have their licenses suspended or face other disciplinary action. Medical groups like the American College of Obstetricians and Gynecologists oppose near total abortion bans and the criminalization of physicians, pointing out that the viability of a fetus is a medical determination that occurs far later in pregnancy. 
"This law would ban abortion before most women know that they're pregnant. Already, Mississippi has a slew of abortion restrictions and only one abortion clinic, making it nearly impossible to access abortion before six weeks of pregnancy," Elisabeth Smith, chief counsel at the Center for Reproductive Rights, said in a statement.
Barriers to abortion care in Mississippi include a forced 24-hour waiting period, a parental consent requirement for pregnant minors, and a ban on administering medication abortion through telemedicine. Health plans purchased through the state's Affordable Care Act marketplace can cover abortion care only in cases of rape, incest, or if the pregnant person's life is endangered; Medicaid does not cover abortion except in cases of rape, incest, life endangerment, or fetal impairment. And if conservative justices on the U.S. Supreme Court overturn Roe v. Wade, Mississippi's "trigger law" would criminalize abortion.
Going to court to defend the GOP's near total abortion ban could add to the state's growing legal costs in fighting for anti-choice laws. Defending the state's anti-choice laws against lawsuits has cost the state more than $225,000 since 2012, Mississippi Today reported. That total could reach $1 million if the state has to pay attorneys' fees for the plaintiffs.
GOP legislators across the country are aggressively filing and passing anti-choice laws, emboldened by the Trump administration's anti-choice stance and a more conservative Supreme Court. Republicans in at least 14 states have introduced bills this year that would prohibit abortion as early as six weeks into a pregnancy, also known as "heartbeat" bans, including Georgia, Tennessee, Texas, and Florida. Only two have passed so far. Ohio's near total abortion ban passed the state senate this month.
Polls show that the majority of the U.S. public supports the legal right to access abortion, and similar near total abortion bans have been thrown out in court—like the one passed and temporarily blocked in Kentucky this month after the American Civil Liberties Union sued. Courts have also struck down similar laws in North Dakota and Iowa, finding them unconstitutional.
Jennifer Riley Collins, executive director of the ACLU of Mississippi, criticized state leaders and said the near total abortion ban harms women and is "an unconstitutional crusade against reproductive freedom."
"This is not about personal beliefs at all. This is about legal access to a medical procedure, and our elected leaders should not callously insert themselves into a family's private reproductive decision-making," she said in a statement.
Planned Parenthood President Dr. Leana Wen condemned the passage of SB 2116 as "a dangerous policy that criminalizes a safe, standard medical procedure and will endanger women's lives." 
"Mississippi lawmakers are playing a dangerous political game and the people of this state are little more than pawns in their national strategy to ban safe, legal abortion. In a state where people are literally dying every day because they lack access to health care, it's time Mississippi's lawmakers started putting people over politics," Staci Fox, president and CEO of Planned Parenthood Southeast Advocates, said in a statement.