Exclusive: Immigration Agencies Communicated Prior to Arrest of Sanctuary Leader
Documents obtained by Rewire.News through a Freedom of Information Act (FOIA) request show that immigration enforcement officials reached out to the federal agency tasked with naturalizations and immigration services to confirm an appointment with a sanctuary leader prior to taking him into custody at the agency's field office.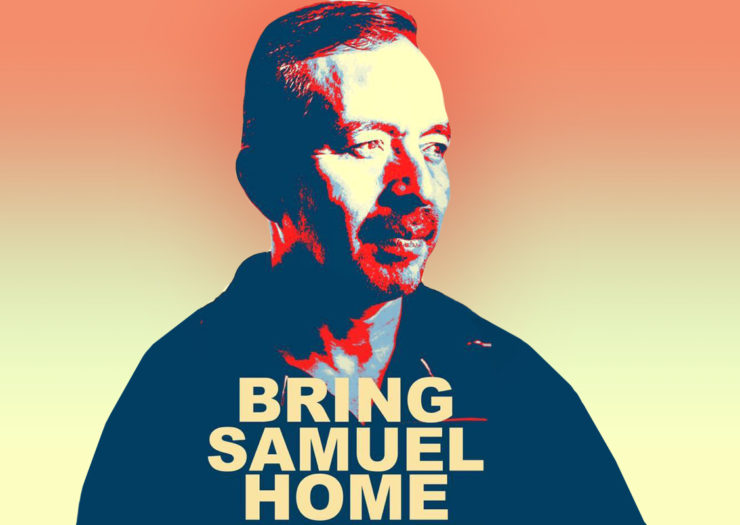 U.S. Citizenship and Immigration Services (USCIS), once considered the services arm of federal immigration agencies, is engaging in immigration enforcement under the Trump administration to what advocates fear is an unprecedented level.
Confirming what advocates had suspected, the agency communicated with Immigration and Customs Enforcement (ICE) about an upcoming appointment for Samuel Oliver-Bruno, a former member of North Carolina's immigrant community, in early November, according to documents obtained by Rewire.News through a Freedom of Information Act (FOIA) request.
At that appointment three weeks later—the existence of which ICE officials sought to verify with USCIS after seeing a social media post, as the FOIA documents show—plain-clothed immigration officials ultimately took the husband and father into custody. Soon after he was deported to Mexico.
Oliver-Bruno was a member of Colectivo Santuario, comprised of people in sanctuary nationwide who were organizing together to one day move out of their churches without fear of deportation.
Roe is gone. The chaos is just beginning.
Follow Rewire News Group on Twitter to stay on top of every breaking moment.
Oliver-Bruno had been in sanctuary at CityWell United Methodist Church in Durham for 11 months when he left the church on November 23 to attend what was supposed to be a routine biometrics appointment for deferred action at the USCIS office in Morrisville, about a 20-minute drive away.
Once in ICE custody, Oliver-Bruno quickly moved through ICE's detention system before his deportation on November 29. At the time, his family told Rewire.News they believed Oliver-Bruno was the victim of a "trap"—that USCIS and ICE had worked together to detain him.
USCIS has undergone a marked shift under the Trump administration and under the direction of Trump appointee L. Francis Cissna.
Since his appointment in October 2017, Cissna has implemented a series of policies that have suggested the agency would be moving away from its "services" focus. As Cissna explained during a Migration Policy Institute conference last fall, "My three main priorities for USCIS focus on homeland security, faithfully administering our nation's immigration laws, and moving the agency into an electronic world."
Federal immigration agencies housed within the Department of Homeland Security (DHS) generally focus on immigration enforcement, including ICE and Customs and Border Protection (CBP).
Legal advocates have said this shift in focus can make immigrants afraid to adjust their status or apply for immigration benefits out of fear of being targeted for deportation.
In an interview with Rewire.News after his deportation, Oliver-Bruno asserted that USCIS collaborated with ICE to detain him. He said, "If [USCIS and ICE] were not working together, ICE would not have been waiting for me inside when I got there; they would have been forced to wait outside. The officers were dressed in regular clothes, and all the doors in the room were closed, but when the two main men had me, other officers came out from behind closed doors in other parts of the office."
"How did they get there if [USCIS] didn't help them?" Oliver-Bruno asked.
"Extremely Troubling"
Documents obtained by Rewire.News show the two federal immigration agencies had communicated about Oliver-Bruno's appointment prior to his detainment.
While the emails Rewire.News obtained are heavily redacted, it's clear that someone from ICE emailed USCIS's Raleigh-Durham field office director, Jay Weselmann, on November 1. The ICE official included a screenshot of a Facebook post by Alerta Migratoria, an immigrant-led organization in Durham that organizes with members of Colectivo Santuario and was working with Oliver-Bruno on his deportation defense campaign. In the post, Alerta Migratoria leaders had asked the community to support the sanctuary leader at his appointment with USCIS on November 23.
"My chain of command is trying to verify the social media information regarding the pending fingerprint appointment for Samuel Oliver-Bruno," the accompanying email reads. Weselmann's responses are redacted, but ICE's response said, "Understood, I will forward this email up my chain of command. Can you advise as to the nature of the pending fingerprint appointment?"
As Rewire.News previously reported, legal advocates who were working on Oliver-Bruno's case suspected that ICE might take him into custody at his USCIS appointment and sought to prevent it. In a November 20 email exchange obtained by Rewire.News, a Duke University law student working with Oliver-Bruno on his deferred action application wrote Weselmann, informing him that advocates were concerned that ICE would attempt to detain the sanctuary leader if he left his church.
"Given the sensitive nature of Mr. Oliver-Bruno's application, would USCIS be able to accommodate an alternative to an in-office biometrics appointment?" the law student wrote.
A few hours later, Weselmann wrote back, "This situation does not satisfy the requirements for a mobile fingerprint appointment. Biometrics are a requirement for the adjudication of a deferred action request."
Based on the information obtained via FOIA, Weselmann had known for at least two weeks that ICE had inquired about the details of Oliver-Bruno's USCIS appointment.
Weselmann did not respond to requests for comment by publication time.
After Oliver-Bruno's detainment, state Democratic Reps. David Price and G.K. Butterfield released a joint statement admonishing the federal immigration agencies, saying it appeared they "acted in concert" for the "sudden and inappropriate arrest" of Oliver-Bruno.
In response to the information from the FOIA document, Butterfield told Rewire.News in a statement that the circumstances surrounding Oliver-Bruno's arrest are "extremely troubling" and "jeopardize the public's ability to trust our immigration system."
"From the outset, I raised concerns with the collaborative actions taken by ICE and USCIS officials, and have called for the Department of Homeland Security to conduct an internal investigation into whether or not these actions broke any federal laws, or DHS rules, regulations, memoranda, or guidelines," Butterfield said in an emailed statement.
In response to questions about whether there would be an investigation into the actions, a spokesperson at DHS sent Rewire.News the following statement: "U.S. Immigration and Customs Enforcement (ICE) arrested unlawfully present Mexican national Samuel Oliver-Bruno during a targeted enforcement action Nov. 23 in metro Raleigh, North Carolina. Mr. Oliver-Bruno is a convicted criminal who has received all appropriate legal process under federal law, has no outstanding appeals, and has no legal basis to remain in the U.S."
"You Like Alerta Migratoria NC"
The image ICE sent to USCIS regarding Oliver-Bruno's check-in indicates that whoever took the screenshot followed the organization on Facebook. The screenshot says, "You like Alerta Migratoria NC."
ICE spokesperson Bryan Cox said in an emailed statement that the Facebook post was "publicly distributed and viewable by anyone on social media," and the implication that viewing the post "amounts to monitoring is absurd."
Immigrant rights advocates have long assumed federal immigration agencies were monitoring their movements and social media, but utilizing social media and speaking out against ICE publicly continue to be necessary tools for building community and support.
Under the Trump administration, there have been a steady stream of reports about activists and those with public deportation defense campaigns being targeted for deportation, including Claudio Rojas, a friend and colleague of Viridiana Martinez's, the co-founder of Alerta Migratoria. Martinez infiltrated detention centers in 2012, a risky organizing tactic highlighted in the recent documentary The Infiltrators, which showcases Rojas' activism and criticism of ICE's detention policies. According to a lawsuit filed by the University of Miami School of Law's Immigration Clinic, shortly after Rojas made a highly publicized appearance at the Sundance Film Festival for a screening of the documentary, ICE detained the activist during a routine check-in.
Meanwhile, Martinez told Rewire.News she isn't as concerned about ICE following her on social media as she is about ICE and USCIS working together in perhaps unprecedented ways.
"What's important here is that USCIS lured Samuel to their office so that ICE could detain him," Martinez said. "USCIS had no intention of giving Samuel deferred action, and they knew he was going to be taken that day; this FOIA proves that."
"My Faith Is Bigger"
Currently, there are more than 50 people publicly taking sanctuary in churches nationwide. The effect of Oliver-Bruno's detainment at a USCIS appointment is already apparent as it sent shockwaves across the sanctuary movement.
Hilda Ramirez and Alirio Gamez had check-ins scheduled with ICE on March 19, but they opted not to attend them, citing Oliver-Bruno's case as the reason. The two asylum seekers, who had received two months of deferred action and were able to briefly leave their sanctuary churches in Austin, Texas, re-entered sanctuary and sent members of the faith community to the check-ins on their behalf. According to advocates, ICE has issued a warrant for their arrest because they did not appear. An ICE spokesperson confirmed Ramirez and Gamez have final orders of removal, saying their "immigration cases have concluded, and at this time, there are no impediments to their removals."
Other immigrants in sanctuary are reporting a new wariness of USCIS, especially in light of the documentation showing it is communicating with ICE about scheduled appointments. Lawmakers and advocates have called ICE a "rogue agency," one that has become "radicalized" under the Trump administration. But this doesn't appear to be stopping immigrants in sanctuary from organizing for their freedom.
"ICE doesn't think they have to listen to anybody, and that's dangerous," Ramirez said in a statement. "I am going to continue fighting because I have a community behind me and because my faith is bigger than any terror they can inflict on me."