First-of-Its-Kind Study Fills in Decades-Long Blank About Pregnancy in Prison
More than 30 percent of the world's incarcerated women live in the United States, but little remains known about the gender-specific health conditions they face.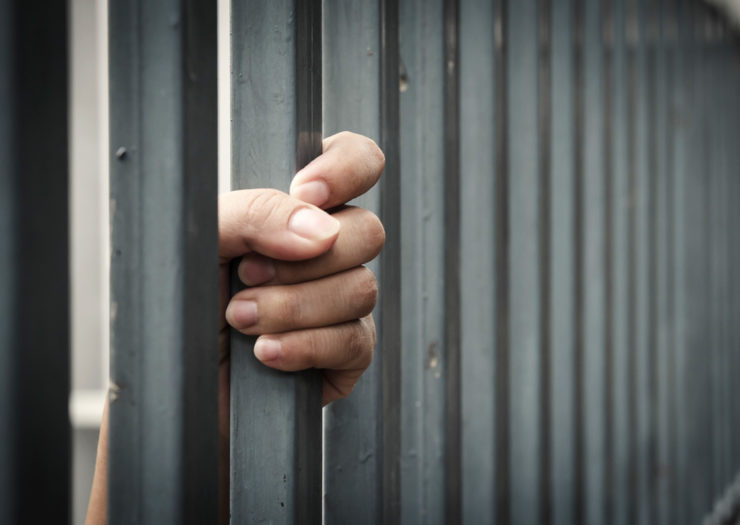 In a new study published this week, researchers are filling in the blanks left by outdated, decades-old data about pregnancy behind bars. This is a black hole that government agencies have failed to fill since 2004—even though the growth of women's incarceration continues to outpace that of men.
Four percent of the world's women live in the United States—but more than 30 percent of the world's incarcerated women live here. Despite this dramatic disproportion, little remains known about the gender-specific health conditions among incarcerated women.
On Thursday, the Pregnancy in Prison Statistics (PIPS) project—the only systematic study of pregnancy outcomes in prisons across the United States—published its first set of findings in the American Journal of Public Health. PIPS was launched by Advocacy and Research on Reproductive Wellness of Incarcerated People (ARRWIP), a group of researchers examining the intersections of reproductive justice and criminal justice. While the researchers conducted a pilot study in 2015, they collected the data for their new study from 2016 to 2017.
"Being in prison or jail during pregnancy can be a difficult time for many women, fraught with uncertainty about the kind of health care they might receive, about whether they will be shackled in labor, and about what will happen to their infants when they are born. Some pregnant women in custody may experience isolation and degradation from staff and insufficient prenatal care," writes Dr. Carolyn Sufrin, the lead ARRWIP researcher on the study, and her co-authors. Sufrin, a medical anthropologist and professor at John Hopkins University School of Medicine, served from 2007 to 2013 as the OB-GYN at the San Francisco county jail, an experience that she chronicled in Jailcare: Finding the Safety Net for Women Behind Bars. 
Roe has collapsed in Texas, and that's just the beginning.
Stay up to date with The Fallout, a newsletter from our expert journalists.
PIPS collected 12 months of pregnancy statistics from 22 state prison systems and the federal Bureau of Prisons, which oversees the federal prison system. Some were small prisons, housing only 132 people; others housed up to 2,000 women. Notably, three large prison systems (New York, California, and Florida, which collectively imprison 13.5 percent of women in U.S. prisons) declined to participate.
The participating prison systems hold 57 percent of the 111,616 women in U.S. prisons. The majority did not have an existing process for tracking pregnancy outcomes, so PIPS provided them with examples of tracking systems.
During those 12 months, 1,396 pregnant people entered 23 prison systems. In December 2016, 3.8 percent of newly admitted women were pregnant.
Throughout the study's yearlong duration, these prisons had a total of 753 live births (or 92 percent of all outcomes), 46 miscarriages (6 percent), 11 abortions (1 percent), 4 stillbirths (0.5 percent), 3 newborn deaths and no maternal deaths. Six percent of the live births were preterm and 30 percent were via cesarean section.
Several states have enacted or started to enforce laws that criminalize drug use during pregnancy, contributing to the number of pregnant women behind bars. In Ohio, for instance, 138 pregnant women entered the state's prison system in 2016, but these figures do not include the relatively high numbers of pregnant people now entering jails throughout the state.
The study is the first research to track the number of pregnant people behind bars in more than a decade.
"Prison pregnancy data are critical in ensuring that incarcerated women's pregnancy-related health care needs are addressed and in helping optimize outcomes for them and their newborns," Sufrin and the ARRWIP team stated in their report.
In 2002, the Bureau of Justice Statistics found that 5 percent of women in jails were pregnant when they were admitted; in 2004, the Bureau found that 3 percent of women in federal prison and 4 percent of women in state prison were pregnant at intake. These studies did not include outcomes of these pregnancies. The one study that did is even more dated: In 1998, the U.S. General Accounting Office, a Congressional auditing agency, found that 43 state prison systems had 1,400 births in custody. Until now, there have been no more recent data.
More research is needed about the individualized experiences of people who are pregnant and incarcerated to better understand their needs and the conditions they experience. Collecting these numbers and publishing their results is just a first step.
On a press briefing after publication, Sufrin noted, "We hope to influence federal agencies such as the Bureau of Justice Statistics or the Centers for Disease Control and Prevention to collect this data for all 50 state prison systems." The study shows that it is feasible for prisons to track the number of pregnancies and outcomes, and she hopes they continue to do so. Sufrin also says that the next research from PIPS will include a follow-up study for pregnant people in jails, particularly people with opioid use disorder.
Sufrin and her co-authors conclude in the report, "Data from our study can be used to develop national standards of care for incarcerated pregnant women, advocate for policies and legislation that ensure adequate and safe pregnancy care and childbirth, develop alternatives to incarceration for pregnant women, promote reproductive justice, and encourage broader attention to the reproductive health needs of marginalized women and their families."