We Can't Let the Trump Administration Dismantle Women's Rights Around the World
Let's be clear: Blocking universal access to sexual and reproductive health and rights, including safe abortion, is an attack on democracy.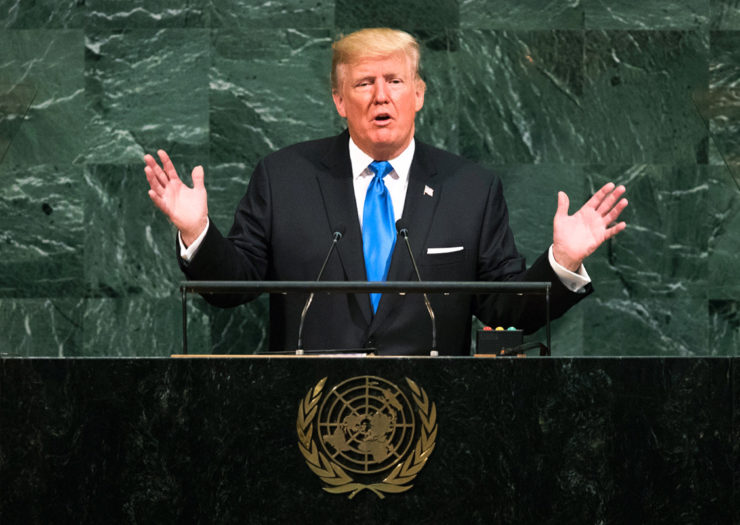 The Trump administration's latest attempt to derail women's reproductive health and rights at the United Nation's Commission on the Status of Women (CSW) is nothing short of an assault against human rights and democracy.
CSW is the U.N.'s largest gathering of women's rights advocates, with the purpose of evaluating how well governments are doing on establishing gender equality and promoting policies to advance women worldwide. Yet the Trump administration has chosen this global meeting to form an international coalition that aims to restrict access to sexual and reproductive health—particularly abortion—and to promote traditional family values. According to the Washington Post, the U.S. delegation is bolstering its anti-human-rights agenda by attempting to expunge all references to "universal access to sexual and reproductive health and rights" from the CSW's annual document, which outlines recommendations for governments, intergovernmental bodies, and civil society on that year's theme.
This isn't a new tactic;  the Trump administration continually attempts to partner with hard-right leaders and international actors to push widespread discrimination against women and LGBTQ people.
Let's be clear: Blocking universal access to sexual and reproductive health and rights, including safe abortion, is an attack on democracy.
Roe is gone. The chaos is just beginning.
Follow Rewire News Group on Twitter to stay on top of every breaking moment.
The basic building block of democracy is the individual, and its currency is power. A fundamental aspect of our lives as individuals is our sexuality and our reproductive health. Without the ability to control and manage this aspect, we have little power over other aspects of our lives. And I'm sure Trump would agree: Power is what makes the world go around. But it is precisely what so many women lack.
On the global stage, one severe consequence of that lack of power is the thousands of deaths and millions of injuries we see from unsafe abortion. Trump's expanded global gag rule only makes things worse, leaving people—mainly women in the global south—without vital reproductive health care.
Women and adolescent girls carry the burden of pregnancy and childbirth: More than 41,000 girls under 18 get married every day. Many of them will drop out of school, experience intimate partner violence, and face significant health risks from pregnancy. These women and girls will do anything to end an unwanted pregnancy. Women everywhere, out of desperation, will cause themselves terrible harm to end an unintended pregnancy.
Nearly 25 percent of people live in a country where abortion is prohibited entirely or only permitted, to save the life of a pregnant person. The health consequences of restrictive abortion laws are well-documented. When abortion is criminalized, pregnant people turn to unsafe methods and risk serious injury or even death. For example, before the law change in Nepal, one study found that 20 percent of maternal deaths there were due to illegal abortion. Another found that more than half of admissions for obstetric complications in some Nepali hospitals were attributable to clandestine abortion.
We also know that where abortion is illegal, people who have abortions and the medical professionals who provide them are stigmatized; they can be prosecuted and sent to jail for seeking or providing abortion care. Even in countries where abortion is legal, access to safe abortion services may be restricted for a variety of reasons. Just this month in the United States, Kentucky was set to enact a law to prohibit abortion after a fetal heartbeat is detected—which would effectively eliminate abortion after six weeks, before many people know they are pregnant. A federal judge has temporarily halted the law's enforcement, but it is just one of the many "heartbeat bills" and other anti-choice measures pending in the United States.
Criminal laws do not prevent abortion—they only increase the chances that women and girls will seek care under unsafe conditions. Those who cannot access safe abortion services in the health system may resort to clandestine, risky procedures. They avoid seeking follow-up care for health complications resulting from unsafe procedures due to stigma and fear. Or, as in the recent horrific case involving an 11-year-old girl in Argentina who had been raped, they are forced to carry their pregnancy to term against their will. The girl and her mother had requested an abortion (which is legal in Argentina in cases of rape or when the patient's life is in danger), but officials delayed for weeks and doctors eventually had to perform an emergency cesarean section to save the girl's life.
Access to safe and legal abortion is as relevant to gender equality as women's equal access to education, employment, adequate food, and housing—it puts women's and girls' lives, health, and human rights at the core of human development.
CSW should be a space for advancing women's rights; not a platform for their destruction.
The Trump administration's attempt to dismantle the global commitment to advancing women's sexual and reproductive health and rights is stunningly out of step with international agreements and treaties that have consistently called for the full realization of sexual and reproductive rights, including access to safe, legal abortion. These include the Convention on the Elimination of Discrimination Against Women, the Convention on the Rights of the Child, the U.N. Human Rights Committee, and the International Covenant on Economic, Social, and Cultural Rights.
And a full 25 years ago, the International Conference on Population and Development in Cairo heralded a new era for reproductive health. A year later, in 1995, the Beijing Platform for Action affirmed that women's rights are human rights.
As language negotiations step up next week inside the U.N., advocates for sexual and reproductive rights must continue to lobby their governments to oppose pressure by the U.S. government to eradicate progress on women's rights. This is a time to join together with other advocates working for the realization of human rights for all. Remember, those who oppose reproductive rights tend also to oppose the full humanity of LGBTQ individuals, racial minorities, and anyone who is not like them.
We cannot allow the Trump administration to dismantle a human rights framework that puts women's health and well-being at its center. We should see it for what it is: an attempt to take away power that women have struggled to gain after decades and, indeed, centuries of effort. We can't go back.