Republicans Rush to Outlaw Protests Against Oil Pipeline in South Dakota (Updated)
South Dakota GOP lawmakers fast-tracked legislation that would codify the use of police as private security for corporations building a vast oil pipeline.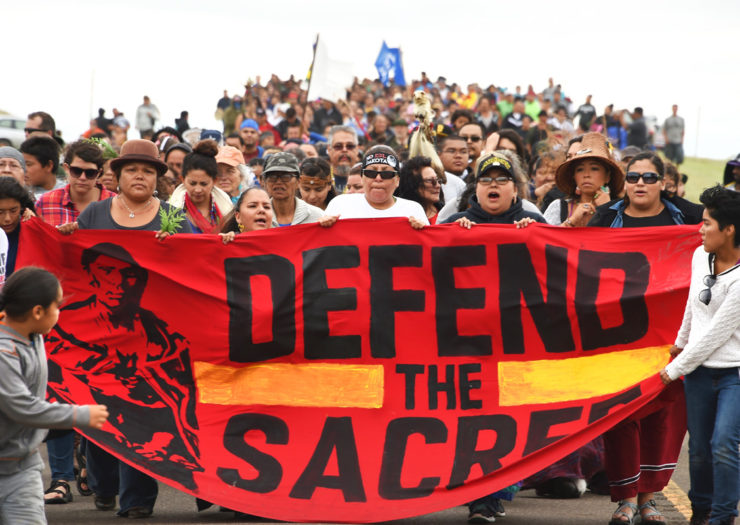 UPDATE, March 28, 5:16 p.m.: The ACLU of South Dakota on Thursday filed a federal lawsuit challenging three South Dakota laws, including the Republican-backed anti-protest law.
South Dakota Gov. Kristi Noem (R) plans to thwart demonstrations reminiscent of the Standing Rock protests in her home state by criminalizing protesters of the multibillion-dollar TransCanada's XL Keystone oil pipeline.
The Republican-dominated South Dakota legislature rushed through two bills that would chill protest and protect the pipeline business amid intense opposition. Native activists and legal experts say the legislation violates the First Amendment and would not hold up in court.
SB 189 aims to formalize merging the identity of the state and corporations by creating a fund "to offset costs incurred by riot boosting," and SB 190 would create a fund to pay the costs incurred by the state or local governments responding to protests.
Roe has collapsed and Texas is in chaos.
Stay up to date with The Fallout, a newsletter from our expert journalists.
"They will certainly be challenged," said Mara Verheyden-Hilliard, executive director of the Partnership for Civil Justice Fund, a legal nonprofit in Washington, D.C., who called the two GOP-backed bills "dangerous."
"What the state is doing is creating broad discretion to suppress demonstrations. They are creating penalties that will threaten to bankrupt demonstrators through this riot-booting law. What we are really seeing is the public officials codifying the use of public police as private security for corporate interests," she said.
That happened during the Dakota Access Pipeline protests, where 761 people were arrested in North Dakota in 2016 and 2017, and the state spent $38 million policing the protests. Most of the cases were dropped but some protesters have served jail time.
As protests against oil pipelines persist, so does the crackdown on First Amendment rights, often in the guise of protecting infrastructure or public safety. Introduced by Noem on March 4, both bills passed the house and state senate on March 7 and include emergency provisions to allow them to take effect immediately and prevent a public vote.
Before jamming the anti-protest bills through toward the end of the legislative session, Noem reportedly consulted TransCanada in February, but not any of the seven tribal nations in South Dakota. The bills are now heading to her desk to be signed.
Harold Frazier, chairman of the Cheyenne River Sioux Tribes, said in a statement that he was disappointed with the governor for "shoving these pipelines down our throats. This legislation only shows they are more concerned with saving money while suppressing South Dakotans' rights of assembly and intimidating anyone who is considering options to stand up for what they believe is right."
This is not the first time Republican legislators have tried to curb free speech with anti-protest measures. In 2017, South Dakota limited the number of protesters in established "public safety zones" on highways with violators to face jail time, Oregon tried to expel public college students convicted of rioting, and legislators in Oklahoma specified penalties of up to $100,000 in fines and ten years in prison for people harming "critical infrastructure."
"These two bills seem really out of touch," said Frank James, staff director of Dakota Rural Action, who took issue with a "bad process" that rushed the bills through at the end of the 40-day session, limiting opportunities for opponents to organize against them. "Usually the governor will introduce bills by the deadline to introduce bills, which is in January. They hadn't come in the last full week of the session when they had to suspend the rules to introduce the bills and had them pushed through the committee and floor votes in 72 hours."
Rosebud Sioux Tribe President Rodney M. Bordeaux said in a statement that Noem, the recipient of significant campaign contributions from the oil and energy industries, did not notify Native groups of these bills.
"The timing is dubious and seems to be an underhanded tactic this late in the session," he said. "The bill creates a new theory of civil recovery and invents a new term: 'riot boosting.' The bills purport to allow the recovery of triple damages against anyone who participates, directly or indirectly, in a protest where violence or the threat of violence allegedly occurs, whether or not that person engaged in the violent activity, and even if that person is not physically present when the alleged violence occurs."
Tribal and environmental groups have protested the 1,184-mile oil pipeline—located mostly in the United States—that would carry more than 800,000 barrels of crude oil from Canada to Nebraska since it was proposed over a decade ago to carry oil to Gulf Coast refineries. TransCanada markets the project as "the safest pipeline ever built." It has already faced regulatory and corrosion issues and leaked several times, most recently in Missouri, and in November in South Dakota. A Reuters report in November found it has leaked nearly 243,000 gallons of crude oil since it started operating in 2010.
The $3.8 billion Dakota Access oil pipeline, also labeled safe by Energy Transfer Partners, was pushed through despite inspiring the largest Native American resistance worldwide and despite lawsuits citing Native environmental and treaty rights. The pipeline—moving North Dakota oil to Illinois—opened in June 2017 and has leaked at least five times in the first six months of its operation, the Intercept reported. The biggest was a 168-gallon leak near the endpoint in Illinois in April 2017.
Environmental groups like Greenpeace, the Sierra Club, and the Natural Resources Defense Council that oppose these oil pipeline projects have long been concerned about the pipeline's potential to increase carbon emissions, spill dirty oil, affect climate change and the country's clean energy future.
President Trump in 2017 approved the federal permit for the oil pipeline that President Obama had rejected over concerns of greenhouse gas emissions. In February, a federal judge in Montana kept in place an injunction that blocks TransCanada from conducting preliminary work.
Construction on the oil pipeline remains blocked after a federal appeals court last week upheld that decision, the Associated Press reported.
Meanwhile, the existing Keystone pipeline has leaked "substantially more oil, and more often, in the United States" than ever indicated to regulators by TransCanada, Reuters reported.