'Medicare for All' Must Truly Be for All—Including People With Disabilities
Medicare, in its current form, does not adequately support people with disabilities living in the community.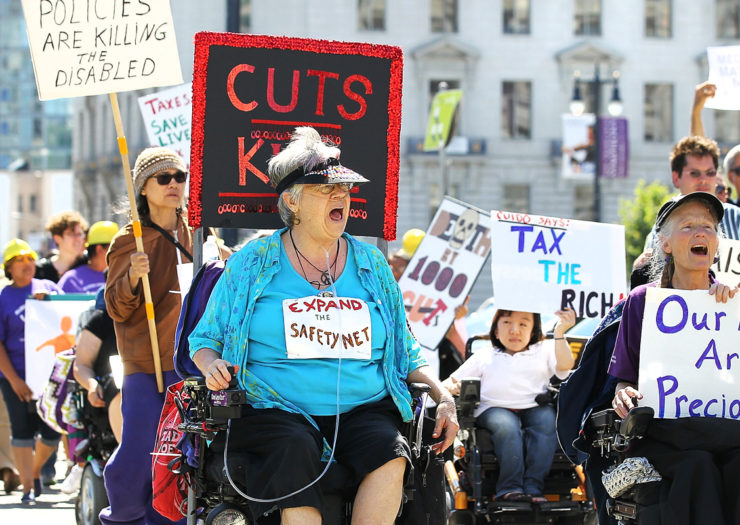 "Medicare for All" has become the rallying call among progressives. Democratic presidential primary candidates Sens. Cory Booker (D-NJ), Kirsten Gillibrand (D-NY), Kamala Harris (D-CA), Elizabeth Warren (D-MA), and Bernie Sanders (I-VT) have all signaled their support of a Medicare for All policy. Currently, lawmakers have introduced two Medicare for All bills in Congress. But as various plans gain increasing traction, a vital question remains: Will Medicare for All cover the needs of all, including people with disabilities?
The majority of people in the United States support expanding access to health insurance through a government program, according to a recent poll by the Kaiser Family Foundation. Nearly three-quarters of those surveyed, including nearly half of Republicans, favor allowing anyone to sign up for Medicare while also letting people keep their current coverage if they want. Slightly more than half of respondents support a national Medicare for All plan. Still, it is clear that Medicare for All, or something similar, is highly popular.
Of course, Medicare for All is not a new concept. During the 2016 election, Sen. Sanders introduced his Medicare for All single-payer health-care plan. Its purported goal was to "leave no one behind." But some people with disabilities worried they were, in fact, being left behind.
Medicare, in its current form, does not adequately support people with disabilities living in the community. Although Medicare was originally established to provide health insurance for people age 65 and older, since 1972 it has also covered people younger than 65 who receive Social Security Disability Insurance. Medicare now covers 9.1 million people with disabilities who are younger than 65, according to the Kaiser Family Foundation. But long-term services and supports (LTSS) coverage is limited. Medicare only funds home health services for people who are homebound, and it does not cover personal care assistants (PCAs), who assist people with disabilities living in the community with a range of activities both inside and outside of the home, such as bathing, dressing, meal preparation, and housekeeping. Similarly, Medicare will only pay for durable medical equipment, such as wheelchairs and canes, that is used just in one's home.
Roe has collapsed in Texas, and that's just the beginning.
Stay up to date with The Fallout, a newsletter from our expert journalists.
In other words, to receive necessary supports or equipment under Medicare, people with disabilities must be confined to their homes.
Notably, Medicaid is the only health insurer that fully funds long-term services and supports, which allow people with disabilities to access necessary coverage both at home and in their communities. As such, more than 10 million people with disabilities, both children and adults, are Medicaid beneficiaries. In 2017, the New York Times estimated that 30 percent of all adults with disabilities and 60 percent of all children with disabilities are enrolled in Medicaid.
It is because of the importance of Medicaid to people with disabilities that disability activists fought repeated attempts by Republicans to repeal the Affordable Care Act (ACA). Had the ACA been repealed, Medicaid would have been drastically cut, leading to less home- and community-based services for people with disabilities.
But Medicaid can leave people with disabilities out too. To qualify for Medicaid, people must meet certain financial eligibility requirements. The ACA expanded access to Medicaid by increasing the income people can earn and still be eligible. Nonetheless, the stringent rules disqualify some people with disabilities. Indeed, people with disabilities are sometimes forced to choose between working and receiving Medicaid. Several states have implemented Medicaid Buy-In programs that allow disabled people to work and pay a premium for benefits.
Medicaid is required to provide LTSS in institutional settings, such as nursing homes. Conversely, most home- and community-based services are considered "optional." This means that states choose whether to offer these supports to people with disabilities.
As policymakers seek to expand Medicare, it seems they are finally taking note of the concerns of people with disabilities. Both Rep. Pramila Jayapal's (D-WA) Medicare for All Act of 2019 and Rep. Rosa DeLauro's (D-CT) Medicare for America Act include home- and community-based LTSS.
"We flip the model on its head," said Rep. Jayapal. "Instead of saying institutional care is the default we say … you should be able to be taken care of at home, in your community."
Sen. Sanders' office has also said his new Medicare for All policy proposal will include home- and community-based services.
Of course, people with disabilities are a heterogeneous community who are concerned about more than home- and community-based services. "Some seem to think the only thing the disability community cares about in Medicare for All is long term services [and] supports," Matthew Cortland, a disabled attorney and health-care activist, tweeted last month. "This is deeply frustrating."
Indeed, people with disabilities also want to ensure that Medicare for All policies include access to other types of health-care services, such as dental, vision, mental, and reproductive health care, as well as prescription drugs. It is also important to see how these policies would be implemented. Under Rep. Jayapal's bill, people would not have to pay for any health care with the exception of prescription drugs. Rep. DeLauro's bill has a maximum out-of-pocket limit, but an updated version of the bill is expected in the spring that will get rid of deductibles and exempt cost-sharing if there's no generic drug available, according to ThinkProgress.
Medicare for All is unlikely to advance in the Republican-controlled Senate. Nonetheless, it is undoubtedly a defining issue for Democrats and not something that is going away.
As the untimely death of disability rights activist Carrie Ann Lucas recently showed us, not having access to necessary health-care services has life-and-death consequences for those who are disabled. As policymakers continue to debate Medicare for All, it is vital that they both consider and actively include people with disabilities as participants in the conversation.