The Fight to End the Hyde Amendment Has Finally Come to the U.S. Senate
The re-introduction of the EACH Woman Act comes after the 2018 midterm elections ushered in an unprecedented number of Democrats who support repealing the Hyde Amendment.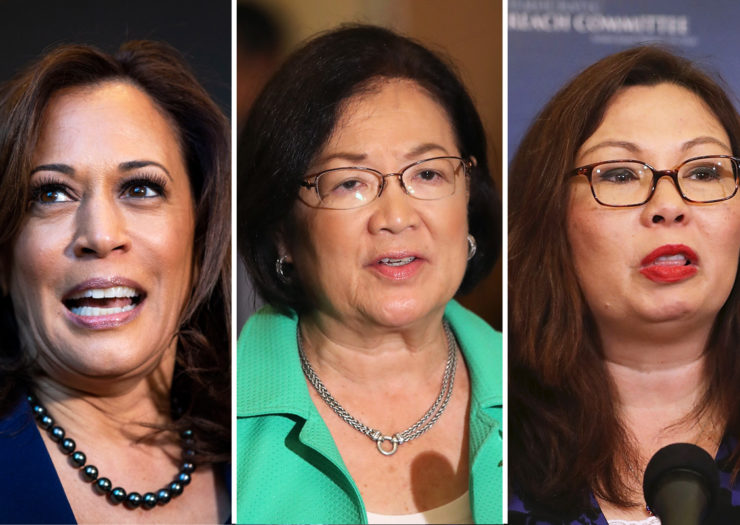 Pro-choice lawmakers in the U.S. House of Representatives and U.S. Senate introduced legislation on Tuesday to block the Hyde Amendment and other bans on insurance coverage for abortion care.
The legislation, known as the Equal Access to Abortion Coverage in Health Insurance (EACH Woman) Act, would ensure "that every woman who receives her health care or insurance through the federal government will have coverage for all pregnancy-related services, including abortion," according to the All* Above All campaign. That's accomplished in part by blocking the Hyde Amendment, an annual budget rider passed by Congress banning federal money from funding abortion. The anti-choice policy disproportionately affects people with low incomes and people of color.
The bill would also stop federal, state, and local legislators from interfering with private insurance coverage of abortion.
"No woman should be denied the full spectrum of reproductive health care because of her zip code or income level—yet that is the reality for too many low-income women and women of color," Rep. Barbara Lee (D-CA), who sponsored the House bill with Reps. Jan Schakowsky (D-IL) and Diana DeGette (D-CO), said in a statement. "The EACH Woman Act ensures that every woman is empowered to make critical decisions about her own pregnancy—and has coverage for all pregnancy-related health care, including abortion—regardless of her financial situation."
Roe is gone. The chaos is just beginning.
Follow Rewire News Group on Twitter to stay on top of every breaking moment.
While Lee first introduced the Each Woman Act in the House in 2015, this is the first time a version of the legislation has been introduced in the Senate, with support from Sens. Tammy Duckworth (D-IL), Kamala Harris (D-CA), Mazie Hirono (D-HI), and Patty Murray (D-WA).
"The Supreme Court has repeatedly affirmed women's constitutional right to make their own reproductive decisions, making clear the government has no place getting in between women and their doctors," Duckworth said in a statement. "But for decades, conservative lawmakers have worked to whittle down that constitutionally-protected right to the point where it's now effectively inaccessible for low-income women who rely on Medicaid, for female servicemembers and for millions more women nationwide."
"The Supreme Court didn't protect these rights only for wealthy women, and they didn't say only for women who live in certain states," Duckworth continued. "That's not right, it's not fair, and it's certainly not equal—so I'm proud to join my colleagues in introducing the EACH Woman Act so that every woman in this country has equal access to her constitutionally-protected rights, no matter her income, her race, or her zip code."
Reproductive health and rights advocates lauded the introduction of the legislation and its potential to address systemic disparities in access to reproductive health care.
"Politicians have set discriminatory, unjust standards that women with low incomes don't deserve the same access, or dignity, to make personal decisions as women with private insurance," Dr. Leana Wen, president of Planned Parenthood, said in a statement. "These policies have disproportionately impacted women of color, perpetuating systemic racism and deep disparities in health care. This bill works to right that wrong. Every woman deserves the right to pursue the life she wants, including the right to make her own medical decisions and decide whether or not to become a parent—no matter where she lives, where she works, how much money she earns, or how she is insured."
"At a time where the anti-abortion politicians and the Trump administration are relentlessly pushing to enact laws and policies that restrict access to reproductive health care, now more than ever we must move to advance legislation that preserves women's autonomy over their own body and their agency to make choices about their health care," Debra L. Ness, president of the National Partnership for Women & Families, said in a statement. "We strongly urge Congress to pass this important piece of legislation and remain ready to work alongside members to ensure all women have access to abortion care."
The re-introduction of the EACH Woman Act in the House and its historic introduction in the Senate comes after the 2018 midterm elections ushered into office an unprecedented number of Democrats who support repealing the Hyde Amendment. The Democratic Party first included language in the party platform supporting the repeal of Hyde during the 2016 presidential election cycle.