An Obstetric Emergency Sent Her to Prison for a Decade. Now, Alba Lorena Rodriguez Santos Is Finally Free.
Alba Lorena Rodriguez Santos was one of three women whose sentences were commuted by the Salvadoran Supreme Court of Justice last week.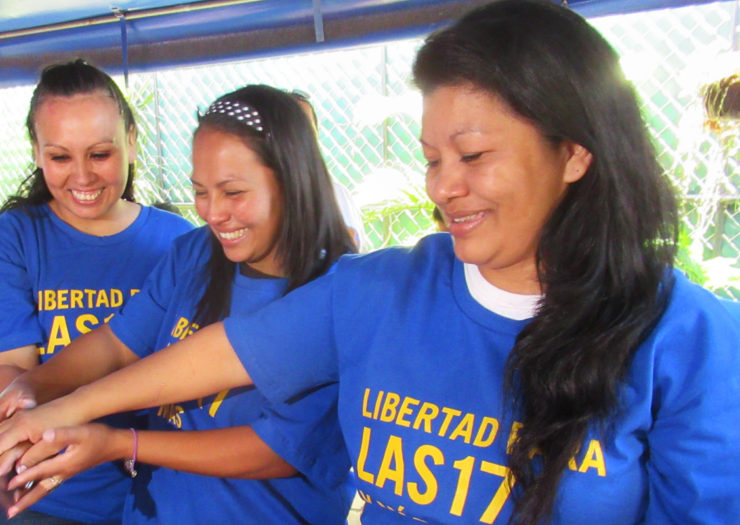 "How was it possible that I was the victim—and I was the prisoner?" asked Alba Lorena Rodriguez Santos on March 8, the day after she was freed from the Ilopango Women's Prison in El Salvador.
Rodriguez Santos, who had been in prison since 2009, was one of three women whose sentences were commuted by the Salvadoran Supreme Court of Justice last week. Cinthia Marcela Rodriguez Ayala had been behind bars since 2009; Maria del Tránsito Orellana Martínez entered prison in 2010. All had been convicted of aggravated homicide after experiencing obstetric emergencies in which their fetuses or newborns died.
Their cases stem from El Salvador's total ban on abortion. For more than ten years, la Agrupación Ciudadana por la Despenalización del Aborto (Citizen Group for the Decriminalization of Abortion) has been working to free women who have been unjustly imprisoned and to reform the law. Rodriguez Santos and the other two women were part of the original "Las 17," the group of 17 women for which the Agrupación Ciudadana requested pardons in 2014. So far, 33 women have been released. Eighteen women remain in prison with convictions, with one awaiting trial behind bars and an additional woman waiting for a new trial outside.
"It's a huge injustice when they impose prison sentences of 30 years," Rodriguez Santos told Rewire.News on Friday. "They must take into account that many of us were raped, and we have no support from anyone. Many women come from situations of extreme poverty."
Roe has collapsed in Texas, and that's just the beginning.
Stay up to date with The Fallout, a newsletter from our expert journalists.
The same day she spoke to Rewire.News, Rodriguez Santos appeared with Agrupación President Morena Herrera on the Salvadoran television program Focos, where she said, "I was raped by my own brother and two other men. I gave birth 20 days after my mother died. I was five months pregnant."
In the interview with Rewire.News, Rodriguez Santos explained, "It's just recently that I've started talking about it, because I was ashamed. But I would like to talk about it. I know that at some point he's going to hear that now I'm not afraid of him, that now I don't feel ashamed, and I have no obligation to keep quiet because he's the one who raped me.  From that rape I became pregnant. I realized it when I was barely two weeks pregnant."
"I never said I was raped in any of the hearings. I was ashamed," she said.
"And they give me a 30-year prison sentence while he's all fancy out there, enjoying his freedom, when he was the one who was responsible. He held a weapon to me, and he held it to my daughter.  I told him, 'Don't harm my daughter.' Then he raped me," she continued.
"This is a subject that is really painful, but I have to get it out. I'm not going to carry this around all my life. I'm furious with him," Rodriguez Santos said.
The Court's resolutions in the three cases recognize that the women's rights were violated in part due to judges' and prosecutors' lack of consideration of the social and gendered realities the women faced.
"Here, they only judge the woman for the abortion, call her an abortionist, baby-killer, and no one knows what has happened to us, what we have experienced in our own bodies," Rodriguez Santos said.
"It wasn't my fault. This is what I think. It's the state, the authorities, the government, who don't do anything. They just judge the women. The whole weight of the law falls just on the women."
The Agrupación and other allies have filed petitions for commutation for the 18 women who continue to serve prison sentences for their convictions.
In her appearance on Focos, Herrera said that the release of Rodriguez Santos and the two other women was a "hopeful sign that [the government is] recognizing the disproportional nature of the sentences."
Herrera explained that he Agrupación started organizing to release women from prison in 2004, using requests for new trials, pardons, commutations, and other legal avenues.  So far it has been slow, "one by one, that women have been released. It is hopeful that there are three now."
Herrera also pointed out that none of the women have received reparations for their time spent in prison, although many of them have children who rely on them.
The group is also fighting to create exceptions to the anti-abortion law. Before the absolute ban went into effect in 1998, exceptions existed in cases where the pregnancy endangered the life or health of the pregnant person, when the fetus was nonviable, and when the pregnancy resulted from incest or rape.
"Until the law changes and the awareness of the consequences of the absolute ban and the misapplication of the law in cases of obstetric emergencies changes, women are still subject to unjust arrest and prosecution," Herrera said.
Rodriguez Santos, too, spoke in favor of reforming the law. "In other places abortion is decriminalized, and a woman can decide to have or not have the baby. Here, they have made themselves the owners of our bodies. They obligate women to have the baby," she said.
"Some of the women are minors and are raped, and by law they must have the baby.  Some are sick and their lives might be in danger," she said. "And by law they have to have the baby."
Now that she is out of prison, Rodriguez Santos will continue organizing to help women still inside.
"I believe I am the owner of my actions, of my life, of my body, and I decide what to do," she said. "But here, this country has made itself the owner of my body and even my rights at times, and this shouldn't be. It is an injustice."