Georgia GOP Gets Near Total Abortion Ban Through State House (Updated)
Total abortion bans have so far failed to overcome legal hurdles, though GOP lawmakers continue to prioritize the anti-choice legislation across the United States.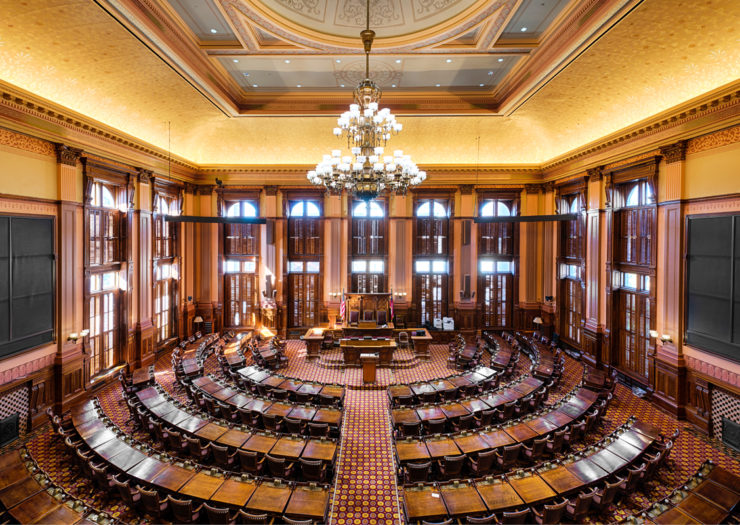 UPDATE, March 29, 4:11 p.m.: The final version of Georgia Republicans' near total ban on abortion passed the state house on Friday. The legislation, which already passed the state senate, will go to Gov. Brian Kemp (R), who has said he will sign it.
Republicans in the Georgia House passed a ban on abortion after a fetal heartbeat is detected, effectively a total abortion ban, shortly before 11 p.m. on Thursday.
By a vote of 93 to 73—with 12 representatives absent or not voting and two seats vacant—the measure passed by two votes more than the constitutional majority required. The bill now heads to the state senate for consideration. Georgia's legislative session is scheduled to end in early April. 
HB 481, dubbed the "Living Infants Fairness and Equality (LIFE) Act," would ban abortion when a fetal heartbeat can be detected, typically at six weeks' gestation. Many people don't know they're pregnant at that point. 
Roe is gone. The chaos is just beginning.
Follow Rewire News Group on Twitter to stay on top of every breaking moment.
Republicans in more than a dozen other states have proposed similar measures since the beginning of 2019. Total abortion bans have so far failed to overcome legal hurdles, though GOP lawmakers continue to prioritize the anti-choice legislation across the United States. 
In Georgia, the total abortion ban was fast tracked through the committee hearing process, and sent to the floor for a vote with just hours left on crossover day, the last day a bill can pass out of one chamber and "cross over" to the other chamber. Bills that did not pass out of at least one chamber before midnight Thursday are effectively dead for the remainder of the legislative session.
After the total abortion ban passed out of committee Wednesday evening, state Rep. Park Cannon (D-Atlanta) told Rewire.News that her Republican colleagues are "playing politics with women's lives in Georgia."
"By effectively outlawing abortion in the state of Georgia, Republicans are drawing the line in the sand to hand over their re-elections in 2020. They have made it clear that passing legislation without fiscal notes, medical accuracy and public notice are what Georgians deserve," she said in a text message.
HB 481 was officially added to Wednesday afternoon's agenda for the house health and human services committee about 30 minutes before the committee convened. It passed along a party-line vote of 17 to 14, after three hours of testimony and questions. At 7:30 p.m. the following day, a vote for the bill was added to the state house's agenda, and limited to one hour of debate and no amendments on the floor.
As in the committee hearing, sponsor Rep. Ed Setzler (R-Acworth) told his colleagues that the measure was an attempt at a compromise. "This bill weighs the privacy interest of the mother—which we recognize as being valid—but when you weigh the life interest of this human child, how do we reconcile those two in a fair, balanced, and appropriate way?" Setzler said in closing remarks.
At the committee hearing and during the debate on the house floor, Reps. Cannon and Renitta Shannon (D-Decatur) each shared that they have had an abortion. Shannon was repeatedly told by House Speaker David Ralston (R-Blue Ridge) that her time was up, but she did not leave the floor even after her mic was cut off.
Other Democrats ultimately persuaded her to step down, and she walked away to applause from the gallery, which was quickly silenced by the speaker.
Minority Leader Bob Trammell (D-Luthersville) made motions in an effort to stall the vote on the total abortion ban, including a motion to adjourn, a motion to table the bill, and then a motion to reconsider after the bill narrowly passed. Opponents in the gallery yelled "Shame!" at legislators after the final vote came in.
On Thursday morning, several Democratic legislators showed up with wire hangers and containers of bleach, featuring messages like "No to HB 481" and "This hanger is an abortion device," in anticipation of the bill making it to the state house floor. They later organized a press conference opposing the measure, and filed a minority report opposing the bill, which gave them extra time for debate on the state house floor.
Republican Gov. Brian Kemp came out with a short video on Twitter supporting the measure Thursday afternoon, just after the press conference. "I applaud the health and human services committee for advancing legislation to protect the unborn. I encourage the House and the Senate to do the same. This is a powerful moment in Georgia," Kemp said in the video.
On the campaign trail, Kemp—whose 2018 election victory is being investigated by the U.S. House of Representatives—committed to signing the "toughest abortion laws in the country."
Among the state representatives who were not present to vote on the measure, one notable absence was Rep. Sharon Cooper (R-Marietta), chair of the health and human services committee.
Cooper, who has championed bills funding anti-choice clinics, expressed concerns about several aspects of the bill during the committee hearing Wednesday night. She commented on the likelihood that the bill would result in litigation, as well as the effect it would have on people who do not realize they are pregnant until much further into their first trimester. These comments were echoed by Democrats and other opponents of the bill during both the committee meeting and floor debate.
"There are places where we could use the money much more wisely rather than having to have very expensive lawyers support our attorney general and going at a court case like this," Cooper told Rewire.News after the committee meeting Wednesday night.
Despite her concerns, Cooper added an amendment to the bill in committee to include exceptions for fetal anomalies incompatible with life. It was the only amendment—of about a dozen offered—that was added to the total abortion ban.
Speaking to the Health and Human Services committee Wednesday evening, Setzler shared his views that life begins at conception and stated that the inclusion of exceptions for rape and incest were part of what made this a compromise bill.
"We recognize that children in the womb—from early biological development, from six weeks and even earlier—all they need is nourishment and a safe place to live, and they are going to grow into ripe old adulthood. That fact that, morphologically, certain organs have not grown or their arms aren't as visible, doesn't change the fact that they are living, distinct as human being," he said.