Domestic 'Gag Rule' to Begin in 60 Days as Democrats Question Policy's Legality
Reproductive health and rights advocates have already moved to ensure the domestic gag rule is dead on arrival.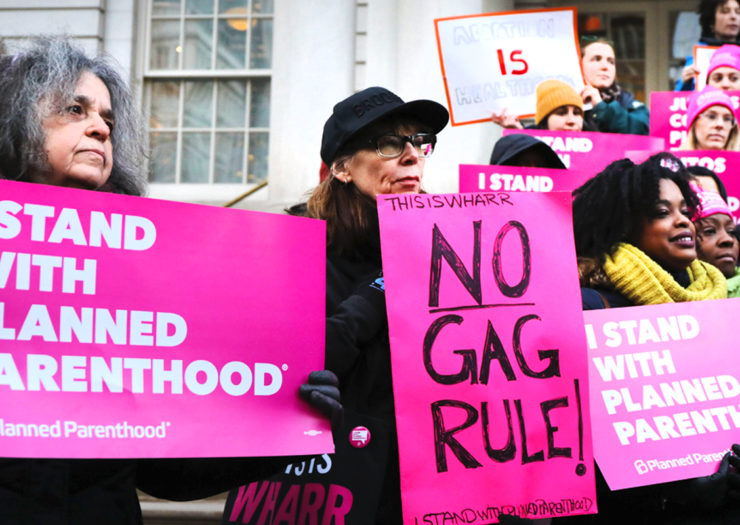 The Trump administration on Monday published its finalized restrictions on the Title X family planning program, known as the domestic "gag rule," kicking off a 60-day period before the anti-choice policy will go into effect.
The federal government will begin enforcing the restrictions on family planning funds on May 3, according to the federal register. The finalized text was first posted by the U.S. Department of Health and Human Services (HHS) in late February. The policy bans Title X funds from going to health providers who perform abortions or refer patients for abortion care, and it requires clinics to physical separate Title X-funded family planning services and abortion services.
Democrats on the U.S. House Energy and Commerce Committee, which has jurisdiction over HHS, sent a letter Thursday to HHS Secretary Alex Azar questioning the legality of the administration's rule. The letter's signatories—Reps. Diana DeGette (D-CO), Frank Pallone Jr. (D-NJ) and Anna G. Eshoo (D-CA)—wrote that they "have questions about the Department's expansive claim of authority under this rule, HHS's failure to account for the significant costs created as a result of the final rule, and the internal regulatory process used by the Department to review and finalize this rule."
The letter asks Azar to answer a series of questions regarding the rule, including what evidence was used "to justify the physical separation requirements," why the economic impact on Title X patients was not considered, and whether the agency consulted "with any external organizations, advocacy groups, or non-governmental entities in the drafting or finalization of this rule."
Roe has collapsed and Texas is in chaos.
Stay up to date with The Fallout, a newsletter from our expert journalists.
A spokesperson for HHS told Rewire.News that the agency had "received the letter and will respond."
American Oversight and Equity Forward, a watchdog organization monitoring anti-reproductive health forces, filed a lawsuit against HHS last month seeking similar information to the answers demanded by House Democrats.
The complaint seeks to compel HHS to comply with the Freedom of Information Act (FOIA) regarding a series of FOIA requests filed by Equity Forward seeking correspondence between HHS officials and anti-choice groups such as Alliance Defending Freedom, the Charlotte Lozier Institute, National Right to Life, and the Family Research Council. One of Equity Forward's FOIA records requests sought correspondence between anti-choice groups and HHS officials regarding the administration's Title X restrictions.
Reproductive health and rights advocates have already moved to ensure the gag rule is dead on arrival. Within days of the administration announcing the rule's finalization, National Family Planning & Reproductive Health Association (NFPRHA) announced a legal challenge to the restrictions with its member, Cedar River Clinics, a family planning provider based in Washington state.
"We are confident we will be successful in our legal challenge so that providers won't have to face the wrath of the rule," Audrey Sandusky, a spokesperson for NFPRHA, told Rewire.News.
California's attorney general filed suit Monday to block the gag rule, while 20 other states are set to file a separate lawsuit on Tuesday, according to the Washington Post.
DeGette, co-chair of the Congressional Pro-Choice Caucus, told Rewire.News the caucus "is working closely with several states and outside groups who have filed, or are in the process of filing, litigation challenging the administration's changes to this program."
"When Congress initially created Title X it did so to increase women's access to health care. It's clear that these new changes—announced by an administration that is determined to ban abortion in this country—run contrary to Congress's initial intent and, right now, we are working with several groups to help them prove that in the courts," said DeGette."
"Make no mistake, if this callous rule goes into effect, it will have devastating impacts on women's access to healthcare," she said.
Leading medical organizations including the American College of Obstetricians and Gynecologists, American Academy of Pediatrics, American Nurses Association, American College of Nurse-Midwives, and the American College of Physicians oppose the Trump administration's domestic gag rule.
"This regulation will do indelible harm to the health of Americans and to the relationship between patients and their providers," the groups said in a joint statement calling on the Trump administration to rescind the policy after the rule's finalization was announced. "Family planning policy should be driven by facts, evidence, and necessity, not politics and ideology," it said.
More than 4 million people in the United States rely on the Title X family planning program for access to reproductive health care. The large majority of them are people with low incomes.