Democrats' 'Medicare For All' Legislation Would End the Hyde Amendment
"Rep. Jayapal's Medicare for All proposal recognizes the simple truth that women will never be equal members in society until we have full access to reproductive health care."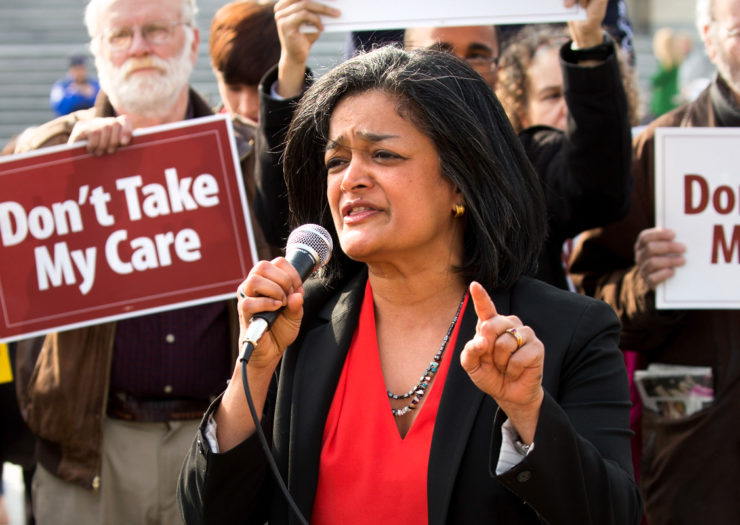 Democrats in the U.S. House of Representatives on Wednesday introduced "Medicare for All" legislation, which would expand Medicare coverage to everyone in the United States and do away with the discriminatory Hyde Amendment.
The Medicare For All Act of 2019 has 107 original co-sponsors, all Democrats. "We have the most expensive health-care system in the world, but here's the thing: We have some of the worst outcomes in the world," said Rep. Pramila Jayapal (D-WA), who introduced the bill Wednesday at a press conference. Jayapal mentioned the state of maternal and reproductive health in the United States as one justification for pushing for an overhaul of the health-care system. "Our maternal mortality rate, moms who die in childbirth, is the highest of all of our peers. Our infant mortality rate, kids and babies who are dying, is the highest."
Jayapal's staff told ThinkProgress that the bill represents "the gold standard" for health care in the United States. Perhaps most importantly for reproductive health-care advocates, it would repeal the Hyde amendment, an annual budget rider that has banned federal dollars from funding abortion care since 1976. Eliminating the restriction, which disproportionately affects people of color and those with low incomes, is a priority of the Congressional Pro-Choice Caucus.
NARAL Pro-Choice America President Ilyse Hogue celebrated the inclusion of the provision in a statement on Wednesday. "Rep. Jayapal's Medicare for All proposal recognizes the simple truth that women will never be equal members in society until we have full access to reproductive healthcare," said Hogue. "Put simply, a right is not a right if you cannot access it … At a time when women's reproductive freedom hangs by a thread, Rep. Jayapal's proposal draws a line in the sand, sending a clear message that women's rights are not up for debate."
Roe is gone. The chaos is just beginning.
Follow Rewire News Group on Twitter to stay on top of every breaking moment.
The provision lifting the Hyde amendment in Jayapal's bill matches similar language in a Medicare for All bill introduced in 2017 by Sen. Bernie Sanders (I-VT).
The prospect of eliminating Hyde may offer hope to reproductive health advocates, as the Trump administration continues its attacks on health insurance access and reproductive health care, including last week's rollout of the finalized domestic gag rule banning Title X family planning providers from referring patients for abortion care.
Even if the legislation passes the Democratic-controlled House, it faces an uphill battle in the Republican-controlled Senate and a likely veto from the president, who labeled Sanders' version of a Medicare for All bill as "Medicare for None" in a USA Today op-ed last October.
The health-care and insurance industries have formed a major lobbying group to oppose Medicare for All legislation, according to the New York Times. Several major Democratic presidential contenders, including Sens. Cory Booker (D-NJ), Elizabeth Warren (D-MA), and Kamala Harris (D-CA) have already signed on as co-sponsors to Sanders' Medicare for All legislation.
The House bill's Democratic co-sponsors vowed to continue fighting for access to health care despite Republican and corporate opposition."Quality health care should not be a luxury for those who are rich, those who have access to opportunities—because it's a basic human right," said Rep. Barbara Lee (D-CA), co-chair of the Pro-Choice Caucus, at Wednesday's press conference. "Together we can and we will achieve our goal of health care for all."