Democratic Lawmakers Call on Trump to Ask for Labor Secretary Acosta's Resignation
The ruling is just the latest in the ongoing scandal regarding Labor Secretary Alexander Acosta's handling of the Jeffrey Epstein case.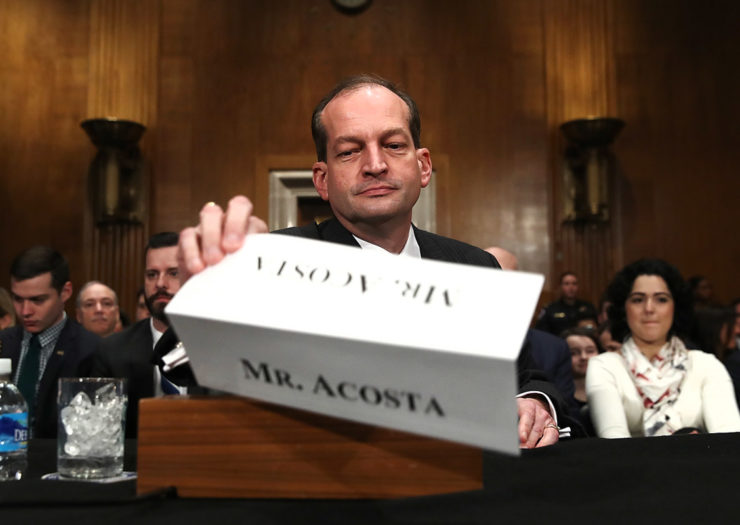 A group of Democratic lawmakers sent a letter to President Donald Trump on Friday calling on him to ask for the resignation of Department of Labor Secretary Alexander Acosta, citing his handling of a 2007 sex abuse case against billionaire Jeffrey Epstein when Acosta was a federal prosecutor.
The letter, signed by 19 Democrats from the U.S. House of Representatives, outlined new developments surrounding Acosta's handling of Epstein's case. It cited a ruling last week by U.S. District Judge Kenneth Marra's that Acosta and other federal prosecutors had violated the Crime Victims' Rights Act—which gives victims the right to be informed of plea bargains and deferred prosecution agreements—by arranging a secret plea deal for Epstein.
"This despicable unjust plea deal that was arranged by Acosta showed no respect for the suffering of the victims and credible accounts of human trafficking and was a clear abuse of power for political gain," Democrats said in the letter. "We strongly believe that Secretary Acosta was negligent in his duty to represent the best interests of the victims and the U.S. government. As such, we request that you immediately demand his letter of resignation."
According to a November Miami Herald report, Acosta worked with a team of Epstein's attorneys to arrange a "non-prosecution" agreement with Epstein after the billionaire was accused of sexually assaulting underage girls in the early to mid-2000s. The agreement also "essentially shut down an ongoing FBI probe into whether there were more victims and other powerful people who took part in Epstein's sex crimes," the Herald reported.
Roe is gone. The chaos is just beginning.
Follow Rewire News Group on Twitter to stay on top of every breaking moment.
As a result of the deal, Epstein served just 13 months in county jail. The crimes he was accused of could have resulted in a life sentence in federal prison.
The ruling is just the latest in the ongoing scandal regarding Acosta's handling of the Epstein case. The Department of Justice (DOJ) announced an investigation into the matter in early February following bipartisan calls last December from legislators in both chambers of Congress.