A Black Congresswoman in Hijab Is a Great Distraction From U.S. Complicity in Abuses Abroad
People in the United States deserve elected officials who will speak out against devastating human rights abuses—especially those funded by U.S. taxpayers.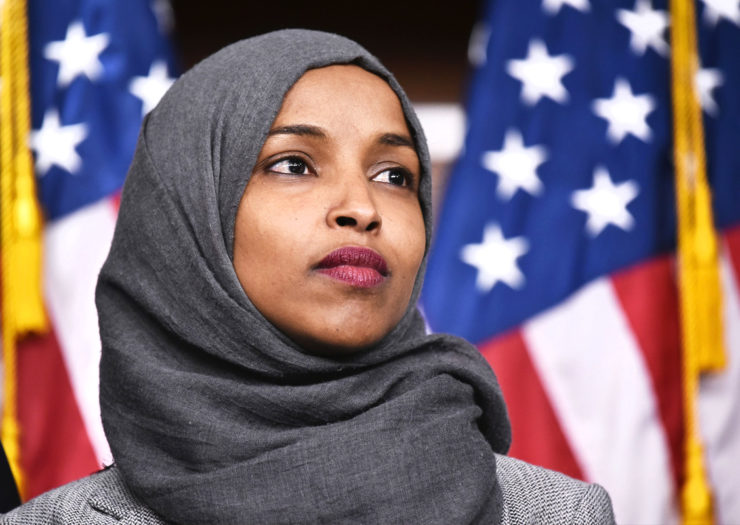 Minnesota Congresswoman Ilhan Omar made history as one of the first Muslim women to be elected to the House of Representatives—and the first in Congress to wear hijab. Though her election was met with celebration from the left, the Democrat's short tenure in office has been rife with controversy.
As one of the first elected politicians to be openly pro-Palestine, it is no surprise that her views would be conflated with anti-Semitism, which is often the case. But these conflations are a distraction from other U.S. lawmakers' complicity in the treatment of Palestinians under Israeli Prime Minister Benjamin Netanyahu.
Rep. Omar's support of the Boycott, Divestment, Sanctions (BDS) movement gained new momentum after New York Times writer and editor Bari Weiss analyzed one of the congresswoman's tweets from 2012 in a January 21 opinion piece explaining the history of the trope behind Omar's tweets. While on the Daily Show, Omar, who previously apologized for her "unfortunate words," likened her comments on Israel to her criticisms of the United States. She made it clear that her critiques of a country are not critiques of its people or their faith, but of an administration's hurtful and dangerous policies.
Then began Rep. Lee Zeldin's (R-NY) Twitter harassment of Omar, during which he asked her to answer for hateful anti-Semitic messages his office received despite her having no involvement in the incident. As a Muslim-American woman, I recognized this type of behavior. We are often expected to condemn all acts of terrorism, anti-Semitism, and oppression even if we aren't involved. At first, I thought this was a classic case of Islamophobia, wherein Rep. Omar would be called upon every time someone spoke ill of Jewish people. I didn't realize she would soon become the victim of a bipartisan smear campaign.
Roe is gone. The chaos is just beginning.
Follow Rewire News Group on Twitter to stay on top of every breaking moment.
Nearly two weeks after Zeldin began his campaign against Omar, she was again the center of accusations of anti-Semitism—this time for criticizing the American Israel Public Affairs Committee (AIPAC) and pro-Israel lobbying groups' influence over U.S. politicians. These accusations poured in from the right and the left, culminating in President Donald Trump calling for Rep. Ilhan Omar's resignation. The same man who said there were very fine people among the anti-Semitic white supremacists in Charlottesville, Virginia, was now asking a Black Muslim Congresswoman to resign over controversial tweets.
Indeed, the Republican Party often uses anti-Semitic dog whistles in tweets, campaign mailers, and speeches, but none of those lawmakers have been met with bipartisan outrage or calls to resign. Meanwhile, as Rafael Shimunov pointed out at Rewire.News earlier this week, Black progressives are dismissed and vilified when discussing Palestinian rights; in the past few months, Marc Lamont Hill, Angela Davis, Michelle Alexander, and Tamika Mallory have all been accused of being anti-Semites for speaking critically of Israel.
Omar is also visibly and proudly Muslim. The positioning of Muslims against Jews is a well-known stereotype—a perceived global extension of the Israeli-Palestinian conflict—and one that Chelsea Clinton and Omar's other accusers have used to substantiate the claims that she is an anti-Semite, despite the fact that a number of conservative Christian lawmakers have also made troubling, anti-Semitic statements.
Conversations are clearly needed between progressives and the Jewish community to ensure respectful dialogue surrounding Israel and AIPAC, which Omar has agreed to engage in. But the backlash Omar has seen is clearly disproportionate to previous incidents involving other lawmakers.
Both sides of the political aisle have come together to condemn a Black Muslim woman who speaks out against Israel, keeping the debate about her moral fitness for leadership in the news cycle for days. Because actual instances of anti-Semitism are so often glossed over, it is clear that the framing of Ilhan Omar as anti-Semitic is simply a strategy to ensure that the taboo critiques of Israel are shut down in messy controversy before dissenting opinions can be heard.
It is the weaponization of Islamophobia and anti-Blackness by which Ilhan Omar's critics can substantiate baseless accusations of anti-Semitism. They play into the xenophobia that has been an integral part of the political discourse during the Trump administration. And it allows these critics to keep up distractions from the issue Omar was trying to highlight all along: The United States' complicity in the Israeli government's treatment of Palestinians needs to be scrutinized and reevaluated.
As Twitter is suspended in a debate about whether tweeting Diddy lyrics is anti-Semitic, Israeli forces continue to use live ammunition against Palestinians protesting in Gaza, killing two young boys last week. At the same time, the United States has given Israel nearly $4 billion in military aid a year, making U.S. lawmakers and taxpayers complicit in that which can certainly be considered a humanitarian crisis. About 2 million Palestinians live in Gaza, which is described by many humanitarians as the world's largest open-air prison. In Gaza, most people only have two to four hours of daily electricity; 40 percent of people are food insecure; and the unemployment rate is the highest in the world. Gazans who need urgent medical care outside of Gaza are not being allowed permits to leave, threatening the lives of thousands.
The UN estimates that Gaza, under blockade now for 11 years, will be unlivable by 2020. Palestinians, like the two young boys mentioned earlier, have been protesting these conditions for months to no avail. The Israeli military has targeted protesters, medics, and journalists. By November 2018, more than 18,000 Palestinians had been injured, and at least 214 had been killed in the weekly Great March of Return rallies.
People in the United States deserve elected officials who will speak out against devastating human rights abuses—especially those funded by U.S. taxpayers. The bipartisan support for Israel is so steadfast that before the elections of Ilhan Omar and Rashida Tlaib (D-MI), there had not been a person in Congress publicly supportive of BDS and Palestinian justice efforts. The attacks on both these women make it clear that U.S. politicians prefer that Congress had stayed that way.
So instead of discussing the Palestinian struggle, we were inundated with news stories that contribute to the character assassination of Rep. Ilhan Omar, a Black Muslim woman determined to uplift the most marginalized. It's time for people in the United States to look past these distractions and stand up for the injustices Palestinians face.