No End in Sight for 'Retaliatory Immigration Raids' in North Carolina
"We cannot stop ICE from operating in our cities, but we can and must speak out against these raids which destabilize neighborhoods, traumatize children, hurt many innocent people, and create distrust of law enforcement," the mayors of seven North Carolina cities hard-hit by ICE agents said in a joint statement Thursday.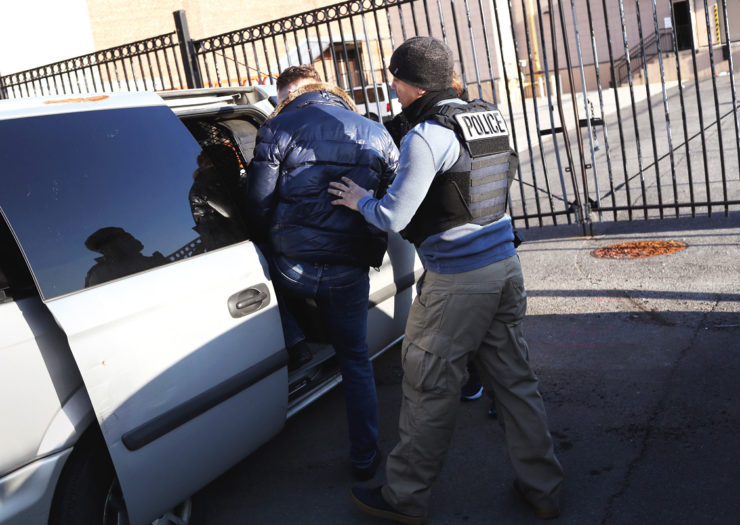 In the span of nine days, North Carolina has seen a barrage of immigration enforcement, reportedly in response to new sheriffs' "lack of cooperation" with the U.S. government. The ramped-up enforcement appeared to begin with a workplace raid in Sanford on February 5, and continued Wednesday in the small town of Hendersonville, where advocates say federal immigration authorities posed as day laborers to detain undocumented immigrants.
In a photo and four videos the grassroots immigrant rights organization Alerta Migratoria NC shared on Facebook, originating from user Yulisa Sanchez, officers with Immigration and Customs Enforcement (ICE) can be seen apprehending a man outside a white cargo van affixed with ladders. Eventually, they put him in the van and drive off. The officers seen in the social media posts are wearing cargo pants, sneakers, hooded sweatshirts, and one wears a bandana wrapped around his head. The officers are wearing vests clearly marked "POLICE ICE." Sanchez did not respond to Rewire.News' request for comment by publication.
Rewire.News asked ICE spokesperson Bryan Cox about the agents appearing to pose as day laborers. Cox said he hadn't seen the images, but clarified that ICE "is a non-uniformed agency." ICE agents "don't wear uniforms," he said, but "all ICE officers wear a badge and carry credentials that clearly identifies them as federal law enforcement officers." When Rewire.News provided Cox with the image circulating on social media of an ICE agent appearing to pose as a day laborer, the spokesperson responded, "The person in the photo is clearly marked with ICE insignia."
However, local grassroots organization Compañeros Inmigrantes de las Montañas en Accion said in a statement, "Local verifiers have recorded men with ICE jackets, impersonating local worker vans in Hendersonville" on Wednesday, "with at least one confirmed detention."
Roe is gone. The chaos is just beginning.
Follow Rewire News Group on Twitter to stay on top of every breaking moment.
New Tactics
Advocates in North Carolina told Rewire.News they believe ICE may be using new tactics to detain and deport migrants, as immigrant communities are increasingly utilizing social media to alert others of ICE enforcement operations, sightings, and checkpoints in their area.
In one video posted online in the Hendersonville detainment, a confrontation can be heard between an ICE officer and the newly detained man's neighbors. The ICE officer tells them, "I've arrested people of all colors. Anybody who isn't from this country can be illegal, it doesn't matter what you look like."
"You're not arresting people from Scotland or Ireland," a neighbor is heard saying. "I know that man's not bothering anybody, ever. He's a good neighbor."
During a press call yesterday about the enforcement in North Carolina, Alissa Ellis of the ACLU of North Carolina explained that last week the areas that saw the most immigration enforcement were Wake, Durham, and Mecklenburg counties, which encompasses Raleigh, Durham, and Charlotte, the state's most populous cities. But the recent raids in the small towns prove that immigration enforcement hitting North Carolina has not been relegated to large cities, and it is not random.
At a press conference Friday, Atlanta field office director Sean Gallagher
said
the increase in immigration enforcement across the state is "the new normal,"
reported
the
New York
Daily News
. According to Gallagher, the increase in the number of raids is "a product of some of the policies that have been enacted within the state."
"I think the uptick you've seen is the direct result of some of the dangerous policies that some of our county sheriffs have put into place, and it really forces my officers to go out on the street and conduct more operations out in the community, at courthouses, at residences, doing traffic stops," Gallagher said, according to the Daily News. "This is a direct correlation between the sheriffs' dangerous policies of not cooperating with ICE and the fact that we have to continue executing our important law enforcement mission."
ICE's Detainer Requests
In November, newly elected sheriffs in Wake, Durham, and Mecklenburg counties ended their jurisdictions' 287(g) agreements with the federal agency or issued directives telling jail staff not to honor ICE detainer requests without an accompanying judicial warrant or order for arrest. A 287(g) agreement essentially deputizes local law enforcement to carry out immigration enforcement on behalf of ICE.
"The recent actions of ICE agents are making persons in our community afraid of law enforcement," Durham County Sheriff Clarence Birkhead said in a statement. "The decision I made to not honor ICE detainers was in part to help all of Durham's people feel safe and encourage our residents to feel like they can trust my deputies—and law enforcement in general."
While Orange County never had a 287(g) agreement, ICE has targeted the area for increased immigration enforcement because newly elected Sheriff Charles Blackwood has said his jurisdiction will only honor ICE detainer requests if the agency provides documentation proving there is a legal basis for continuing to detain someone on ICE's behalf. "Absent the necessary legal basis to hold someone, they will be released," Blackwood said.
The mayors of seven North Carolina cities hard-hit by immigration enforcement on Thursday co-signed a joint statement expressing support for the sheriffs' decisions to no longer work with ICE. The mayors said these decisions help immigrant communities "live free from fear," but that the recent "ICE raids have struck terror" in the communities.
"We cannot stop ICE from operating in our cities, but we can and must speak out against these raids which destabilize neighborhoods, traumatize children, hurt many innocent people, and create distrust of law enforcement," the Thursday statement reads. "We call on ICE officials to cease such raids in the future."
More than 200 people were detained across North Carolina last week. Sixty of those arrests were what ICE calls "collateral arrests" or "at-large arrests," according to the Daily News, meaning undocumented immigrants who were not the intended target of an enforcement action, but were essentially in the wrong place at the wrong time.
ICE spokesperson Cox did not have current figures for the most recent apprehensions taking place in Western North Carolina this week, but did imply enforcement would be ongoing.
"ICE has repeatedly stated publicly this agency desires to work with its local partners to whatever extent they are willing to work with this agency, but ICE is sworn to enforce federal immigration law and will do so with or without local cooperation—the more-visible enforcement methods now taking place were forced upon this agency due to these local policy changes," Cox said in an email. "The field office director made clear this more visible enforcement method will continue as the agency has no choice due to these local policy changes."
North Carolina Gov. Roy Cooper (D) has yet to make a statement about the ongoing enforcement taking place across the state. Last year, ICE conducted similar, widespread enforcement in New York after multiple jurisdictions adopted "sanctuary city" policies. ICE apprehend more than 225 people across the five boroughs and surrounding counties, leading Democratic Gov. Andrew Cuomo to issue a cease and desist letter to ICE, demanding "the immediate stop of their reckless and unconstitutional enforcement actions."
The governor's letter also threatened legal action if ICE did not comply. No legal action was taken, but New York expanded its first-in-the-nation defense project for immigrants to include legal assistance to those "unfairly targeted by ICE" in raids.
Cooper's office did not respond to Rewire.News' request for comment regarding what local advocates and leaders with the ACLU are calling "retaliatory immigration raids." Undocumented advocates in the state are circulating a petition, demanding Gov. Cooper "speak out against this grave injustice."